The V.I. government shut down an illegal horse racing track on St. Croix this week. Horsemen put together the makeshift track in Williams Delight after the closure of the island's Randall "Doc" James racetrack in 2016.
VIGL, the slot machine company that operates a parlor at The Caravelle Hotel in Christiansted, got a government contract to rebuild and run the St. Croix and St. Thomas tracks in 2016. Four years later, the most optimistic projections put reopening at maybe two years away. It could be longer.
In a statement, Gov. Albert Bryan Jr. said the government had no choice but to shut down the track for safety and permitting reasons.
"The Virgin Islands Government cannot ignore illegal activity once brought to our attention. And while I understand the frustration with the action taken to end this illegal horse racing activity, it is done out of the government's responsibility to protect our resident's safety," Bryan said.
"I want the sport of horse racing to return to the territory but in a manner that does not jeopardize the safety of the spectators, jockeys and the horses, and certainly not in a manner that encourages illegal activity," he said.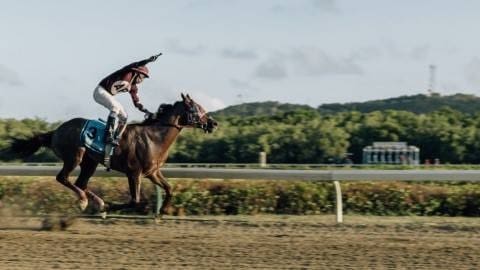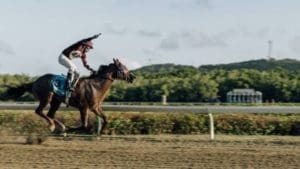 "Our administration has supported the VIGL proposal to reconstruct the horse tracks and conduct live racing in St. Croix and St. Thomas, and we have intervened on several occasions to allow that proposal to be fully implemented. I believe that the project represents the standard in which horse racing should be conducted in the territory."
Government House listed an array of dangerous and illegal activities and code violations at the track. They include trespassing. Reportedly, the property owner sought police assistance in removing trespassers from their property. Also, the races were not sanctioned by the Horse Racing Commission, which has statutory oversight of horse racing in the territory.
There was also illegal gambling, without regulatory oversight from the Horse Racing Commission, V.I. Lottery Commission or Casino Control Commission.
According to Government House, the racing surface was also dangerous for the riders and their horses. And the races posed a danger to spectators who were often within feet of the horses as they were running.
Plus, in the midst of the COVID-19 pandemic, the activities violated the current State of Public Health Emergency restrictions on mass gatherings. The spectators were not adhering to safe social distancing and on at least one occasion, which was filmed on social media, spectators were observed not using facial coverings, the statement asserts.