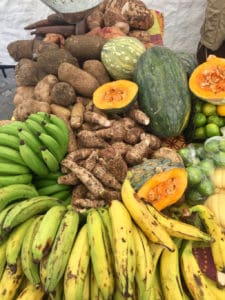 Crops, farming and agriculture are perhaps not the first things people associate with the pandemic that has swept the globe, but for farmers like Shelli Brin the novel coronavirus has changed everything about farming.
Normally, farmers like Brin would sow their seeds, harvest their crops and sell to restaurants that are looking for quality, local produce. Farmers may have taken their harvests to the several farmers markets in the territory and sold a portion of their harvest there. Before the pandemic farmers would have had access to seeds, feed and equipment.
Since the pandemic, Brin said none of this is the same.
"It has changed my market entirely. I used to sell to the restaurants but now that is not possible. I have had to switch to an online platform that is direct-to-consumer and that is a big change for me. This changes how I am planting now," Brin said.
Now Brin sells on the St Thomas Online Farmers Market, a decision she and several other farmers made out of necessity due to the pandemic.
Restaurants have had to close their doors and residents have had to confine themselves to their homes, Brin said, and now she has had to change the quantity of what she plants and the type of crops she plants. Now she must plant small quantities, but a larger variety of crops since her market has become the everyday family of the Virgin Islands and not the restaurants that typically buy in bulk.
But even this has been fraught with challenges.
"Right now, one of the challenges is that some of our seed sources are no longer selling to small scale farms. Because of the pandemic they are only selling to large scale commercial farms in the U.S.," Brin said.
Because of the seed shortage, Brin must plan to grow certain plants for the sole purpose of obtaining seeds and create her own seed bank.
The challenges facing farmers aren't just seed shortages, but also supply and feed shortages.
"One of my concerns, because I raise chickens, is I anticipate having a shortage in animal feed very soon. When it comes to natural disasters like this livestock farmers are always hit really hard. With this type of disaster, I am already preparing to put my chickens through a potential shortage of access to feed," Brin said.
Brin hopes the Department of Agriculture has taken steps to help alleviate the pressure farmers are feeling by providing access to seed, feed and supplies.
Department of Agriculture Deputy Commissioner Hannah Carty said food and farming are vital to the territory's economy. During an Economic Development Authority webinar on Wednesday, she said the Department of Agriculture is supporting local farmers.
"As it relates to a specific COVID-19 department response, we realize farmers have a number of concerns that the department can help with including feed, seed and slips we have available," Carty said. She also said fertilizer and other supplies are being shipped in to ensure the department remains stocked.
While most farmers markets are still primarily closed, Carty said the department is allowing roadside stands and encouraging delivery or pick up options. The department is also utilizing its market division, which will purchase produce directly from farmers and sell it on the farmers behalf. This way, "you are guaranteed a sale for your item," Carty said.
Economic Development Bank Loan Officer Denise Donadelle, who was also present for the webinar, said that farmers who have been in the Virgin Islands for more than five years can qualify for a loan through the bank for a maximum of $50,000 at five percent interest over five years.
Donadelle said the loan can be used towards equipment, machinery, inventory, livestock, irrigation, fencing, repairs, greenhouses, farm stands, boats, trailers, working capital and other farming and fishing affiliated items. Farmers can send email to ddonadelle@usvieda.org for more information.
In addition to access to loans, farmers can qualify for grants from "Plow to Plate."
Plow to Plate Program Director Mikol Hoffman said the entity offers grants ranging from $5,000 to $20,000, business and technical training and volunteers to work on eligible farms. Farmers with less than 30 acres may apply in addition to commercial fishermen.
The program has already awarded $1.3 million to more than 80 grantees, Hoffman said.
The deadline for farmers to apply is April 30 by midnight. Farmers seeking the grant can apply at this website.
There are also a few loans and grants for farmers from the federal government, according to USDA Area Specialist Rena Elias. To apply for these resources, farmers can visit the USDA website. Once on the site, farmers can click the tab that says "COVID-19 Federal Rural Resource Guide." Within this guide there is a section where farmers can find information about federal loans, grants and resources.
Although loans and grants are becoming accessible, Brin said selling on online markets and finding alternatives to what was done in the past is still an everyday reality farmers face.
"This is a really important shift for responding to the pandemic. At this time, with us as farmers, dealing with shortages of seeds, feed, having to move crops and a potential hot summer, we have to become really efficient with our time. Our time is every bit as important a resource as water," Brin said.