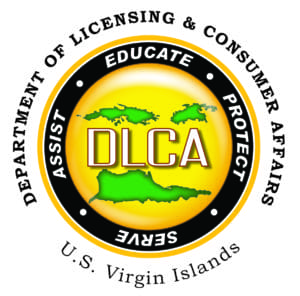 The Department of Licensing and Consumer Affairs (DLCA) informs the public of a new license category created for businesses engaging in any business transaction in the Virgin Islands. The department will issue the General Business License within 24 hours provided the business that is applying confirms it filed the appropriate formation documentation with the Lieutenant Governor's Office for approval for use of its trade name if applicable, obtained a favorable background check from the Virgin Islands Police Department, and has paid the DLCA licensing fee.
The General Business License is for a business that has a business tax identification number and is not otherwise transacting a business activity that requires it to obtain a license for a specific business category activity or required by any other provision of the Virgin Islands Code.
If a business entity is comprised of principals who are required to maintain a license granted or regulated by a local, state or national certification board or body, the entity and its licensed principals are not be permitted to obtain a General Business License.
The cost of a license is $200. When an individual or a new business entity receive this license, that individual or entity is only permitted to do the following transactions under this category:
Opening of bank accounts,
Purchase of personal and/or real property,
Entering into lease agreements,
Importation of equipment, and
Registering of motor vehicles and other related non-regulated transactional business activity.
"DLCA has had numerous discussions, including a hearing before a committee chaired by Sen. Alicia Barnes on creating a transactional license," said Commissioner Evangelista. "I am pleased to inform the public that DLCA has done so to aid the business license applicant who needs DLCA's expedited approval to engage in transactional activities like opening bank accounts and entering into a lease agreement, etc."
As a reminder, the General Business License is transactional and not for conducting business. If a person is interested in conducting business in the United States Virgin Islands, an individual and/or business entity shall submit in writing to the DLCA commissioner its intent by filling out a business license application at www.dlca.vi.gov.
Applicants are still required to obtain approvals from the Virgin Islands Police Department, Department of Planning and Natural Resources, Virgin Islands Fire Service and, in some instances, Virgin Islands Department of Health prior to receiving a business license.
For more information on the steps to apply for a business license, contact DLCA at 713-3522 on St. Croix; 714-3522 on St. Thomas or 693-8036 on St. John. For consumer related issues, email consumerawareness@dlca.vi.gov or call DLCA hotlines to report scams or alleged price gouging at 727-SCAM(7226) on St. Croix or 771-SCAM(7226) on St. Thomas-St. John. (Facebook @dlcavi)