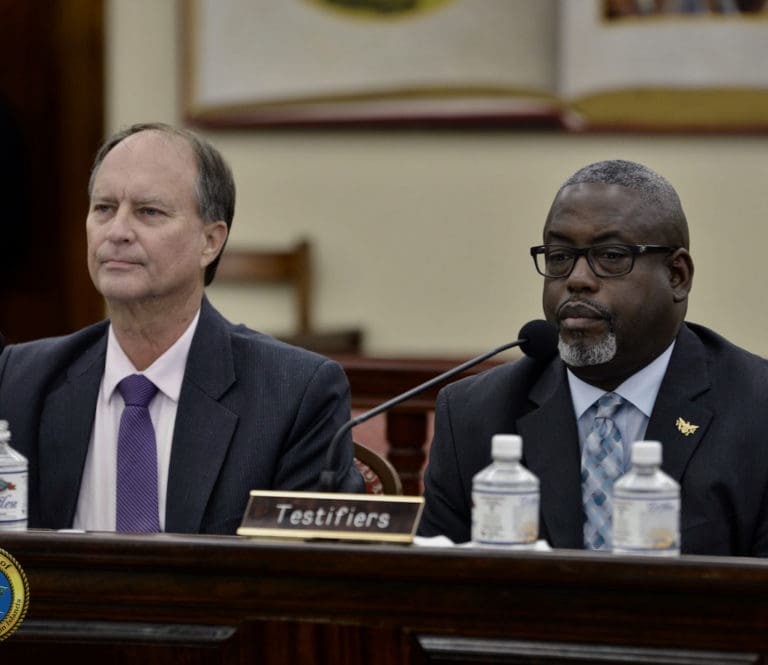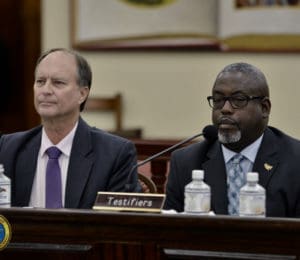 A measure to curtail what the bill's author called "a recipe for chaos," when government agencies manage capital improvement projects, was approved Thursday by the Senate Committee on Government Operations, Consumer Affairs, Energy, Environment and Planning.
The bill, if approved by the full Senate, would require what is called a "front-end engineering and design strategy" for any territorial projects costing more than $100,000 excluding roadways.
During the meeting Sen. Alicia Barnes, who sponsored the bill, said that currently the territory follows a "design-build" process, in which the contractor is responsible for both the design and construction. This strategy, she said, creates a lack of accountability.
Barnes said this strategy is "a recipe for chaos" which, 20 years from now, could lead to shifting, sinking and lopsided structures, whereas using the front-end engineering and design strategy would require geotechnical studies to be done and ensure construction designs are appropriate for the territory's topography.
As the territory starts to manage the millions of dollars in hurricane relief funds and disaster recovery projects, the scrutiny of the federal government will come into play Barnes said. Adding this requirement will reduce change orders, project delays and allows for streamline execution.
She said 20 years from now, the territory won't have the funding that it does now, "so it is important to do it right the first time."
However, two testifiers expressed concerns about the proposed bill.
Department of Property and Procurement Commissioner Anthony Thomas said he didn't see the necessity in every project being required to utilize the strategy, but only specific projects. Furthermore, he added, the department already practices that system already.
"When we have major construction, we do a request for proposal to have a firm come and do all the designs and drawing and front-end work. Now because the federal system is spending the kind of money they are, they have required that it is broken up into phases. So, the first step would be hiring a firm that does that kind of work to create the design, then it is reviewed, and you can't go to the next step until that design meets a particular specification. So, we already do it and I don't think that's clearly understood. It's done. Especially with federal projects," Thomas said.
James Grum, who administers engineering of capital improvement projects for the Department of Public Works, pointed to the understaffing of the department, which handles capital improvement projects.
"Currently, capital improvement projects is severely understaffed, with only two employees servicing the division and all government agencies … it is our hope that any legislation that seeks to increase the requirements on the division, also includes adequate funding for the increase in staffing that will be required to fulfill those tasks," Grum said.
Utilizing the proposed strategy would shorten the length of projects but would also increase the total project cost by four percent. Grum still agreed all projects should require front-end engineering and design, however he highlighted that currently the department only has two engineers, he being one of them, which poses a constraint.
"Army Corps of Engineers recommends that an engineer can effectively manage up to six points of contact. Each construction project requires at least two points of contact. Which means the two of us can handle about six projects. There are over 60 projects per year being proposed and in order to get that front-end information, we physically cannot do it. We have to have subcontractors," Grum said.
He added that federal funds do not provide for adequate staffing for federal projects.
"It provides roughly a five percent engineering fee, which we are using to hire consultants. And those consultants provide the supplemental eyes, ears and feet on the ground that we don't have in-house. Just after the hurricane and until now I have been asking for help and have interviewed several applicants, of which I was able to hire just one … and the one I got is a little older than I am, but I am retiring next year," Grum said.
After hearing the testimony, the committee voted to pass the bill to the Rules and Judiciary Committee for further discussion. Senators present for the vote were Barnes, Myron Jackson, Marvin Blyden, Allison DeGazon, Javan James and Athneil Thomas. Sen. Kenneth Gittens was absent from the vote due to illness.