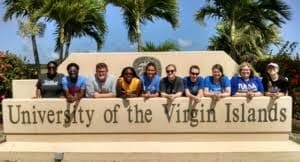 Afternoon on the Green Committee Calls for Cooks "Culture, Fun, and Food Aplenty for Afternoon on the Green (AOG) 2020." The Afternoon on the Green Committee is calling all cooks to sign-up to donate a dish that will be a tasty treat for patrons and impress judges.
Never participated before?  Here is your chance to display your mouth-watering treats at one of the most anticipated occasions for good eats.
Join UVI on Sunday, March 22, to mark the Afternoon on the Green's 30th anniversary. The AOG Committee promises spectacular fun on UVI's Herman E. Moore Golf Course.
Support the university by donating a dish. All proceeds go to student scholarships.
To register or donate a dish, visit http://aog.uvi.edu.
For more information, call Cherilyn Browne at 693-1040.
UVI Beats UPR-Carolina, 72-54 on Senior Night The UVI Bucs and University of Puerto –Carolina both struggled to find any offense in the beginning of the game as just 9 points were scored between the sides with UPR-Carolina holding a slim 5-4 advantage with 14 minutes left in the first half. UPR-Carolina scored the next three points, but then UVI went on a 13-2 run to take a 17-10 lead and forced a visiting timeout with just over eight and half minutes remaining in the first half.
The timeout did not slow the momentum as UVI went on to score the next six points and built a 17-point lead. Carolina hit a three-pointer to stop the scoring drought with just under six minutes left in the half.
UVI then proceeded to score the next seven points, which gave them a 17-point lead, their largest of the half, before UPR-Carolina outscored the Bucs 12-5 the rest of the half. At halftime, UVI led 36-25.
In the second half, UPR-Carolina cut the lead to eight points, 47-38, but UVI responded by scoring the next 11 points to get their lead back up to 17. After that UPR-Carolina never got within single digits and UVI secured the victory on Senior Night.
The Bucs were led by Keith Gilmore with 24 points, while Josh Goss and Felix Ramos both had 14 points, and Kamoi Lake finished with 10 points to round out the double-digit scorers for UVI.
Community Invited to First Great Mangrove Cleanup Scheduled for Feb. 22 on St. Croix at Salt River Bay Join us for the first Great Mangrove Cleanup to be hosted from 9 a.m. to noon, Saturday, Feb. 22.
This collaborative cleanup effort will take place at Salt River Bay and is focused on removing as much debris as possible from both on land and in the water.
Interested volunteers can register at www.viepscor.org  students are also able to receive community service hours for their time.
Light refreshments will be provided to volunteers post cleanup. For additional information, contact Howard Forbes Jr. at 693-1672 or email [email protected]
Agrifest 2020 Set for Feb. 15-17: "Agriculture: Trendy in 2020"  The public is invited to attend the 49th Annual Agriculture and Food Fair of the U.S. Virgin Islands from Feb. 15-17 at the Rudolph Shulterbrandt Agricultural Complex, Estate Lower Love, on St. Croix.  The theme is "Agriculture: Trendy in 2020."  The entrance fee is $6 for adults, $4 for children and $5 for senior citizens. The fair will open daily from 9 a.m. until 6 p.m., with an opening ceremony scheduled for 10 a.m. on Saturday, Feb. 15.
"Agriculture is Life! Fresh food is medicine! Grow something…anything," said Positive T.A. Nelson, commissioner of the Department of Agriculture.
Agrifest 2020 will also feature Farmer of the Year award presentations and quadrille dancing by the Heritage Dancers.  Other entertainment will include Bingo by Bogle, the Big Band, Hypa Active Band, Hartatak Band International, Kurt Schindler, reggae and soca artists expos.  Family fun will involve interesting and attractive exhibits, demonstrations, entertainment, challenging competitions, games, prize-winning animals, a variety of delicious local food and beverages, along with the fun-fellowship of sharing with friends and relatives from neighboring islands. In addition to participants from all three Virgin Islands, guests are expected to arrive from Guyana, St. Kitts and Nevis, St. Lucia, Antigua and Barbuda, and Grenada.
More information is available in a news release on the Media Section of the UVI website – http://www.uvi.edu/
UVI Course Prepares St. Thomas Residents to Serve as Mediators on March 9 -13  The University of the Virgin Islands Center for Excellence in Leadership and Learning (UVI-CELL) offers a 40-hour Mediation Certification Course. The course is designed to provide participants with instruction in the process of mediation. The skills acquired will prove invaluable in all areas of life. Through a combination of role plays, demonstrations, large group discussions and activities, this highly interactive training will take participants through the entire mediation process.
The course will be held March 9 – 13, 2020, from 9 a.m. – 5 p.m. at UVICELL on the St. Thomas Campus.
The course is ideal for persons who want to become a mediator or professionals who want to become more proficient and confident in facilitating conflict in the workplace, home and community. Instruction for this course will be provided by Nancy Love, author of PUSLE.
Space is limited and registration is required. To register, visit http://cell.uvi.edu.
For fees and more information, call Dr. Wendy Coram Vialet at 693-1003.
UVI to Host Two-Day Course on Conflict Management on both Campuses in March The University of the Virgin Islands Center for Excellence in Leadership and Learning (UVICELL) is offering a two-day workshop on "Conflict Management – Appropriate Dispute Resolution" for residents across the territory. The two-day course is designed to provide participants with communication tools used by mediators and negotiators to guide conversations.
The course will be held as follows:
St. Thomas
March 5 – 6: from 9 a.m. to 5 p.m. in ACC-142 at UVI's St. Thomas Campus
St. Croix
March 19 – 20: from 9 a.m. to 5 p.m. in NWW-103 of the Albert A. Sheen Campus
The course will use the PULSE Framework (People Using Language Skills Effectively) to provide the basic foundation for good communication and appropriate dispute resolution. It is the structure for successful, effective conversations and an efficient and useful way to reach a resolution.
Space is limited and registration is required.
To register, visit http://cell.uvi.edu
For fees and more information, contact Wendy Coram Vialet at 693-1003.