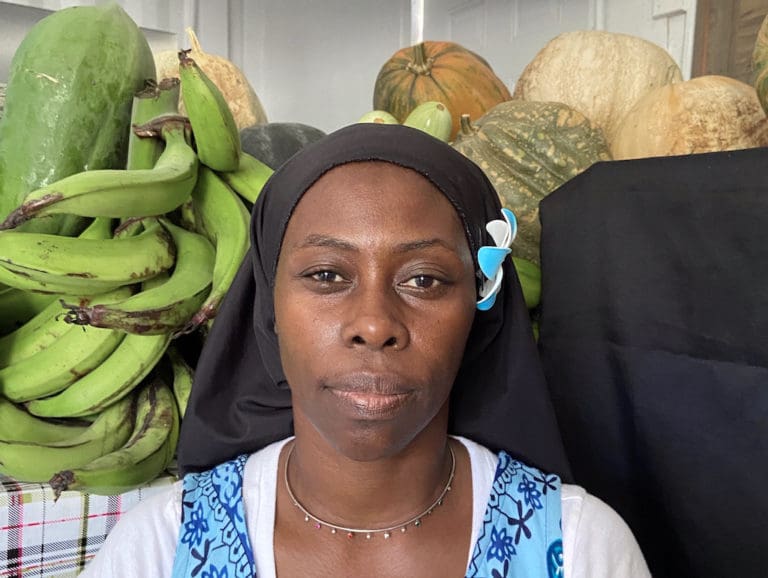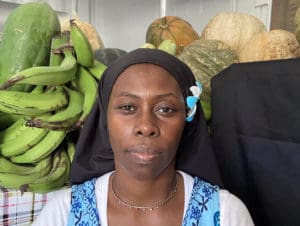 The 49th annual Agriculture and Food Fair is set for Saturday through Monday at the Rudolph Shulterbrandt Agricultural Complex in Estate Lower Love, St. Croix.
Fair organizers predict that 39 farmers and four value-added farmers will display and sell their produce in the farmers market exhibit building.
The exhibit building will be named this year to honor the late Rosalia Drew, a giant of a farmer, crop exhibit organizer Errol Chichester said. Drew was the first and only female and the only crop farmer of the year honored in the 25 to 30 years in the farmers market, according to Chichester.
Drew's daughter, Violet Drew, walked in her mother's footsteps for many years since her childhood and called her mother the "monarch of farming."
"I worked alongside my mother on the farm as a very young child, and I have continued as a crop and value-added farmer on the land I lease from the V.I. Department of Agriculture," the younger Drew said. "My mother was awarded many trophies throughout her life of farming. Her awards have been maintained through the years and have been kept as a tribute to her hard work and dedication to the life she loved so well."
"Value-added is a step up from produce farming," Violet said. "It is taking whatever you've grown and producing another product from it."
The long list of value-added farm products Violet has produced over the years includes: Jams and jellies from local fruit, plantain chips, tomato sauce and ketchup from the overabundance of tomatoes, flour from black-eyed peas or breadfruit and fruit drinks.
"Through the organization Bobo Ashanti Order, I met with other women and we talked about making soaps and clothes and 'everything' in our own homes," Violet said. "It was a new concept for me, and I began to make just about 'everything.' This new way of life was the impetus for my value-added products."
Those who know Violet and have purchased her produce or her value-added products online or in her shop, or have eaten her vegan meals, will understand what she meant when she said, "What I have not learned from my mother, I have learned from the ancestors – it's in my DNA."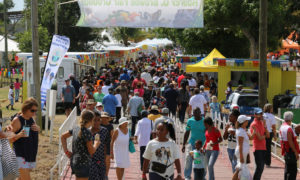 Chichester noted that this year's weather has not been helpful in producing the usual abundance of produce, but he looks forward to a lot of participation. Rain is good for fruit trees, but unfavorable for lettuce and some of the other vegetables. He praised Violet for her foresight in doing some of her planting in pots and containers to avoid the soggy, wet conditions of the ground soil.
Grantley Samuel, owner/farmer of GLG Plants and Produce, grows okra and cucumbers, mainly for Plaza West. He also plants tomatoes, watermelon, pumpkin, eggplant and other produce on land he leases from the V.I. Department of Agriculture for the past 15 years.
"I do this full-time," Samuel said.
After losing his chickens, experiencing structural damages, and encountering problems with his water catchment due to Hurricane Maria in 2017, Samuel cleaned up the debris and started over right away, he said.
"I will be back this year at Agrifest with lots of produce," Samuel said.
AARP in the Virgin Islands will be present for Agrifest this year doing some of the same activities as last year and also offering some fun games for the youngsters.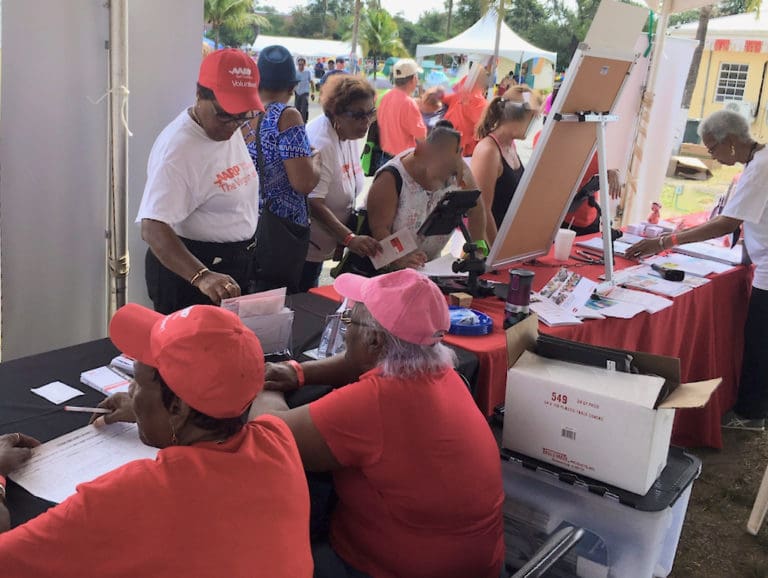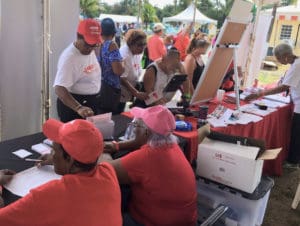 AARP-VI Associate State Director Noemi Garcia spoke to the Source about Livable Communities, which is being worked on.
"We are working with Gov. Albert Bryan Jr., to make the V.I. an AARP friendly state and  community. It is work that will help to make the V.I. a more livable community for all ages," Garcia said. "Livable Communities create outdoor spaces, availability of safe and recreational facilities, sidewalks and areas to sit and rest and much more," Garcia said. Handouts about this effort will be available at the AARP-VI booth.
"Last year we had dart-throwing balloon games with prizes," Garcia said. "This year we will have some of the same with new games and new prizes." She said they will be collecting petitions for their Stop Rx Greed campaign.
Most people do not know that AARP gives a membership to a person as young as 18 years of age, Garcia said. AARP discounts are available for people aged 18 to 44, an associate member gets perks at ages 45 to 49 and those 50 and up are eligible for full benefits. Garcia encouraged the community to join AARP-VI.
There is also a range of different workshops offered to the community: Financial workshops; caring for the caregiver; technical training for using cellphones, tablets and computers; and entrepreneurial workshops.
Valrica Bryson, director of Virgin Islands Cultural Education, invited the children of the Virgin Islands to Agrifest 2020.
"Our next 'Cultural Pop-Up' will be one day only on Saturday, Feb. 15, for fun and games at the Auntie Janice house at the fair," Bryson said. The house was dedicated to the late storyteller and educator, Janice Tutein.
"We will be doing traditional games, playing jacks, marbles, moral and hopscotch," Bryson said. "We will have the old-time go carts made of wood and it will all take place at the eastern side of the fair."
School children of all ages are invited to play all the local games and ride on the locally made go carts, Bryson said.
Amelia Headley Lamont, executive director of the Disability Rights Center of the Virgin Islands, invited the community to visit the organization's booth at Agrifest 2020.
DRCVI is the only territorywide advocacy organization established by Congress that provides legal services to eligible persons with disabilities in the U.S. Virgin Islands. DRCVI is a member of the National Disability Rights Network.
"This year, in addition to the handouts and other materials informing the public of the organization's dedication to advancing the legal rights of people with disabilities in the Virgin Islands, we have some fun stuff for folks to do," Lamont said.
DRCVI designed a scavenger hunt that will take place at 2 p.m. each day of the fair. All ages are welcome to participate. The prize is a $100 VISA gift card. The drawing will be held at the end of the day on the last day of the fair. The winner can pick up the prize at the DRCVI office, Lamont said.
The St. Luke AME Church in Estate Grove Place will satisfy many palates at the fair.
"Local food is always in great demand and the chef at AME will be serving up Crucian food at table number six inside the food building all weekend," a church member said.
AME will cook red pea soup, kallaloo, conch in butter sauce, roast pork and roast goat, macaroni and cheese and seasoned rice, serving at the same table it has used for almost 40 years. Maubi, ginger beer and sorrel will be available to quench the thirst.
Chichester told the Source that the combination of fruits, vegetables and herbs grown on St. Croix have been produced through the sheer self-motivation and discipline of local farmers. The organizers invited the community to experience Virgin Islands agriculture at its very best.
Organizers expect guest farmers from Nevis and Antigua to participate.
The University of the Virgin Islands will offer educational displays of publications and services to the community.
This year's theme, "Agriculture: Trendy in 2020," invites participants to present a wide range of diverse and innovative exhibits for the community.
Admission is $6 for adults, $4 for children and $5 for senior citizens. The fair will be open from 9 a.m. to 6 p.m. daily. The opening ceremony is scheduled for 10 a.m. Saturday, Feb. 15, with the Farmer of the Year award presentation.