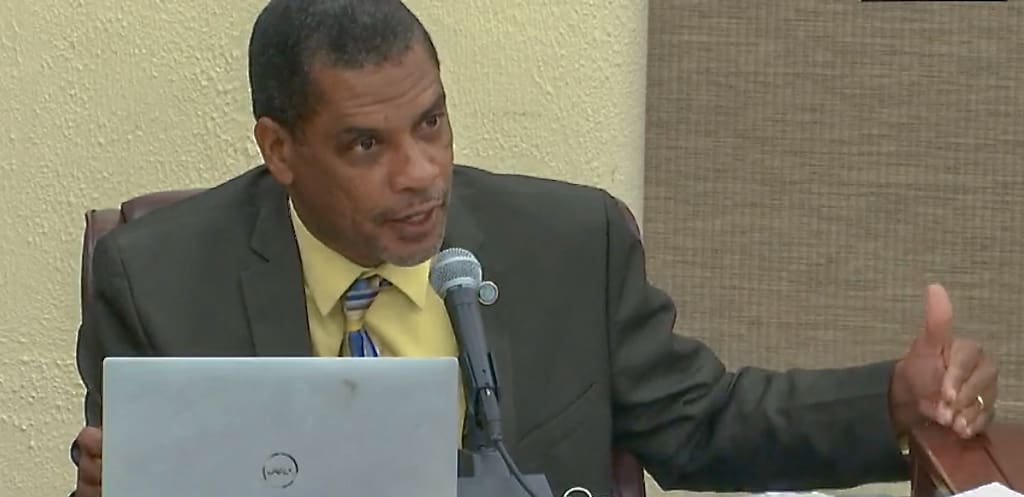 A measure to change the V.I. Government's procurement process, modernizing and making it more efficient, includes a measure to give more power to agencies in procuring goods and services.
Anthony Thomas, commissioner of the Department of Property and Procurement, ran through the provisions of the measure while testifying before the Senate, which was meeting as the Committee of the Whole.
Proposed changes range from business license requirements, agency procurement training, legal advertisements and the exemption of less expensive expenditures from the full process.
A key element of the proposed changes is that some procurement activities would be delegated to government agencies and departments. The agencies will have to be trained and certified by the Department of Property and Procurement before those activities will be delegated. Any new employees joining a department would be required to complete the training.
"Providing some autonomy to agencies in the procurement of goods and services is instrumental in making the procurement process more efficient," Thomas said.
Thomas said his department fully supports the changes proposed by Gov. Albert Bryan Jr.
Sen. Donna Frett-Gregory pointed out that one section for proposed amendments had previously been repealed. Sen. Kurt Vialet noted some of the measures had already been enacted.
Senate President Novelle Francis Jr. said the proposal was there for vetting and would go to a Senate subcommittee for details to be hammered out. No official action was taken Wednesday. The Senate will have to be in session to assign the bill to a committee or take other action.
Frett-Gregory said she supported most of changes the legislation proposed but was cautious there might be some over-regulating going on in it.
Thomas testified changes would be "modernizing and codifying provisions and establishing the foundation for more efficient means of procuring goods and services for the government."
"The current version of the statute includes responsibilities that are no longer responsibilities of our department, such as traffic management, homestead and housing-related functions and weights and measures," Thomas said.
He noted one change "would delegate procurement authority of as much as $50,000 to agencies within the executive branch that have successfully established centralized procurement offices and completed the required trainings with the Office of Procurement."
Another proposed change would be that a contract bidder would no longer need a Virgin Islands business license when bidding on a project but must have the business license before the contract is executed.
Another proposed change would "broaden the avenues for advertisement to include the Department of Property and Procurement's website, electronic publications and the Federal Government's databases for advertising of bids and proposals. Currently, the law only provides for the use of newspapers of general circulation for advertising bids and other solicitations."
Under another proposed change, "preferred bidders" would have alternative means of providing a guarantee of their work.
Frett-Gregory suggested that local bidders should be subsidized to help them meet federal bond requirements.