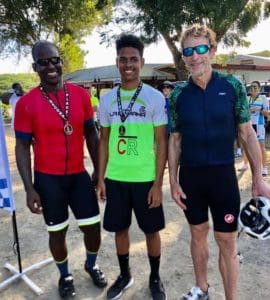 Sunday morning was filled with beautiful weather and a few surprises as the Virgin Islands Cycling Federation (VICF) held its first competitive event of the 2020 season.  Twenty-eight riders competed in the 13-mile East End Individual Time, which started and finished in front of Castaways in Estate Solitude.
After the starting line-up was set, each cyclist was sent off from the starting line at one-minute intervals, with the fastest cyclists going last.  A newcomer to St. Croix, 16-year-old Danielky Cédeño brought his surprising speed from the Dominican Republic and secured first place in a time of 35:41.  The champion borrowed a bike in order to compete because his own bikes have not yet arrived on St. Croix.  Since this was Cédeño's first race in the Virgin Islands, he raced in the Expert category.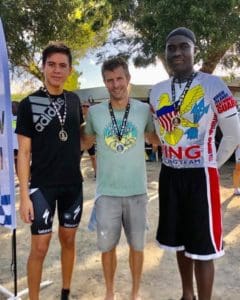 Stephen Swanton was the first Elite rider and second overall in 36:05; 16-year-old Mikey Dizon-Bumann was third overall in a time of 36:43. Other first place category finishers were Alvin Thomas (Sport), Catherine Seguin (Women) and Mason Lambert (Junior).
The next race on the VICF calendar is Donald's Challenge at 7 a.m., Sunday, Feb. 16.  The course starts at Ha' penny, then heads west to Cane Garden, turns around then heads east to Castle Nugget, then back to Ha' penny.  Each lap is about 7 miles.  Women/Sport: 14 miles, Expert: 28 miles, Elite: 42 miles.
For more information on cycling in the U.S. Virgin Islands, call 332-6282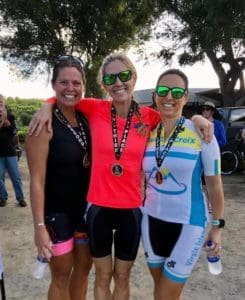 VIRGIN ISLANDS CYCLING FEDERATION
East End Time Trial: Start/Finish: Castaways, Solitude, 13.1 miles
Sunday, February 2, 2020
Elite                                                          Overall Place
Stephen Swanton 36:05                            2
Mikey Dizon-Bumann 36:43                       3
David Parris 37:40                                    4
David Morales 37:55                                 5
Scott Marusa 39:14                                  8
Glenn Massiah 40:15                                9
Jerry Remie          41:12                           10
Ian Collins                      DNF
Expert
Danielky Cédaño 35:41                            1
Kasey Canton 38:17                                6
Wayne Nichols 38:33                               7
Elvor Narciss 44:19                                 13
Olani Vanterpool 44:27                            14
Ralph Bartlett 45:14                                15
Kevin Moran 46:26                                  18
Mervin Mills 55:52                                   22
Sport
Alvin Thomas 46:20                            17
Hubert Abraham 53:56                        21
Horace Graham 1:06:52                      26
Benson Philip 1:14:25                          27
Women
Catherine Seguin 42:55                             11
Esther Ellis         43:33                              12
Megan Lambert 46:19                               16
Shari Bashaw 47:32                                  19
Judy Gario        1:01:52                            24
Angela Cherkis        1:02:56                      25
Junior
Mason Lambert 49:16                            20
Lilly Graham 58:37                                23