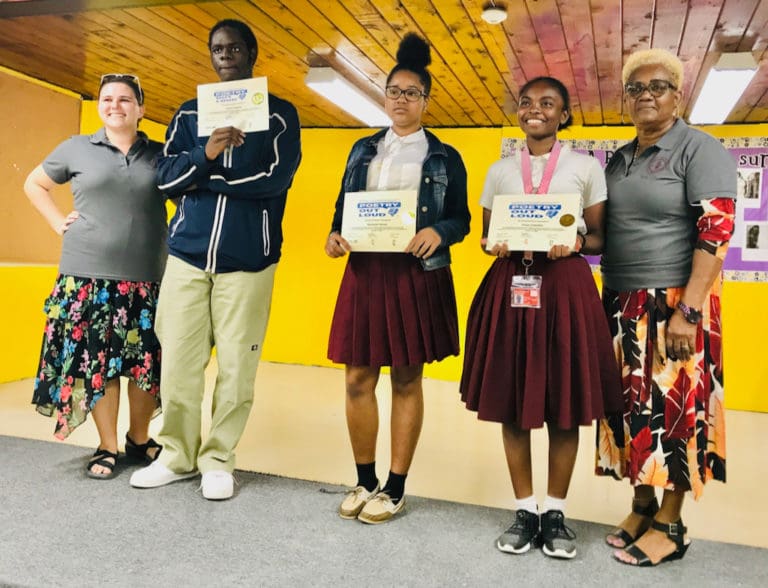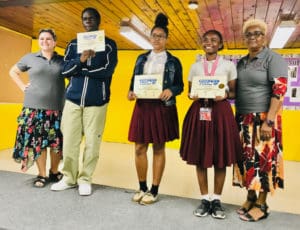 Five St. Croix Central High School students vied for the annual Poetry Out Loud district competition Friday afternoon, with 11th grader Quishylah Navaro coming in first place for the second year in a row.
"I'm excited. It feels good to win again," said Navaro said, who took the CHS title in the 2019 competition. "This means I can go to St. Thomas to represent my school and compete in the regional competition with the other high schools in the territory."
Second place went to 10th grader Aniya Celeltin while Eugene Jah'ky, also a 10th grader, took third place.
Poetry Out Loud is a national arts education program that encourages the study of great poetry by offering free educational materials to high schools across the country.
This dynamic recitation competition helps students master speaking skills, build self-confidence and gives them the ability to learn about literary history and contemporary life.
CHS 10th grade teacher Justina Joseph worked with the students on a regular basis since November 2019.
"We put out the word that the competition was on the calendar and we hoped to attract more students than the five who competed," Joseph said.
"It's not easy to get students to compete. Once they commit to get on board for the competition, it's a lot of hard work for both students and teachers," Joseph said.
"We push the students to learn and appreciate poetry, as we teach all genres of literature in English class," Joseph said. "Poetry doesn't come easy for some students. It's different from reading a short story, or a novel or a dramatic play. Poetry focuses on the narrative, the dramatic and the lyrical. It is not always possible to make the distinction between them."
The language of poetry creates a specific emotional response through meaning, sound and rhythm, Joseph added.
The Virgin Islands Council for the Arts supports the Poetry Out Loud competition and makes it possible for students, judges and coaches to participate when the regional competition is off island and travel must be considered.
Monetary prizes are awarded at the district, regional and nationwide competitions to winners in each of those categories.
According to the National Endowment for the Arts and the Poetry Foundation, Poetry Out Loud has reached more than 3.8 million students and 60,000 teachers in 16,000 schools nationwide since 2005.
Editor's note: This story has been updated to correct the spelling of the name of the winner. The Source regrets the error.