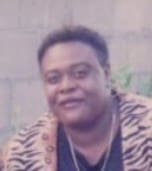 Donna Edwards, also known as Donna Hull, died Sunday, Dec. 8, 2019, at Schneider Regional Medical Center at the age of 60.
She was born on the island of St. Kitts but has been living on St. Thomas for more than 20 years.
Donna was a long-time employee of Commercial Security and was stationed at the Queen Louise Home for the Aged.
The first viewing will be from 9-10 a.m. on Friday, Jan. 3, at Turnbull's Funeral Home and Crematory Services. Services will follow immediately after at 10 a.m. Interment will be at Eastern Cemetery.
She was preceded in death by her siblings: Lorna Maynard, Violet Edwards, Clive Maynard, Lionel Maynard, Veronica Maynard and Leroy Edwards.
She leaves to mourn, her sons: Craig Edwards, Rogalie Edwards and Julio Moore; daughter, Natasha Edwards; grandchildren: Vikell Edwards-Douglas, Troy Edwards, Najahri Edwards, Davien Edwards, Creola Edwards, Jahmarie Edwards and Rogjel Edwards; sister, Jennifer Edwards; special nieces: Heather Maynard, Marissa Johnson Rogers and Danita Johnson-Harris; and special nephew, Alston Johnson Jr.
She is also survived by many other nieces and nephews, including Clarita Douglas, Yvette Richards, Dale Maynard Foy, Kema Maynard, Lyniss Maynard, Alicia Maynard, Tanya Maynard, Kema Maynard, Shevorn Henry, Connie Edwards, Diane Edwards, Jessica Edwards, Marsha Edwards, Edwin Edwards, Shorn Edwards, Joseph Edwards, Charles Maynard, Bob Maynard, Morley Edwards and many more too numerous to mention.
She is also survived by many cousins from the Edwards, Maynard, Heyliger and Tyson families; special friends, Lisa Perdereaux, Alston Johnson Sr., Clarita Liburd, Georgette Thomas, Sonia Caines, Esther Taylor, Scarbrielle, Wiglet Richard, Delcia Brookes and Sylvia Bryan; and the staff and residents of the Queen Louise Home for the Aged.