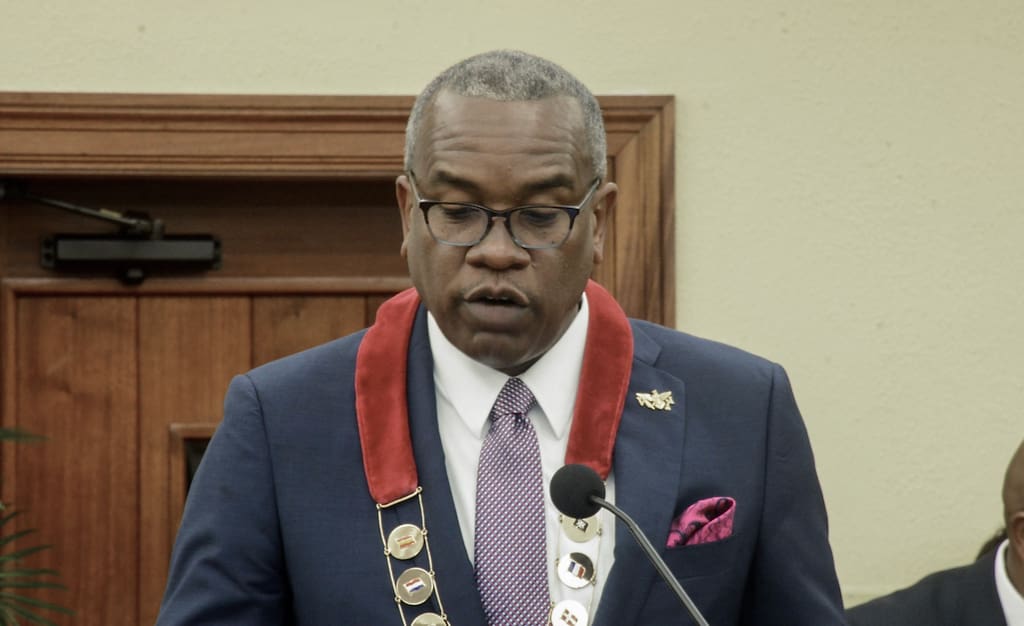 After a year of "trials and triumphs," Gov. Albert Bryan Jr. said the "state of our territory is on the mend" because of the focus his administration has put into three key mandates: stabilizing the government to rebuild pubic trust, recovery and rebuilding efforts and laying a solid foundation to restore the economy.
During Bryan's second State of the Territory address, he updated the plans he announced a year ago during his first State of the Territory address.
Last year Bryan said he wanted to confront the systemic causes of various community issues, promising to focus on poverty, the economy, rebuilding industries, infrastructure and education reform. In his address Monday he appeared proud to report on those endeavors and was met with applause from the attendees at the end of each accomplishment relayed to the public.
"With any assessment of any government and general community well-being, there is a mixture of good news and bad news. However, our good news is starting to outweigh the bad news. We have laid a strong foundation in our first year. … We are now on the road to recovery with a pathway to prosperity that is clearly defined. And although that pathway is narrow, we can make our way down it if we act swiftly, if we act boldly and certainly if we act bravely, to seize the opportunities before us," Bryan said.
Tackling Poverty
To combat poverty in the Virgin Islands Bryan reported during the last year he has fixated on the mental health crisis in the territory, homelessness, gun violence and Medicaid.
Only weeks into his administration, Bryan said he issued an executive order declaring a mental health emergency, which called for the Department of Health to recruit behavioral health professionals. Since then, Bryan said the Department of Health has reestablished the Behavioral Health Alcoholism and Drug Dependency Services Council.
"But as we address this crisis, we must also confront the very real nexus between mental health and homelessness," Bryan said, revealing that as of January 2018 there are almost 500 people in the Virgin Islands experiencing homelessness on any given day.
Bryan said the administration has begun placing those who are homeless into care facilities.
Last year Bryan said he vowed that the administration would "work double-time" to ensure the territory sees fewer gun-related deaths. While there has been fewer, in 2019 he said 36 men and women lost their lives to gun violence, "36 too many."
(The Source counts 40 homicides in the USVI for 2019, not including suicides or motor vehicle accidents. Our full 2020 list is here.)
The Virgin Islands Police Department confiscated 150 illegal firearms, made 75 gun-related arrests and made 17 arrests in open homicide cases in 2019.
"We will not stop until we bring those responsible to justice and until we rid our territory once and for all of these illegal weapons," Bryan said.
However, Bryan said there is "no stability without assuring that our people have access and the means to pay for health care." He said the administration testified before Congress three times last year "in our effort to rectify the Medicaid Fiscal Cliff."
Doing so, Bryan said, resulted in the proposed legislation that will provide the territory with $126 million for fiscal years 2020 and 2021 and increase the federal match rate from 55 percent to 83 percent.
Fixing the Economy
Bryan announced that the territory has seen the first significant bond rating improvement in "a very long time." Standard and Poor's Global Ratings raised the territory's outlook from negative to stable and affirmed its "A" rating on the USVI Garvee bonds, Bryan said with a smile.
He said the bond rating upgrade was due to "recent improvements in the government's liquidity and near-term financial position driven by the receipt of federal disaster assistance, a surge in tax revenues from reconstruction and an increase in concession fees from the Limetree refinery facility."
Because of this the territory is in an improved position to secure financing for improvements and projects.
Bryan also said the territory's standing has improved with credit rating agencies. Funding for major projects has been secured without the need for central government borrowing and has begun the work of restoring access to the municipal bond markets.
Bryan also said that on Dec. 31, FEMA obligated $233 million to pay contractors who took part in the Virgin Islands Housing Finance Authority's Emergency Home Repair program which concluded on April 15. This alone will generate $12 million in gross receipts taxes, he said.
Last year Bryan said the Long Bay Landing project was "a top priority" for the administration. But Monday, over a year later, he said, "We have been threatened and sued in an attempt to strong arm us into a deal that does not favor or benefit the people of the Virgin Islands."
He promised to get the project completed and added no one will stand in the way.
"We will get this done even if we must resort to eminent domain."
Rebuilding Industries and Repairing Infrastructure
Over the last year Bryan said the administration has worked to rebuild industries and repairing basic infrastructure such as resident's utilities and roads.
Bryan said the Department of Public Works will be busy for the foreseeable future but, "We are making steady progress daily on the reconditioning and repair of our roads. For every road project in progress, there is another one out for bid and two more being designed."
The Virgin Islands Water and Power Authority is slated to receive more than $2 billion in funding to renew its generation and power distribution systems, Bryan said, with a billion of it going towards underground circuits for 50 percent of the Authority's customers.
"As a government, we pledge to stay current in paying WAPA while holding it accountable to implement a renewable generation plan that will transform the Authority," Bryan said.
Bryan said the Virgin Islands Port Authority also has made great strides. The entity intends to invest more than $110 million in infrastructure projects benefiting airports and marine ports in the territory.
The state of the territory's hotels are also on the mend, Bryan said. Before the storms there were more than 4,500 hotel rooms available throughout the territory, and as of Sept. 2018, only 2,500 were still available. But with the completion of the Marriott's Frenchman's Reef he anticipates the number of rooms available to grow to 3,550.
Educational Reforms
Schools were heavily impacted by the hurricanes of 2017, which destroyed Julius E. Sprauve School, Arthur A. Richards Junior High School, Addelita Cancryn Junior High School and the Curriculum Center on St. Thomas.
Bryan spoke a year ago about the necessity for many school changes. In Monday's address he said an educational facilities master plan is being developed with community input and the assistance of the New Schools Construction Advisory Board.
The goal for completion of the master plan is June and Bryan said funding has been identified, signaling the beginning of the demolition of several sites and the start of the design process, starting with Charlotte Amalie High School.
Bryan identified several other schools that were either being demolished and restored, or partially repaired and improved.
"We continue to plan and execute projects to maintain our existing school sites and the temporary modular facilities. With the help of the Legislature, we have set aside over $5 million to help maintain and temporarily repair our ailing education infrastructure," Bryan said.