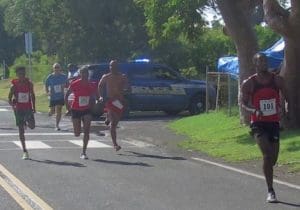 Even without competition, Malique Smith, a recent graduate of the University of Arkansas Pine Bluff, had a goal in mind Saturday for the 38th Annual 3Kings Mile Road Race that kicks off the annual Crucian Christmas Festival Adult Parade.
He planned to run a personal record. He was at 2 minutes and 2 seconds at the half way point at King and Fisher Streets, and where the Children Race starts and crossed the finish line in 4:22 for the mile and a personal best to give him claim to the fastest time in the Smith family.
He has now won all age-groups in both the Children Race and the 3Kings Mile available to him.  Jah Whyte of St. Croix Track Club and Good Hope Country Day School was second in 4:51; Randell Nielsen was third in 5:16; Fred Flint was fourth in 8:06.
Mireille Smith of St. Croix Track Club was the first female finisher in 6:20; Joanne Mc Junkin was second in 8:49; Ruth Cresenzo was third in 8:49.