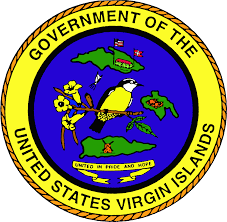 Governor Albert Bryan Jr. participated in a road renaming ceremony at 10 a.m., Thursday, Dec. 12, just east of Nelson Mandela Circle at the junction with Wendy's in Long Bay, St. Thomas, in honor of former Sen. Elmo D. Roebuck Sr.
The 29th Legislature passed Act 7242 to posthumously honor Roebuck, who was instrumental in starting the territory's affordable housing program under Gov. Ralph Paiewonsky before serving eight terms in the Virgin Islands Legislature.
Under Act 7242, a sign is being erected identifying part of Route 30 from Nelson Mandela Circle to Donkey Hill as The Elmo D. Roebuck Sr. Drive.
As the head of the territory's fledgling housing program, Elmo Roebuck oversaw the construction of the Oswald Harris Court and Paul M. Pearson Gardens housing communities on St. Thomas. Roebuck also supervised and managed significant improvements to housing communities in both districts, including Barracks Yard housing Estate Ross, Taarenberg, Honduras, Altona, Lagoon Street, Estate Profit, Estate Profit, Mon Bijou, Water Gut and Bordeaux.
During his tenure in the Legislature, Sen. Roebuck served as senate president in the 11th, 12th and 13th and 15th Legislatures. He also served as chief of staff under Gov. Juan F. Luis and served as a policy advisor in the Cabinet of Governor Roy Lester Schneider. Also, Roebuck served as a culture bearer in keeping the heritage alive through his role telling Bru Nansi and other West Indian folk stories that had been passed down by his grandmother, Henrietta Abbott, to children in the territory.