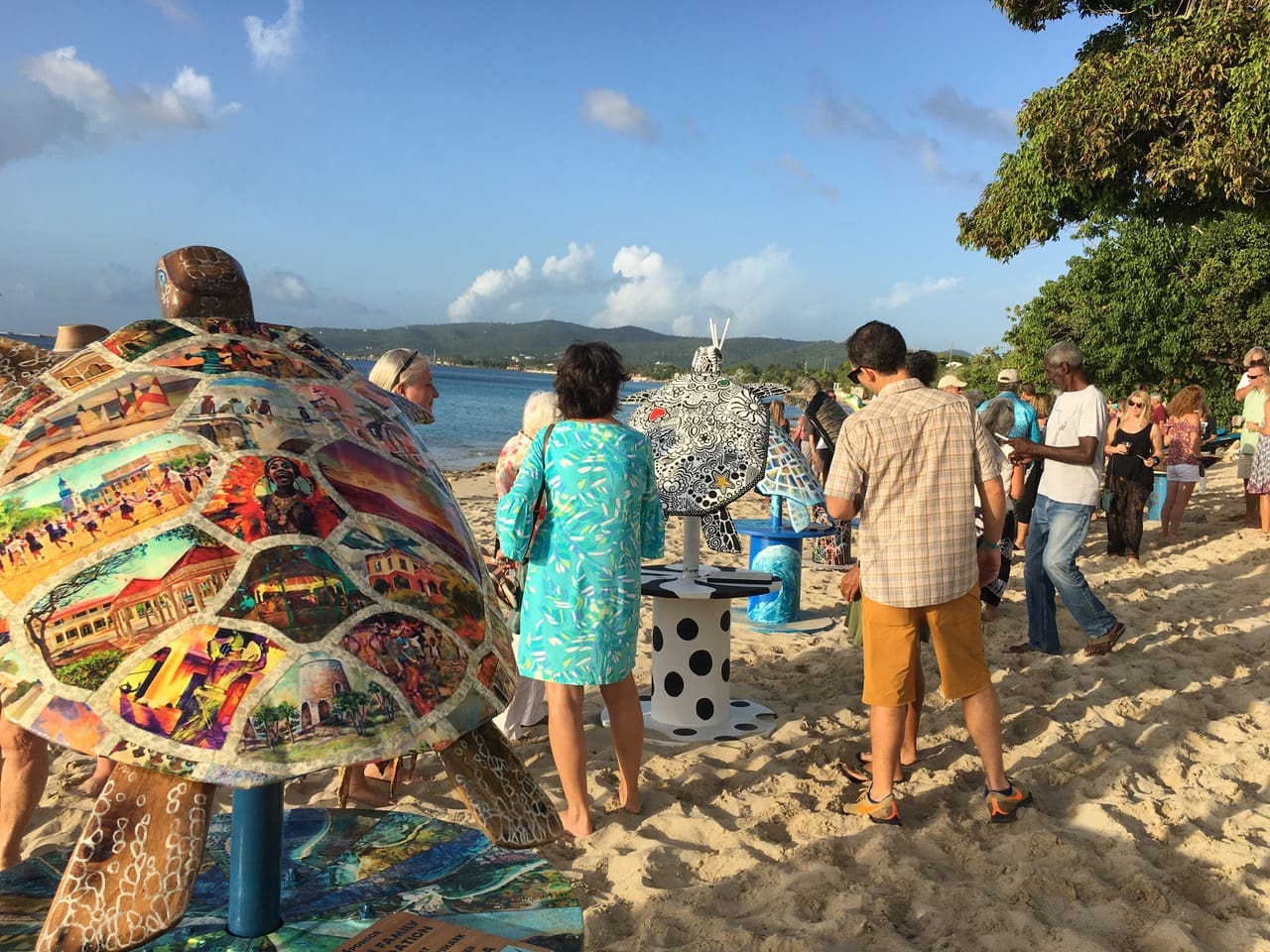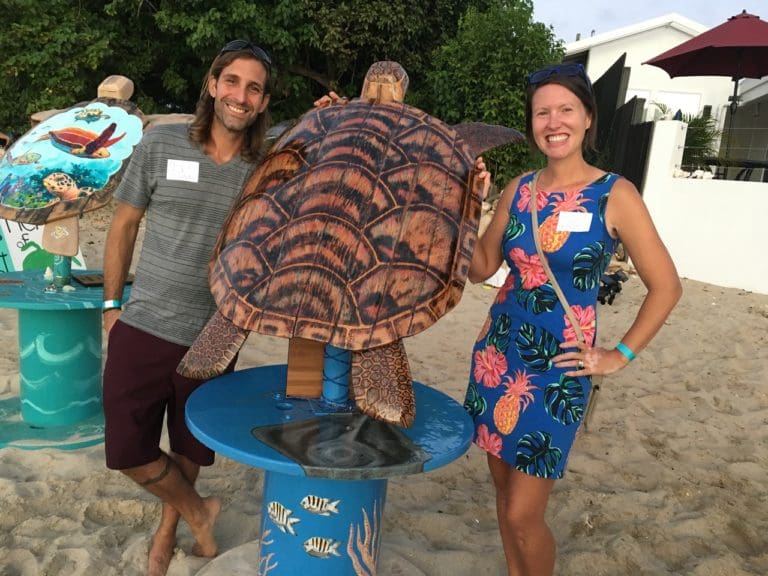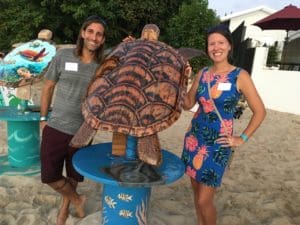 Ten turtles, six feet in length, created by local artists with grand imaginations and talent, hatched Saturday afternoon at Sand Castles on the Beach waterfront. Beginning next week they will be on display at various locations around the island.
More than 200 people attended the "hatching." Drinks and appetizers were provided by Beachside Cafe. Musicians performing during the event included Eugene "Doc" Petersen, Kev Pan Vibes, Keith Moore and Mike Funk and Steve Withrow. Artists and other businesses such as Seabourne Airlines and Cane Bay Divers donated items for a silent auction.
Before coming to life with paint, sea glass, glass bottles, wood burning and telephone wire, the turtles were created by woodworker Chris Lima, who fashioned them from rum barrel slats, oak pallets, metal pipe from the Randall "Doc" James Racetrack and cable spools for the base. They were then "adopted" by local artists to decorate in whatever material and style took their creative fancy.
Sarah Lima, his wife, created a somewhat realistic looking turtle with her culinary torch.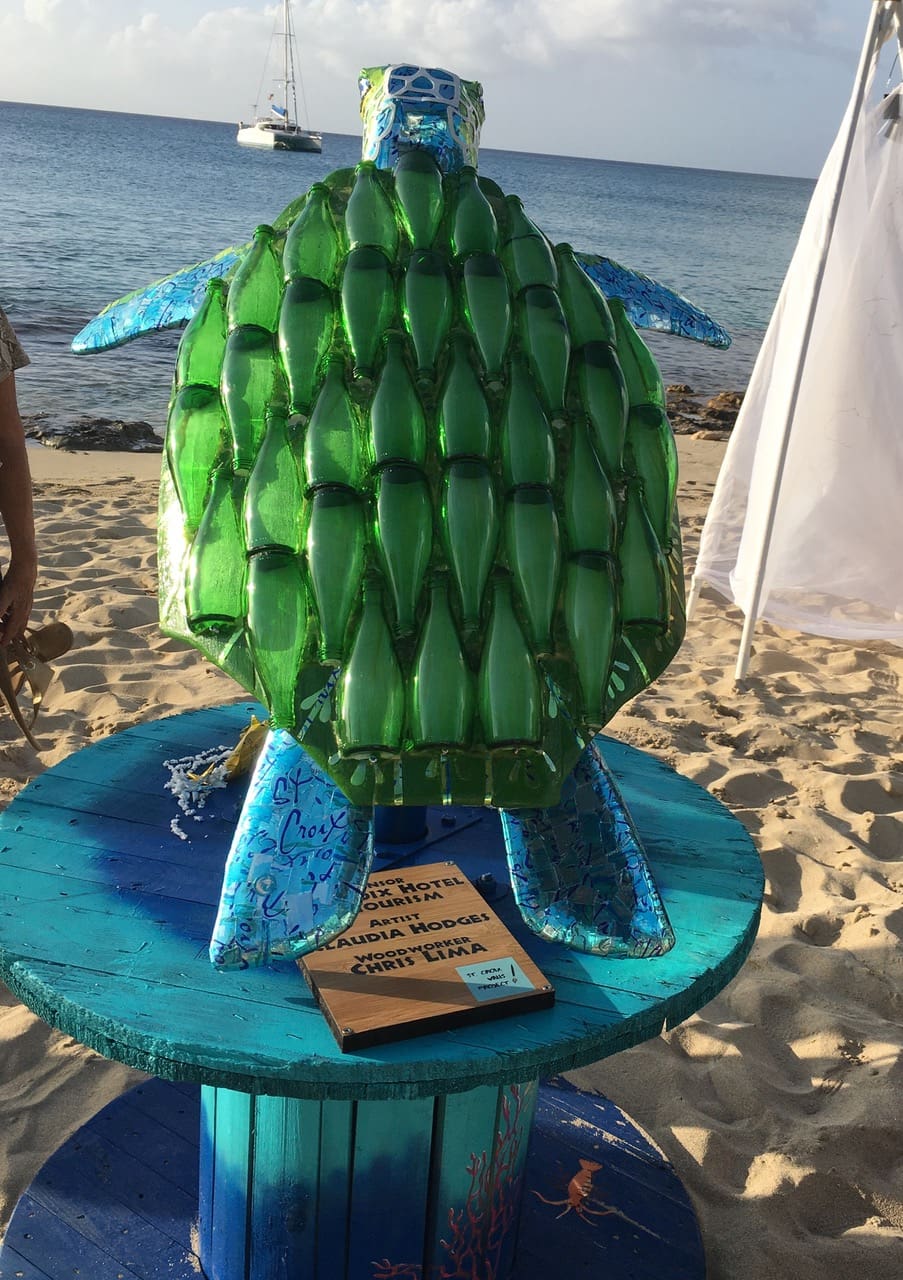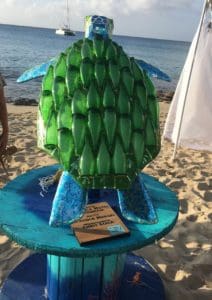 The other artists who volunteered their work were Isabelle Picard, Becky Snodgrass, Cathy Booth, Claudia Hodges, Waldy Brodhurst, Elizabeth Keith, Marilyn May, Tamara Michael and Lyn Voytershark.
Glenda Smith, creator of the HeArt of the Turtles project, said some of the artwork will rotate locations and the rest will remain in place for the next 14 months. Permanent locations for the next year are the Frederiksted Pier, Sand Castles on the Beach, Silver/Seaborne Airlines Seaport, on the boardwalk near Club Comanche, Blue Water Terrace, Mutiny Island Distillery, LaReine Chicken Shack and the Leatherback Brewery.
The others will rotate between St. Croix Hotel and Tourism Association members.
In early 2021, the turtles will be auctioned, and the proceeds will benefit Project Promise and Young Scientists of the Sea – both local charities. (See related story.)