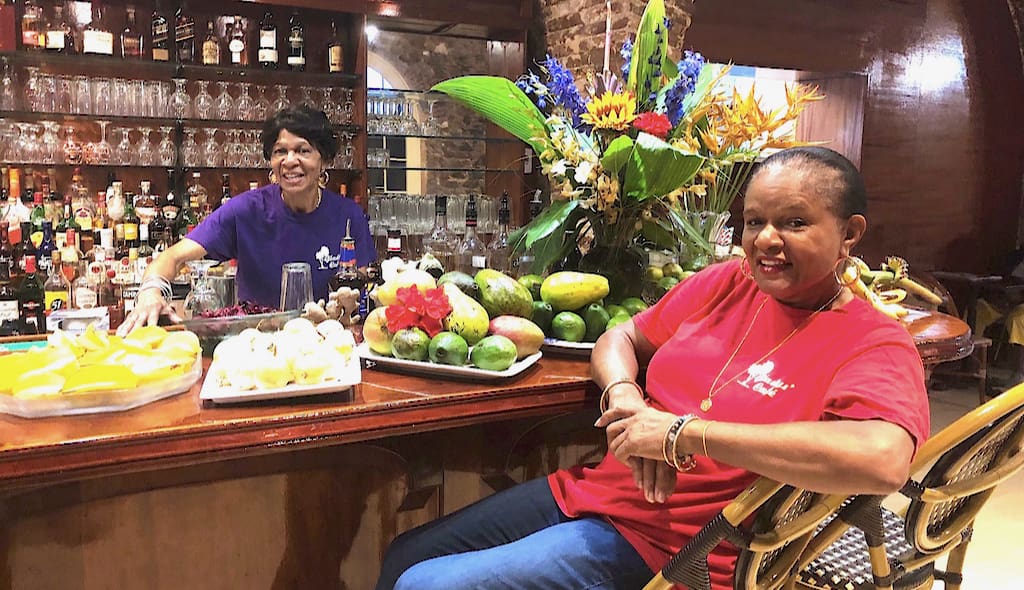 Since the 1990s, Gladys' Café in downtown Charlotte Amalie has maintained a reputation for serving fresh local cuisine tastefully blended with island hospitality.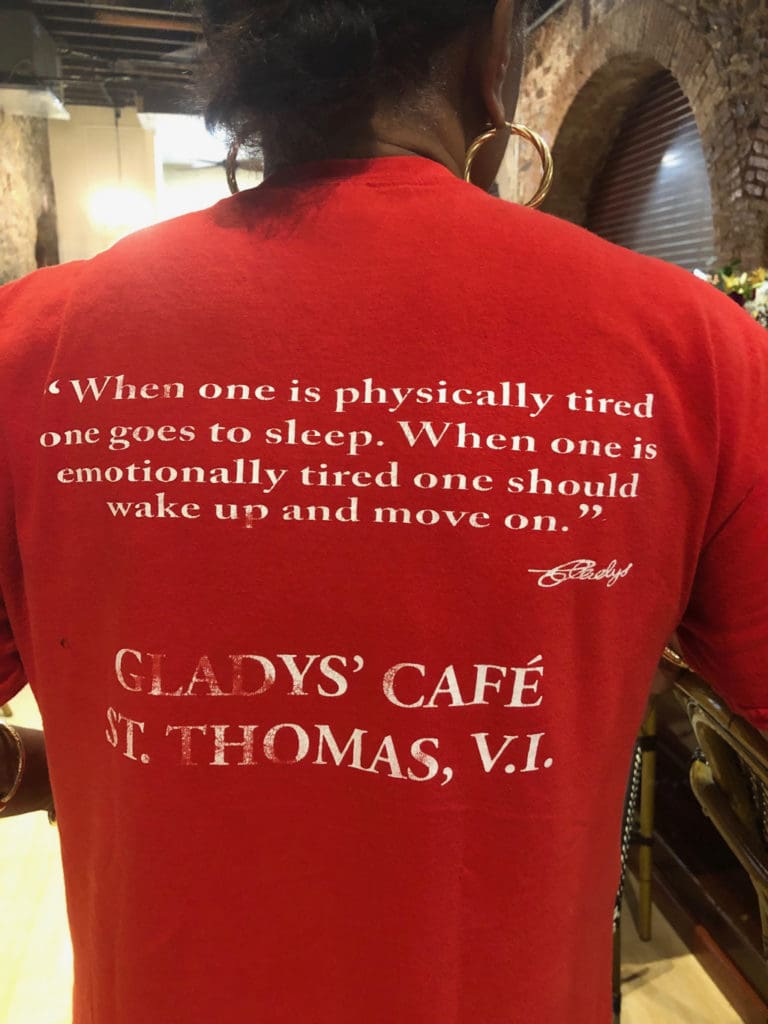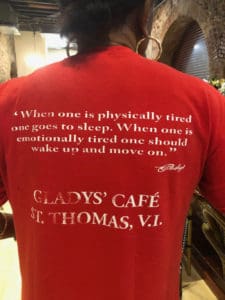 Unfortunately, culinary magic could not anticipate the intrusion of a raging overnight fire on July 4 — or the irreparable damage it caused to the celebrated establishment.
"I was in New York when it happened," Gladys Isles-Jones said. The local chef/restaurateur returned from vacation to discover an inaccessible dining area and kitchen damaged beyond repair.
"Apparently, the fire started on the upper floor of the building," she explained. "Massive amounts of water from fire hoses poured straight down, destroying all our equipment."
Faced with a crushing dilemma, Isles-Jones took to heart her very own words quoted on the restaurant's T-shirts: "When one is emotionally tired, one should wake up and move on."
She hoped that next move would allow her not only to reopen but also remain in the downtown neighborhood.
Fortunately, Topa Properties, LLC, came to the rescue with an available space in the same Royal Dane Mall complex. In addition to classic stone walls and dramatically high ceilings, this facility offered a storied history, having housed landmark gathering spots Cafe Brittany and L'Escargot in the 1970s and '80s.
In short order, contracts were signed and the arduous process of relocation began. A skilled team of craftspeople, plumbers and electricians completed the project in a targeted six-week timeframe, allowing the chef to celebrate the reopening on her birthday, Oct. 16.
"We had completely redecorated just last year," recalled Isles-Jones. Most of the furnishings — and artwork from her favorites local artists, including Johnna White — survived the blaze and now complement the new dining area.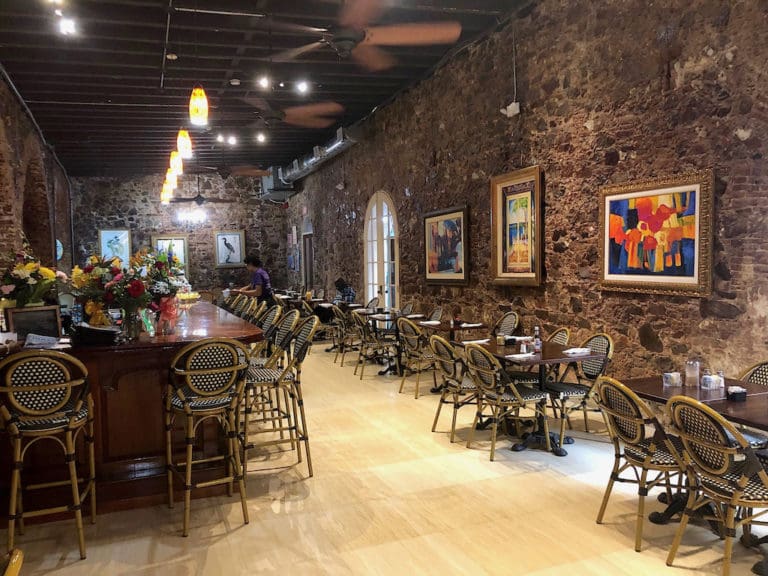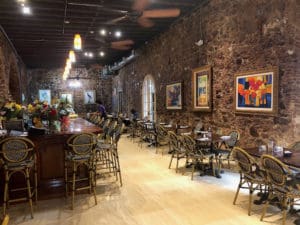 The 125-seat restaurant also boasts a gleaming mahogany bar brought over from the previous location.
"My beautiful bar had to be cut into three sections and reassembled," Isles-Jones said. Admiring the finished handiwork, she said, "Look, you can't find a seam anywhere. It's perfect."
"This location is so much better than I ever dreamed and my kitchen is five times the size of the other place. I believe everything really does happen for a reason."
She was quick to add, "Topa has been so helpful — a wonderful landlord."
Longtime island residents may recall the tragic blaze is not the first time Isles-Jones has confronted adversity with dignity and grace. Her initial foray into restaurant ownership began in 1984 with the opening of Tropical Isles restaurant at Anchorage condominium complex. The cleverly named beachfront eatery was nearly obliterated by Hurricane Hugo in September 1989.
Undeterred by Mother Nature's ravages, Isles-Jones shifted focus to downtown Charlotte Amalie, opening the first Gladys' Cafe on Main Street in 1990. Over time, her clientele expanded to include many loyal regulars as well as tourists in search of authentic island cuisine. In addition to creative menu options, she earned a reputation for entertaining patrons by breaking into song, especially when Tina Turner played through the sound system.
The music stopped abruptly on Sept. 15, 1995 — the day Hurricane Marilyn hit the territory.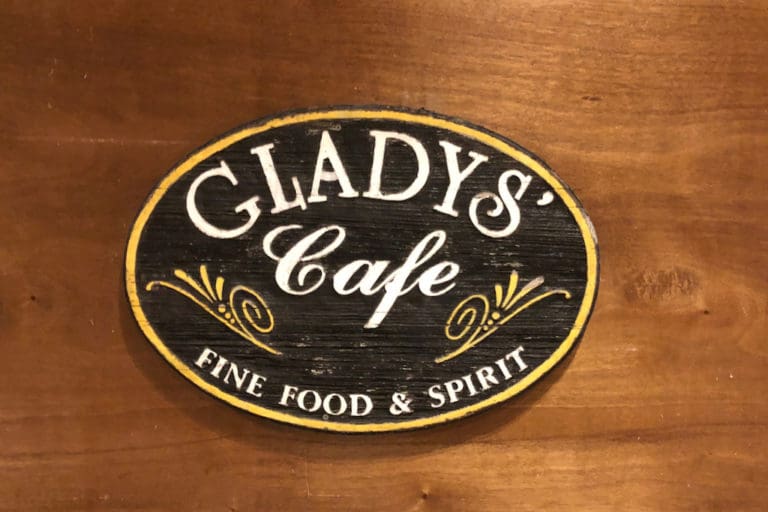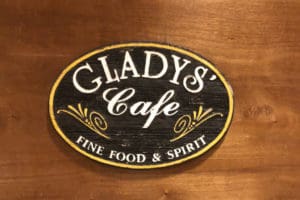 "When that storm passed, I found my kitchen floating away down Main Street," Isles-Jones said.
Once again, Isles-Jones picked up the pieces, literally and figuratively, reopening in Royal Dane Mall shortly after Thanksgiving that same year. The restaurant remained at that locale for 24 years — until the fire.
During those two dozen years, the cafe was not immune from setbacks including severe damage done by hurricanes Irma and Maria in September 2017, when two feet of sand and seawater invaded the establishment. Eager to help others, even in the wake of her own loss, Isles-Jones and her team cleaned up and started cooking almost immediately, offering free meals to storm victims and response teams.
Today that same nurturing spirit prevails at Gladys' Cafe. Along with friendly staff members, the team also includes the entrepreneur's daughter, Debbie Isles, and sister, Pauline Alexander. Although Isles-Jones spends much of her time behind the scenes preparing meals, every now and then you might catch her popping out from the kitchen to greet customers — and occasionally she still breaks out in to song.
Morning and afternoon menu options are designed to please varied palates and dietary restrictions, but emphasis remains on local recipes. An all-time favorite dish at Gladys' Cafe is avocado stuffed with fresh Caribbean lobster salad.
"Oxtail is very popular, too," Isles-Jones said.
Patrons are invited to dine in or take out as well as purchase signature hot sauces that add a taste of Gladys' culinary magic to any meal. Signature T-shirts — with her fitting "move on" quote — also are available.
Doors are open from 7 a.m. to 5 p.m. Mondays through Saturdays and 8 a.m. to 3 p.m. Sundays. An additional dining area in the rear of the building is scheduled to be unveiled in time for high season.
Further information is available online at gladyscafe.com or by calling 340-774-6604.