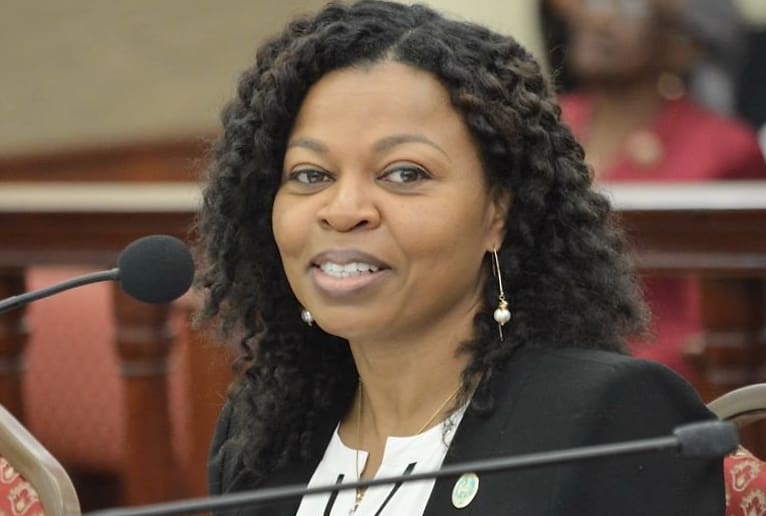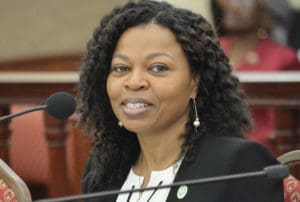 Lawmakers in the Senate Committee on Homeland Security, Justice, Public Safety and Veteran Affairs pushed forward a gun violence bill on Wednesday after various testifiers cautioned senators of budget apprehensions and redundancies in services offered.
If enacted by the full Senate, the bill would establish an Office of Gun Violence Prevention tasked with developing strategies to reduce and prevent gun violence in the territory and to recommend to the Legislature bills to strengthen gun laws. The office would also be responsible for providing recreational, vocational and economic opportunities for young adults by establishing relationships with existing law enforcement and social service entities.
But V.I. Police Commissioner Trevor Velinor, Office of Management and Budget Director Jenifer O'Neal and Sen. Kenneth Gittens were among the first to contest aspects of the bill.
O'Neal's concerns were strictly budgetary. She said she was unclear what type of analysts were needed, as well as the number of persons overall that would need to be hired for the office, and depending on the number of positions, the cost of this new office would far exceed the proposed $700,000 allotted to be taken from the General Fund of the Virgin Islands.
She added the fiscal year 2020 budget was recently passed and approved as a balanced budget, which tied proposed expenditures to projected revenues.
"While I am aware that there were some differences in revenue projections, to the tune of almost $20 million dollars, between what was submitted from the Executive Branch and what was ultimately approved by the Legislature, I am very much concerned about adding to or increasing the budget in any way at this time," O'Neal said.
She explained that the Office of Management and Budget and the Department of Finance monitor and manage collections and cash flow on a weekly basis, while also making sure the government can continue to pay outstanding obligations like tax refunds and other debts from prior years.
"I am also keenly aware that going forward, the cost of continuing this new Office of Gun Violence Prevention under the Office of the Governor will be substantially higher than the initial $700K in salaries alone, not to mention all of the outreach, reporting and other responsibilities that are proposed. These are additional costs that we can ill-afford at this time, and may be better absorbed within an existing department that can reassign persons to do the required duties," O'Neal said.
She concluded by saying that due to the financial constraints the Office of Management and Budget could not recommend approval of the bill until additional revenues could be identified to fund the initiative or if it could be enjoined with another department.
Velinor agreed the $700,000 allotted was insufficient to cover the costs that would be associated with creating the new office and said many agencies are already in place that would serve a similar, if not identical, purpose.
"There appears to be some redundancy as the VIPD and other agencies are utilizing some of the proposed crime intervention strategies. VIPD Victim Witness Advocate are utilizing members of the clergy to respond to gun related homicides," Velinor said.
He added that existing agencies are already competing for the same resources to initiate some of the recommended practices outlined in the bill. He suggested to lawmakers that the Office of Gun Violence Prevention could be merged into VIPD's Crime Prevention Unit.
Though Velinor detailed his many concerns he ultimately supported the bill's mission and premise, having said "this may be a workable program in the Virgin Islands." He then recommended the consideration of the bill with a "sunset provision" of three years that would allow for the assessment of any benefits of the program.
"If the program is effective and determined to contribute to gun violence reduction then it should be considered for an extension or permanency," Velinor said.
Sen. Gittens was unconvinced and asked when government was going to get serious.
"The Office of Gun Violence Prevention is being created to do what? To reduce and prevent gun violence, to make recommendations to the Legislature. Why do we have a law enforcement planning commission? Why do we have a Crime Prevention Bureau within the VIPD," Gittens questioned.
"What we are seeking to do here is duplicating efforts. The OMB director just sat there and told us that the fiscal year 2020 budget was recently passed and approved as a balanced budget, tying proposed expenditures to projects already. So what are we going to do with this," Gittens said.
But senators voted to pass the bill to the Rules and Judiciary Committee after hearing both the opposition and the statistical data delivered in testimony.
Velinor told senators that in 2018, according to the Federal Bureau of Investigation's Uniform Crime Report for the Virgin Islands, a per capita homicide rate of 38 for a population of 100,000 was reported. In contrast, Velinor said, the national average in the United States was five homicides per 100,000.
In 2017 Velinor said there were 52 homicides in the Virgin Islands and in 2018 there were 43. Year to date in 2019 there have been 31 homicides in the territory with over 90 percent of those being firearm related.
"A reduction in the amount of gun violence in the territory will reduce the amount of homicides in the territory. But there are various social, economic, educational and cultural variables that contribute to criminal behaviors and gun violence," Velinor said.
Department of Health Commissioner Justa Encarnacion said hospitals reported approximately 60 gunshot wound admissions to their emergency rooms, with several of those leading to off-island transfers.
"One uninsured off-island transfer costs between $7,000 to $25,000 and a critical stay in an Intensive Care Unit can easily cost over $1 million. However, the financial damage cannot compare to the chronic emotional, behavioral, social changes seen here within our territory," Encarnacion said.
Encarnacion said the Health Department's only recommendation was to identify the appropriate financial support that would allow for full staffing and operational oversight to the Office of Gun Violence Prevention.