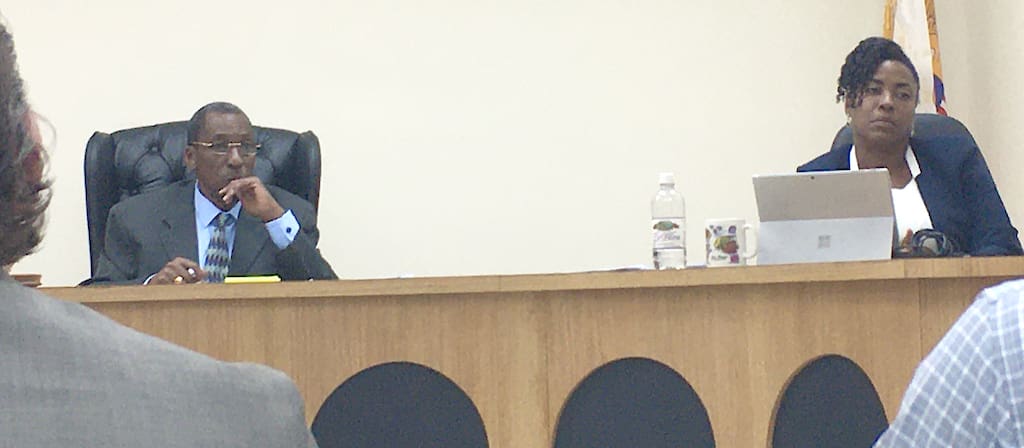 Two members of the V.I. Casino Control Commission extended licenses for Divi Carina Bay Casino, VIGL Operations and CRG Holdings at a hearing Monday, after grilling them about delays and encouraging streamlined deadlines.
Acting chairman Usie Richards and commissioner Stacy Bourne questioned first casino General Manager Anton Kuipers and then General Manager Andreas Conhoff of Divi Carina Bay Resort, about the progress of rebuilding the hurricane-demolished hotel.
While renovations are being made, 15 rooms at the resort are being used by off-island construction workers. As progress is made reconstructing rooms, the workers will be moved into other rooms.
Contractor O'Reilly Plumbing and Construction and subcontractors have been rebuilding roofs, plumbing and electrical systems, installing drywall, sliding doors and laying concrete walkways and seawalls since the 2017 September hurricanes.
Conhoff said the villas are 85 to 90 percent complete and will reopen first. The east and west wings of the main hotel are 60 to 70 percent finished, but the lobby and restaurants are only about 20 percent complete. Delays in receiving materials and finding subcontractors has slowed the progress so much that one subcontractor has been replaced. One person now deals with the shipping and handling of materials so Conhoff doesn't have to do everything, Kuipers said.
Currently the scheduled opening dates are the end of January for the villas not attached to the hotel, March and May for the east and west wings and, hopefully, the restaurant will open in August 2020.
"My concern is the need for hotel rooms on St. Croix," Richards said, adding that the purpose of the Casino Act was to bring more hotels to the island, not casinos. He pointed out the casino has been making money for the last year, mainly from local gamblers.
Richards and Bourne also questioned the plans and schedules that have changed since the last Casino Control meeting. A major plumbing problem surfaced recently and finding workers is still difficult, Conhoff said.
"We wanted to have restarted this year and not go another season without income," Conhoff said. "We don't want to be closed. But I want to make sure the product is the best product Divi can provide for St. Croix. I hope the commission will understand."
Kuipers echoed Conhoff and said they only have "one shot" to make or break their image, but could make the rooms "presentable" if forced.
In the end, the commissioners voted to extend the temporary Casino License for six months with the condition the east and west wing rooms along with the villas are available by May 1, 2020.
Representing VIGL, Griffith presented testimony in support of a casino and operations certificate. He told commissioners the downtown hotels and casinos employ 104 people and the company has spent $14 million in renovations.
The Caravelle hotel is undergoing its second renovation since it was purchased, including plumbing, air conditioning and new furniture. Arrangements have been made with the adjacent restaurant, Rum Runners, to have breakfast for guests and use of banquet facilities when needed.
Between the Caravelle and Company House Hotel, attorney Miles Plaskett argued the company has met the conditions, including paying all fees and taxes, for a permanent Class 4 license and an operations certificate.
Plaskett and Griffith used maps to convince the commissioners the facility has the required number of rooms and square footage to host 400 people at a banquet. They pointed out that there is 2,500 square feet at Company House in the front room and bar and 3,600 square feet to seat people at Rum Runners – seating "well over 400," Griffith said.
"What makes banquet space important to me is conventions," Bourne said.
Commissioners made it clear that public space cannot include lobbies, hallways or casinos and Richards argued that renovating the hotel for months at a time does not comply with the number of rooms for guests if they are not available.
The racinos on St. Croix and St. Thomas were also discussed. Griffith displayed site plans for both which show the facilities will be mirror images of each other. Before they are constructed, temporary casinos will be erected on each site for up to two years, with slot machines, a cooler for beverages and a sink. Both racinos need a number of permits to be approved.
Richards pointed out that VIGL has not yet submitted an application to the Casino Commission for the racinos.
After the discussion, commissioners approved a six-month temporary operation certificate and a temporary six-month casino certificate.
The commission will meet with either party if they have issues to discuss or want to appeal the certificates, Richards said.