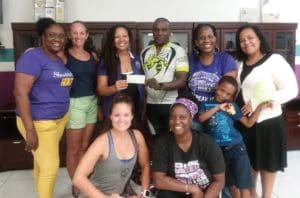 On Thursday, Oct. 3, the V.I. Domestic Violence and Sexual Assault Council (DVSAC) and the V.I. Cycling Federation (VICF) hosted their first annual 'Ride Out Against Domestic Violence' in recognition of Domestic Violence Awareness Month. This event, an addition to the "Ride Out Against Sexual Assault" event that both organizations have hosted for six years as of April 2019, has grown from about 20 riders in the first year to at least 50 (including children) this year.
The ride starts and ends at the DVSAC office in Sion Farm, and the full route goes throughout Peter's Rest, Beeston Hill and the Christiansted Bypass for an estimated 8 miles. Participant registrations raised over $400 this year, contributing to over $2,000 in donations to DVSAC over the years and more than 150 participatory cycling hours in honor of both domestic violence and sexual assault prevention since the inception of the collaboration.
The V.I. Domestic Violence and Sexual Assault Council coordinated with the Office of the Governor to execute the signing of the Domestic Violence Awareness Month Proclamation, which confirms that domestic violence has led to the death of over 260 Virgin Islanders in one decade. In just one year, 795 new domestic violence victim cases were opened on St. Croix and 378 domestic violence intakes were conducted on St. Thomas.
Considering that even one is too many, awareness activities such as the annual Ride Out is necessary to draw attention to this epidemic and encourage action to end it.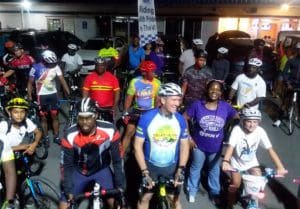 According to Khnuma Simmonds, DVSAC's executive director, "As the director, I am grateful for passionate staff such as Ms. Darlene Springer, our community outreach specialist who coordinates this activity annually, as well as the V.I. Cycling Federation [which] remains dedicated to ensuring that the Ride Out occurs and is well attended. As a survivor, however, it is heartwarming to witness when individuals and collaborating agencies take time from their schedules — even if it is just an hour — to prioritize this cause and hold space for those who are hurting as it offers support on a community level and encourages other individuals and organizations to do the same.'
Both DVSAC and the V.I. Cycling Federation are committed to hosting the next Ride Out in April for Sexual Assault Awareness Month, pending clearance from the V.I. Police Department, which provides escort services for this activity. To participate in this annual event or to collaborate with DVSAC, please email [email protected].
For more information on upcoming events with the V.I. Cycling Federation, email [email protected]