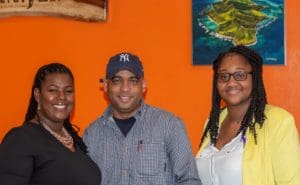 On Tuesday, Oct. 1, Daren Henry, owner of Bon Manjer, the new restaurant in Sion Farm, pledged his support to teachers in the territory by partnering with Sen. Allison DeGazon to provide them with classroom supplies. Henry, meeting with DeGazon at his restaurant, presented her with a financial donation and said he was moved by her efforts and wanted to ensure that more teachers would be given the chance to receive items.
His donation follows the senator's recent efforts to gather supplies and disperse them to multiple teachers on St. Croix. Teachers from the St. Croix Central High School, Arthur Richards Jr. High School, Alfredo Andrews Elementary School, Claude O. Markoe Elementary School and Juanita Gardine Elementary School were among the many who received supplies last week.
Supplies included both cleaning and classroom items such as Lysol, printing paper, damprid, ink cartridges, pencils and pencil sharpeners, first aid supplies, face wipes, markers, hand sanitizers and more.
The funds for the supplies came from the senator's Prayer Breakfast, which was held at the Castle Coakley Community Center on Saturday, Sept. 14.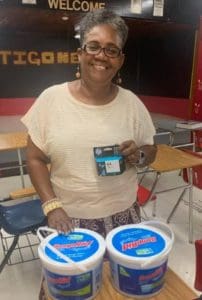 "Thank you, Sen. Allison Lisa DeGazon for your generous donation to my GT class at Claude O. Markoe Elementary School. Thank you for looking out for students and teachers. My class will follow up with pictures. Thanks again," Roni Webster said.
"As I reached out to Senator Allison DeGazon, within minutes I received the exact supplies I needed for the classroom — from printing paper, cleaning supplies, pencil sharpeners, and much more. Words can't explain how grateful I am for your contribution without hesitation. You are one of a kind," said Balbariella Lopez from the Juanita Gardine Elementary School.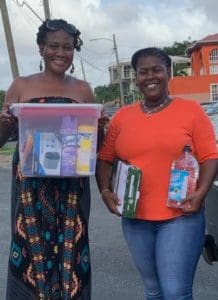 "Being a public servant is not easy, and we cannot make everyone happy all the time. There are times when one smile from a constituent is enough to keep me going some more. Today the many smiles I received from teachers were priceless," said the senator. "I want do all I can to support teachers and reduce the exodus from this important profession."
The donations to teachers were a small step in support for teachers according to DeGazon. Currently, DeGazon is working to identify a funding source for pending legislation she has proposed to provide all teachers of public schools with an up to $200 reimbursement for classroom supplies.