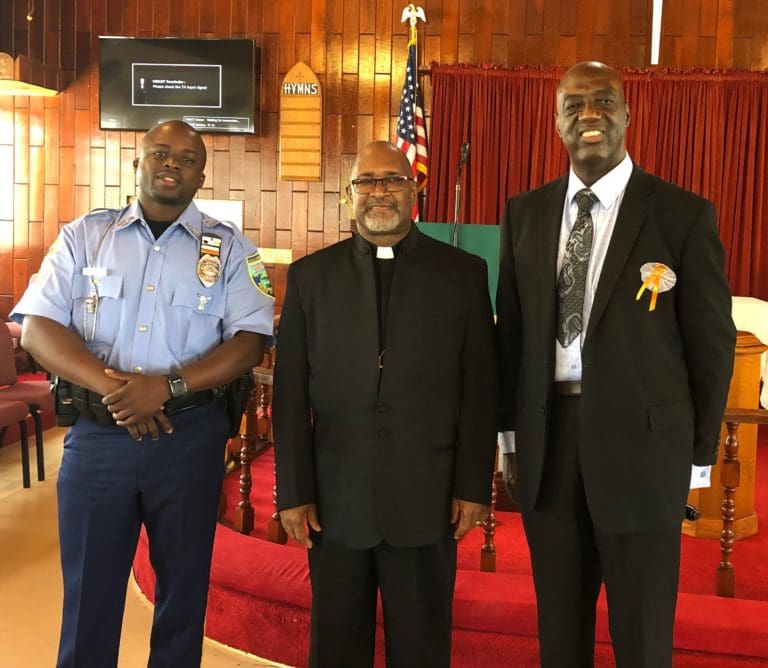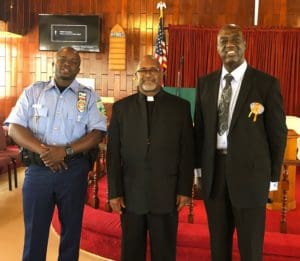 Police Officer Gregory Bennerson and Deputy Commissioner of the Virgin Island Police Department (VIPD) Dr. Celvin G. Walwyn recently were guest speakers at the Ebenezer Methodist Church in Estate Richmond. Rev. Dr. Lewis was the officiating pastor.
The congregation expressed their concerns with the issue of crime in the territory, especially in the Christiansted area near their church. Bennerson addressed the congregation about crime plaguing the community, safety of families, neighbors and outreach programs.
Members in the church expressed concern that when they call 911 or Crime Stoppers, their identity was not anonymous. That concern was mitigated as Rev. Walwyn explained that when one calls 911, it is answered by a local operator. However, when one calls Crime Stoppers at 1-800-422-8477, the phone is answered outside the Virgin Islands and the person answering cannot see the caller's name or phone number. It is totally anonymous. That is the reason the operator will issue the caller a reference number.
There are no names requested of the caller. The public can rest assured knowing that when they call Crime Stoppers, they truly remain anonymous. People can call Crime Stoppers VI at 1-800-222-TIPS and receive a cash reward leading to an arrest.
The V.I. Police Department will continue to attend faith related events, building trust and effectuating real change in the territory through collaborative efforts with the faith-based community.