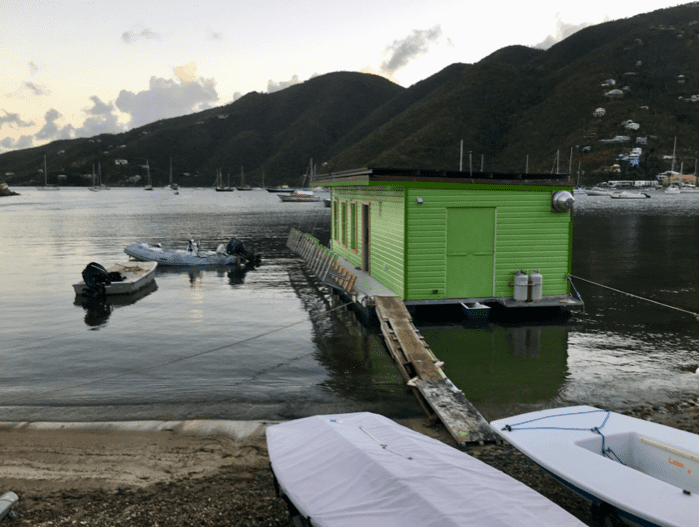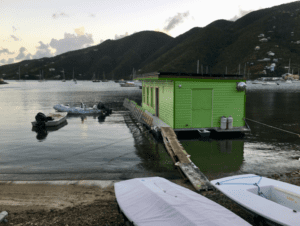 I am writing this opinion piece individually and as a member of the Friends of Round Bay, a Citizens' Action Group comprised of individuals concerned with the preservation and conservation of Round Bay, a pristine body of water on St. John's historic residential East End.
First, some facts about Round Bay. Round Bay is located just outside of National Park waters approximately three miles from Coral Bay. It serves as critical habitat for a variety of threatened species of coral, fish, rays, turtles and seagrass.
In addition to the abundant marine life, Round Bay is also home to a submerged shipwreck, the HMS Santa Monica that was listed on the National Register of Historic Places in 1978.
As part of the Coral Bay watershed, Round Bay has been targeted by the National Oceanic and Atmospheric Administration Coral Reef Conservation Program as part of an area worthy of an ongoing effort to develop place-based, local coral reef management priorities. Round Bay is identified as a Designated Restricted Area, limiting certain boating and waterborne activities (e.g., creating wakes, jet skiing, etc.) and DPNR has designated Round Bay as an Area of Particular Concern.
Round Bay is also an area where long-term anchoring (greater than 14 cumulative days in any 6-month period) and mooring are illegal. It is a law to protect one of the Virgin Islands most precious natural resources, our submerged lands and not just an inconvenience to be ignored. There are four bays in St. John's waters that ARE designated as mooring and long-term anchoring areas, Coral Harbor, Great Cruz Bay, Cruz Bay and Chocolate Hole.
Contrary to the mooring and anchoring laws in place, beginning in March and continuing until about the end of July, the Lime Out barge/houseboat anchored in Hansen Bay, within Round Bay, six days a week from morning until evening. And from the start of Lime Out's operation, Round Bay has been under threat from an exponential increase in uncontrolled waterborne activity. The presence of Lime Out has attracted everything from swimmers, kayakers and paddleboarders to jet skis, small ferries, powerboats of all sizes and even sea planes.
And while many patrons enjoy the tacos others just no doubt visit to enjoy the alcoholic drinks such as the ominously named "The Danger." The Coast Guard laws say alcohol and boating are a dangerous mix and that operation of boats by intoxicated individuals is illegal. This includes motorized vehicles as well as non-motorized vessels, including kayaks and the like, and I assume, aircraft that use the water for landing. And while charter boat captains can be relied on to behave prudently and safely, this is not always the case with pleasure boaters or patrons who come from the beach and spend the day drinking. This situation seems to be an accident waiting to happen, whether on the water or the hilly, curvy roads patrons drive when returning to town from the East End.
These activities have not only created a major safety hazard (patrons have required assistance in returning to the beach after spending the day at Lime Out) but also a huge environmental risk as boaters are anchoring on or near coral and sea grass, traversing recklessly at illegal speeds through areas of sea turtles and coral and increasing the risk of environmental damage from sewage, bilge water and petroleum spills.
This area of Round Bay used to be a popular swimming, snorkeling, diving and ecofriendly tourist business destination; now it is a place to come and party and behave pretty much as one pleases, since enforcement agencies have been nowhere to be seen over the past 5 months.
Unfortunately, even if the intentions of Lime Out's owners and employees are to WANT to, or TRY to, or even PROMISE to protect the marine environment and safeguard swimmers, snorkelers and kayaks from the impacts of motorized boat traffic, much of this activity is beyond their control and they are simply unable to do so. The remoteness of the East End location and the lack of any nearby services only increases the risks.
The owners of Lime Out are now seeking to obtain a permanent mooring in the bay. In the past, East End residents, including native St. Johnians, with riparian rights have tried to apply for moorings for personal use and were not only denied but told that such permits would NEVER be granted, that Round Bay was not a designated mooring area and NEVER would be. These anti-mooring laws are in place to protect and preserve the Bay. If mooring is now allowed, this is certain to create even greater traffic and unsupervised illegal activity in Round Bay. If this were the case, the floodgates would open, and it would not be long before Round Bay would lose the ecological qualities that made it the special place enjoyed by Virgin Islanders for hundreds of years.
The owners of Lime Out have come up with a novel and cool thing. They are very savvy at using the media…print, video and social, to promote their concept. Unfortunately, only the "positive" aspects of Lime Out have received media attention. The July DPNR meeting, during which many opposing views, including the illegality of granting a mooring permit, were presented but the local press chose either not to cover the meeting or not to publicize any of these opposing views.
I appreciate the lifelong ties to St. John of the owners and their entrepreneurial efforts. And while the Virgin Islands may see a marginal economic reward from Lime Out, there are negative consequences as well. Villa owners on the East End are already seeing guests indicate they do not want to return to this area; it is not the peaceful, unspoiled, quiet vacation they enjoyed previously. Some have said they will no longer return to St. John.
Let's help the owners of Lime Out find a location where they would not only be successful, but operate legally, in an area closer to town where the ecological impacts are going to be less severe and the support services are more accessible. There are four legal bays where they can relocate. Perhaps even relocating to the waters near one of our National Park beaches, where moorings seem to be going unused since our devastating hurricanes, makes great sense. Charter boat captains would find them and probably be thankful for the shorter ride. But please, not Round Bay. Let's make sure Round Bay stays pristine and healthy so future generations of ALL Virgin Islanders can enjoy it.
Sincerely,
Ronald Vargo                                                                                                                     St. John's East End resident and member, Citizen Action Group, Friends of Round Bay