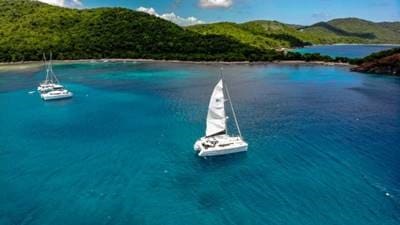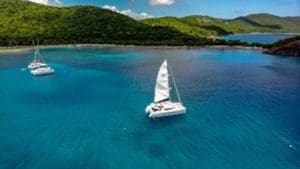 Visiting Puerto Rico's eastern islands of Culebra, Culebrita, Vieques and others, nicknamed the 'Spanish Virgin Islands,' is now easier. Members of the Virgin Islands Professional Charter Association (VIPCA or "Association") have received a ruling from U.S. Customs and Border Patrol (CBP) in Washington D.C., clarifying entrance and departure requirements specifically for VIPCA-member yachts. This development offers an alternative destination to the British Virgin Islands.
For charter guests, this provides the chance to see, explore and enjoy lesser traveled cruising grounds; it is a great travel opportunity for U.S. citizens who may not hold a U.S. passport to visit the islands of both the U.S. Virgin Islands and Puerto Rico.
"I am ecstatic that our yacht Starfish is now able to offer the 'Spanish Virgin Islands' to our guests," said Jennifer Augspurger, chef/first mate aboard the 46-foot Leopard catamaran, Starfish and VIPCA president. "The Spanish Virgins do not receive a lot of crewed charter yachts, so this is truly virgin charter grounds for those who are looking for a new destination filled with turquoise waters, pristine white sand beaches, quaint villages, great snorkeling and diving, and a wonderful Hispanic vibe reflected in the local food, music and conversation. We can't wait to share this secret gem of a destination with our guests."
In an effort to offer guests new, exciting and nearby itineraries, the VIPCA board has worked with U.S. CBP legal staff in Washington, D.C. over the past 15 months and in August received an official Customs and Border Patrol ruling that now makes it easier for VIPCA-member vessels to charter with guests between the USVI and PR. Virgin Islands Professional Charter Association has approximately 120 member vessels that are both crewed multi-day 'term' charter yachts and day charter yachts.
"With another recent increase in fees in neighboring islands, this is the perfect opportunity for day charter boats to market and explore both Culebra and Vieques. This will open up many new avenues for our industry," said Garth Hudson, owner of Over the Line Charters, a powerboat rental and charter company based on St. Thomas.
Culebra, a 10-square-mile island located 25 nautical miles downwind and west of Charlotte Amalie, St. Thomas' main harbor, is notable for its lively town of Ensenada Honda, the National Wildlife Refuge where endangered sea turtles and seabirds live, and beautiful Flamenco Beach. Culebrita, right off Culebra's eastern coast, is uninhabited, boasts six beautiful white sand beaches, spa-like tidal pools and one of the Caribbean's oldest lighthouses. Fifteen miles to the south, the 52-square-mile island of Vieques is famous for its bioluminescent Mosquito Bay and the seaside town of Esperanza with its many restaurants.
"Opening up charter cruising from the U.S. Virgin Islands to the Spanish Virgin Islands will be a huge benefit to both U.S. territories," said Capt. Brian Saupe, who owns and operates the Lagoon 440 sailing yacht Altitude Adjustment.
Indeed, Vieques and Culebra have long been a favorite of cruising sailors and Virgin Islanders with private boat access — but a bit of a mystery to the passing visitor. No longer.
"We love to grab a golf cart, buy a 'pincho' or 'mofongo' from a street vendor and explore the beaches," said Capt. Cory Crowner, owner/operator of Phoenix Island Charters, which day charters its 30-foot main ship 30 Pilot Phoenix. "We let our imaginations wander as we explore lighthouses, forgotten military tanks and relics from another time. At sunset, we crack open a cold Medalla and soak in the culture while the locals keep their traditions alive with percussion performances and locally hand-crafted folk art, shirts and jewelry. This is truly a magical place and an authentic slice of unspoiled Caribbean."
Term charter Capt. André Stroebel, who, with wife Alison, operates the Voyage 500 catamaran, Turquoise Turtle, is also excited to be able to offer this new destination. "We love the Spanish Virgin Islands. The people are wonderful, warm and friendly. The islands are gorgeous, and the sea life offers a variety of critters not commonly seen elsewhere. Our guests asking for 'something new' on their return are going to love exploring this destination with us."
Charter brokers too, such as Lynne Campbell, who with husband Joe are yacht charter brokers and owners of Carefree Yacht Charters, in Fort Lauderdale, Fla., are also looking forward to the new Virgin Islands' itineraries.
For more information and to learn how to become a VIPCA member, email: info@vipca.org or visit: www.vipca.org
About VIPCA: Virgin Islands Professional Charter Association is the territory's 501(c)(6) nonprofit marine association. Its purpose is to promote, protect and further the capabilities of charter yachts and the marine businesses that sustain them.