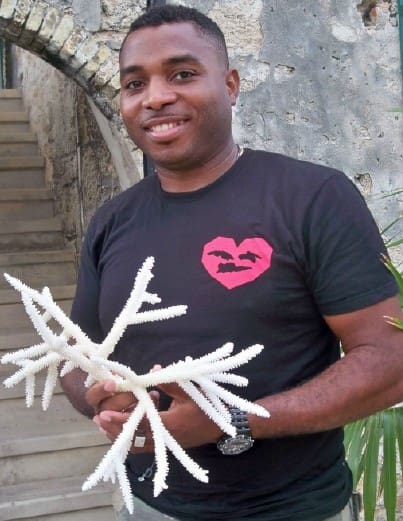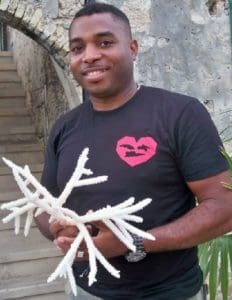 Kemit-Amon Lewis has always been known as a person who makes things happen.
The project he may be most known for is the restoration of coral reefs. It started with him planting coral off Cane Bay Beach on St. Croix, which blossomed into a worldwide effort.
He also pushed forward on turtle conservation and developed the Reef Responsible program, educating chefs, fishermen and the community on the best practices for fishing and sustaining the ocean environment.
In the field of arts, he was responsible for stunning choreography at the Caribbean Dance Company, and he enjoyed photography.
Now, Lewis has been stricken with a rare bacterial infection that has changed his life drastically and keeps him fighting for better health, leaving his friends to take action to help him recover.
According to those around him, at the end of July, Lewis was suffering from a groin pain, which he thought was possibly a pulled muscle from dance class or tennis. He was an avid tennis player, active in the tennis community on St. Croix and represented the Virgin Islands in the 2009 Davis Cup.
But on July 26, the pain got much worse, and he texted his friend and half-sister Karisma Elien. When she arrived to check on Lewis, he collapsed. She rushed him to the nearest urgent care center, and Lewis then went to the Gov. Juan F. Luis Hospital where doctors worked on him for eight hours.
Lewis suffered septic shock, which is potentially fatal and occurs when an organ is injured or responding to infection. It leads to dangerously low blood pressure and abnormalities in cellular metabolism.
Tasnim Khan, chief medical officer at Plessen Healthcare, was on duty at the hospital at the time and noted that Lewis needed more care than could be provided on St. Croix. Khan specializes in kidney problems, but it appeared Lewis would need continued dialysis, which was not available at the hospital.
Initially, three hospitals refused to accept him due to the severity of his condition, and he was finally accepted at the Broward Health Medical Center in Fort Lauderdale. His friends were told his condition was so critical, Lewis could have died in flight.
"With his organs failing, neither the source nor type of bacteria decimating his body could be identified. It was slowly attacking every vital organ; any chance of survival seemed unlikely, and it was determined after several hours in consultation with medical staff that he had to be flown off island to have a fighting chance," Elien said. "We are thankful for the care the St. Croix hospital team provided. They did the best they could with the resources available to treat Kemit."
Lewis remained in an induced coma for almost two weeks before finally being deemed stable enough to be awakened. As a side effect of his treatment and illness, gangrene progressed to his arms and legs, and amputation was the only course of action. He has now lost both hands and both feet, and he is still fighting; his liver, kidneys, gallbladder and spleen have all been compromised.
This is where Elien and another good friend, Nadia Bougouneau, enter the picture.
Bougouneau said some of the medical procedures Lewis has been through have reached hundreds of thousands of dollars. She added that expenses won't stop there as Lewis must learn new ways to live.
Elien and Bougouneau are raising funds to hopefully enable Lewis and his family  — his brother, mother and father who are now with him in Fort Lauderdale – to enjoy life again.
Bougouneau told the Source Wednesday that Lewis's positive spirit still shines through as he tries to make those around him laugh but says he also realizes that he has lost the tools to make his life what it was before. His friends want to offer financial support to alleviate the stress in the coming months due to ongoing medical costs and rehabilitation, both physical and mental.
People can contribute to Lewis's recovery by making donation checks payable to Kemit-Amon Lewis c/o Bank of St. Croix. Checks can be dropped off at the bank's Gallows Bay or Peter's Rest branches. Donations will also be accepted through Ay Ay Live, Inc., a 501(c)(3) designated, non-profit organization.
Moreover, donations can be made via PayPal to: paypal.me/kemitAmon, or through the link on www.facebook.com/friendsofKAL.
Anyone wanting more information or to offer help can email karismamelien@gmail.
Bougouneau said the effort her and Elien started at the end of August provides more than just fundraising. It is "a way for those concerned about Kemit to connect."
Elien says it is not known what bacteria caused Lewis's illness, and it may never be known. She added that a doctor from the Center for Disease Control is monitoring his case.