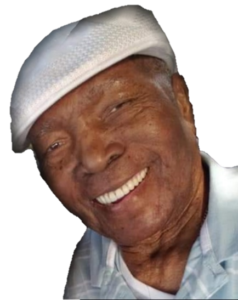 David A. Benjamin, also known as "Dreamer," of Bronx, N.Y.C. and St. Croix died on June 23. He was 90 years old.
He was preceded in death by his wife, Eunice Benjamin; mother, Adina; father, Charles; sister, Geraldine, and brothers: Franklin, Arnold and Dennis.
He is survived by his daughters: Jacqueline Tomlinson and Annettte Skepple; sons: Morris "King Generic" Benjamin and Asment Benjamin; grandchildren: Renicia, Rhonda, Morris Jr., Lionel, Latoya, Leah, Keisha, Alengta, Asment, Abena, Deon, Dulani, Okang, Nerissa, Jermel, Davia, Shavaughn, Vindenjea, Denworth and Janeba; sisters: Ovilda, Virginia and Evelyn; and brothers: Alpheous, Jerome and Ralph.
He is also survived by nieces, nephews, great nieces and great nephews too numerous to mention; daughters-in-law: Leila Benjamin and Brendalie Benjamin; sons-in-law: Clifton Tomlinson and Leslie Skepple; brothers-in-law: Tyrone James and Joseph Anthony; sisters-in-law: Elaine Benjamin, Colleen Lawrence and Lucinda James; godchild, Dawn Galloway; and special friends: Monica, Lydia, Renee, Dorsette, Aloma and Jerry.
The viewing at 9 a.m. will be followed by a funeral service at 10 a.m., Saturday, July 20, at the Original Pentecostal Church Kingshill. Interment will be at Kingshill Cemetery.