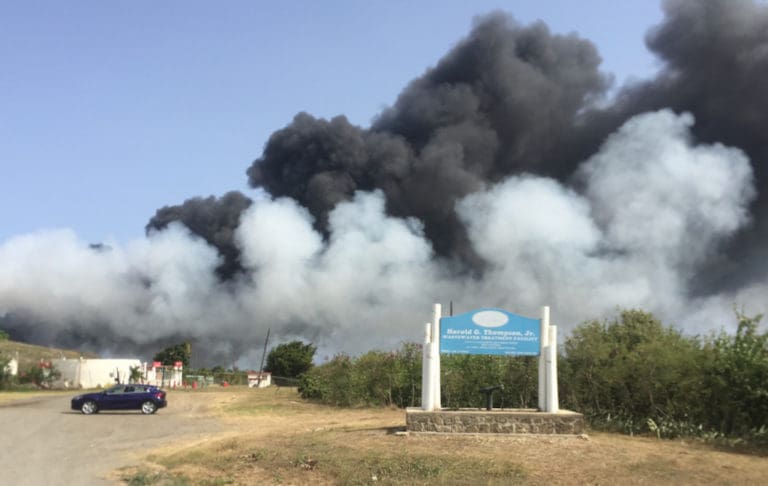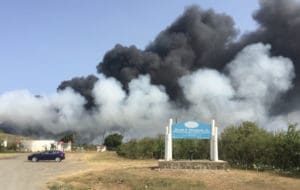 The latest fire at Anguilla Landfill, reported at about 3 a.m. Sunday, is under control and not spreading as of Monday evening, according to Antonio Stevens, assistant director of the V.I. Fire Service, but fire fighters continued to monitor the area Monday night into Tuesday.
During the day, around 20 members of the Fire Service were on hand to fight flames and smoke. Stevens told the Source late Monday afternoon that most of the metal fires have been extinguished, but firefighters were watching smoldering tires carefully to make sure they don't reignite. He said firefighters also didn't want to leave the area exposed in case the fire was manmade.
After meeting Monday with the Environmental Protection Agency and representatives from the Department of Planning and Natural Resources, equipment was brought to the landfill to soak the area with seawater. Stevens said fire fighting slowed somewhat to insure the coastal area was not harmed. They devised plans and guided equipment to prevent runoff from flowing into the sea. It was instead diverted into the mangroves.
Both this and a fire at a transfer station the previous weekend started under suspicious circumstances, Stevens said.
"Fires don't start by spontaneous combustion without everything matching," Stevens said, explaining that the heat, fuel and oxygen have to be in certain proportions to create perfect conditions. Those conditions didn't exist in either case, he added.
The transfer station still is not operating and the fire at the landfill began with burning the heavy equipment used to move debris to help put out fires. Both fires are under investigation and the federal Bureau of Alcohol, Tobacco, Firearms and Explosives may join the inquiry, Stevens said.
"If we have no machinery and no transfer station, there is a health risk," not being able to deal with trash properly, Stevens said.
Sunday evening, with white smoke from burning metal and foul smelling black smoke from tires twisting together in an acrid plait and drifting along the south end of the island towards Frederiksted, several agencies held a press conference at the entrance to the landfill.
Adrian Taylor, acting executive director of the V.I. Waste Management Authority, said he was notified around 3 a.m. that a fire was located in the scrap metal section of the landfill and involved vehicles, heavy equipment and tires.
At that press conference, Stevens said the fire was contained at that time, but not under control.
Janson Harris, director of environmental health at the Health Department, also spoke and said that the air had been tested and there were "no health concerns" except for residents of Frederiksted who have breathing issues. Those fumes were also being tested for chemicals.
Stevens said Monday afternoon that the Gov. Juan F. Luis Hospital reported no one had checked into the emergency room complaining of respiratory problems.
The director of the Virgin Islands Territorial Emergency Management Agency, Daryl Jaschen, told the media that water buckets to douse fires from helicopters were being put on hold in Puerto Rico in case they were needed. He added that the level of the smoke posed no danger to aircraft landing and taking off from the Henry Rohlsen Airport across the road.
Fires at Anguilla are not unusual. Just five days before, a fire burned for an entire week before being extinguished. In 2018 the landfill caught fire three times.
A fire at Anguilla, estimated to have been burning underground since 1966 or 1967, was finally extinguished in 2009. That firefight cost more than $3.9 million.
St. Thomas too has had its share of fires. A 2015 fire at the Bovoni Landfill destroyed a new, multi-million dollar gas collection system.
Both landfills have been under orders to close by the federal government for many years. Less than two weeks ago, Environmental Protection Agency regional administrator Peter Lopez reminded the media the landfills have just two more years to relocate.