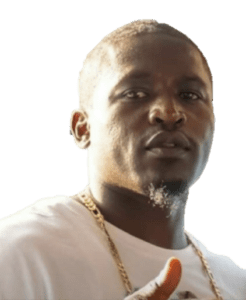 Jabari Akil Gordon, also known as Bari "King" Hondas, of Estate Williams Delight died on May 19. He was 34 years old.
He was preceded in death by his paternal grandfather, Cletus Gordon; grandmother, Eunice John Henry; aunts: Nioca Martin, Niresta Gordon, Judith and AnnMarie Henry; and uncles: David and Elroy Baltimore, Rudolph Henry and Cylius Roland Gordon Sr.
He survived by his father, Julian J. Gordon Sr.; mother, Idetha Rose; wife, Cynthia Bodley Gordon; children: Janyah, Jamari and Jalayah Gordon; sisters: Racheal, Tisha and Idesha Gordon; brothers: Julian J. Jr., Jumane, Jano, Jamari Gordon; nieces: Tisharah Webster, T'jahnae Thompson, Jah'nica and Miracle Gordon; nephews: Rae-quan Webster, Mahsai and Majhai Williams, and N'jahri Huggins; maternal grandmother, Winifred Rose David; grandfather, David Hodge; aunts: Joycelyn Hodge Heath, Judith Rose Daley, Heather Osborne, Karen and Merlene Hodge, Leonie Rose, Claudia Graham, Stacy Rose, Joan Rawlins and Ursula George.
He is also survived by uncles: David and Sylvester Rose, Franchet, Riel and Durrant Hodge, and Trevor Griffith; and cousins: Marlon, Keisha, Ianna, Zambo, Jahmal, Quanza and Quanziel Heath, Khadija Laronde Francis and Wicamo Francis, Donté and D'nisha Rose, Brittany, Brenton and Brianna Osborne, Shylania, Shyiem and Durrante Hodge, Kenya and Kenaiya Henry, Cleantha Samuel and Dena Graham, Nivea Greene Henderson, the Marsh family, Loui Grandville, Mark Banis, Thandiwe Monell, Jakari Charles, Quahbela Henry, the Gordon family, Joanne Elder, Latisha Sackey, Hasaney Petitfrere, Iatola Graham, Jasheda and Alex Reyes, Alfreda Mills and others too numerous to mention.
Other survivors include friends: the Bodley family, The Andrew family, Marlon Armstrong, Sean Carter, Keisha Smith, Craig Marlon George, Gregory Fleming, David Brewster, Leon Bazil, Marlon Smith, Rashonia Henry, Annette Cooper, Antori Tiller, Khalil Wilson, Kevin Lynch, Malik Crump, Roy Williams, Michael George, Stannard Duncomba, Clyde St. Valle, Nicole Edwards, Geraldo Weekes and Dirk Mcfarlane; as well as other relatives and friends too numerous to mention.
The viewing will take place at 9 a.m. followed by funeral services at 10 a.m., Friday, June 21, at St. Luke AME Church. Interment will be at Kingshill Cemetery.