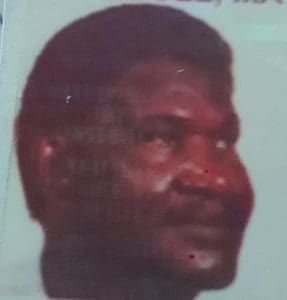 Matthew Edole of Estate Whim died on May 31. He was 82 years old.
He was preceded in death by his wife, Medinet Barry-Edole; mother, Ann Granderson; and father, Albert Edole.
He is survived by his children: Gregory Edole, Rudy Edole, Michael Edole, Teddy Edole, Roxanne Serrano and David Edole; grand-children: Ted Edole Jr., Shylah Serrano, Miguel Serrano Jr., Shaylah Serrano, Miguelito Serrano, Sanaa Edole, Jordan Edole and Ciara Edole; brothers: Timothy Granderson, Raymond Granderson and Gonzague Granderson; sisters: Claire Granderson, Melita "Clara" Granderson and Veronica Granderson; sisters-in-law: Cipriana Barry-Ratchel and Dahlia Carty-Duparl; brothers-in-law: Angel Barry, Alexander Barry and Luis Barry; and special niece, Maline Thomas.
He is also survived by nieces: Janice Granderson, Anette Barry, Antoinette Barry, Josiane Gumbs, Junia Barry, Sandra Barry-Boyd, Nicole Barry, Karen Ratchel, Brenda Granderson, Roxanne Granderson, Sandy Granderson, Valencia Edole and Cecelia Albert; nephews: Tim Granderson Jr., Terry Granderson, Ricardo Edwards, David Barry, Frankie Ratchel, Shall Ratchel, Kevin Granderson and Eldon Edole; sisters-in-law: Jane Granderson and Susie Dubois; son-in-law, Miguel Serrano (Allah); and daughter-in-law, Connie Edole.
Other survivors include great nieces: Alicia Thomas, Christina Thomas, Aliyah Edwards, Shante Edwards, Ashante Edwards, Th'niah Granderson and Ti chae Granderson; great nephews: Kareem Thomas, Daniel Thomas, Jonathan Hector, Jamal Edwards, Rashawn Granderson, D'shawn Granderson and Se Jounie Granderson; great-great nephews and nieces: Jaylin Khalil, Layla Santos, Jasmine Madir, Ella Madir, Mekai Thomas, Kaedeyn Thomas, Mason Thomas, James Parris, Savida Milligan, Decembre family, the Wiltshire family, the Emmanuel family and the Henry family; as well as other relative and friends too numerous to mention.
The viewing will be held at 10 a.m. and the funeral service at 11 a.m., Friday, June 14, at James Memorial Funeral Home Chapel. Interment will take place at Kingshill Cemetery.