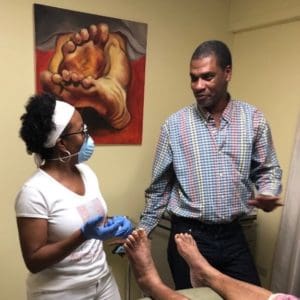 Each year in the month of May, our nation observes "Older Americans Month" lead by the Administration for Community Living. The 2019 theme is "Connect, Create, Contribute." The recent Footcare Expo for Seniors, hosted by Dr. Regina Flippin of the Urban Foot Care Center, in collaboration with the Office of Sen. Kurt Vialet and the Mu Gamma Omega Chapter of Alpha Kappa Alpha Sorority Inc., couldn't have been more in line with this year's theme.
This trio connection is proof that success is greater when people work together. Private, public and non-profit sectors can achieve so much more collectively than they can separately. The Footcare Expo offered a vital service to over 100 individuals by way of trimming of toenails, corns, calluses, referrals for specialized care and the donation of diabetic shoes to those in need.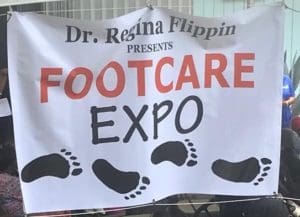 It also provided an opportunity to create an environment where seniors, especially diabetics, can engage in an activity that promotes learning, health and personal enrichment while being pampered. Sen. Vialet is appreciative of the opportunity to participate in the footcare expo and thanks Dr. Flippin for setting an example for others to contribute their time, resources, talent and life experience to benefit others.
Dr. Flippin is honored to give back to the St. Croix community for which she has served for over seven years of her 20 years in practice. She expressed that community participation in the expo surpassed all her expectations, as did the collaboration with the office of the senator and AKA Sorority.
Flippin looks forward to continued service as she gears up for the grand opening of the Urban Foot Care Center Spa within the next few months. This state-of-the-art facility will include separate suites for men and women with spa treatment that will include the best in foot care and pampering. Urban Foot Care Center operates from 9:30 a.m. to 3:30 p.m., Monday through Friday and is located at 3001 Estate Orange Grove in Christiansted. Call 715-7755.