This is the seventh in a series of Source articles about health care in the Virgin Islands.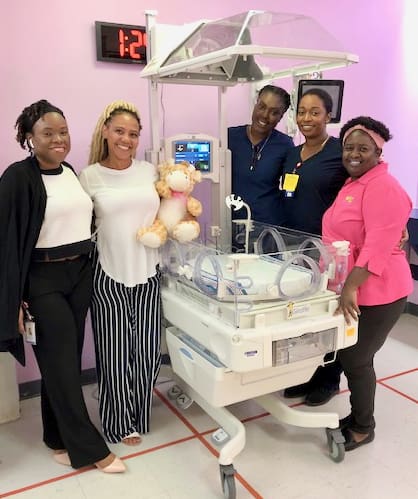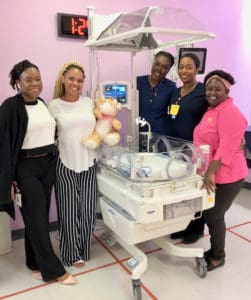 Faye John-Baptiste, RN, and Dr. Olivine Treasure both remember 1999 as the turn-around year for St. Croix families. That summer, the Juan F. Luis Hospital welcomed a neonatologist to its staff, and things began to change fast, contributing to what is one of the big success stories in V.I. health care.
Before then, the hospital had to medivac about 20 women a year because of complications with pregnancy and/or delivery, said Treasure, an obstetrician and gynecologist who has held many leadership positions at the hospital. After that, the annual average dropped to two. That meant far fewer families had to be separated for medical care.
In a separate interview, John-Baptiste offered some other telling numbers for the same time frame. The island's neonatal mortality rate was "in the double digits" before the hospital's neonatal intensive care unit opened and "12 months after to the day," it was zero. The number fluctuates, of course, but it has remained very low.
A neonatal mortality rate is calculated on the number of deaths per 1,000 live births, and includes deaths of babies up to 28 days old. Obviously, if there are fewer than 1,000 births, the rate has to be extrapolated using percentages.
The success on St. Thomas is similar, but of a longer standing.
Responding to written questions from the Source, Dr. Beverly Randall, neonatologist at Schneider Regional Medical Center, noted St. Thomas has had an NICU for more than 30 years, and she has headed it for the past 20 years.
"Since I have been here our neonatal mortality rate has been less than two per 1,000, which is below the national average," she said.
The territory's infant mortality rate – like the neonatal mortality rate, a number calculated per 1,000 births, but including deaths of children up to one year of age – also appears to have improved substantially.
University of the Virgin Islands researchers who produced the "Community Needs Assessment" report released in February said they received only "minimal data" from the Health Department in response to their request for morbidity and mortality data. (The department did not respond to similar requests from the Source over the past three weeks.)
However, using secondary sources, primarily the Central Intelligence Agency World Fact Book, the researchers determined the territory's infant mortality rate dropped from 9.64 in the year 2000 to 7.7 in 2018. The decline was not a straight line – the 2016 rate was even lower at 6.5 – but the trend over the period was downward.
John-Baptiste has worked at the Juan Luis hospital since 1992, most of that time in neonatal care. She estimated there are roughly 500 births per year at the hospital and up to about 200 of those babies pass through the NICU.
That includes some who need critical or other specialized care, and some who were delivered by cesarean section and simply need to be stabilized before being released to a regular unit. The latter babies typically spend a few hours in NICU. Others may be there for days or weeks.
Babies born prematurely make up a large segment of the NICU population.
Randall said about 10 percent of infants born in the territory are premature. That is in line with national averages.
A full-term pregnancy is described as 40 weeks, and a baby is classified as premature if born in less than 37 weeks of gestation, Treasure said. Exact dates of conception are not always known, and birth weight is also considered in determining prematurity. A baby with a birth weight of less than five pounds eight ounces is generally considered underweight.
"Prematurity is still something of a mystery because they don't know what causes it" in many cases, John-Baptiste said, although medical experts have identified many possible contributory factors.
What is better known are the effects.
"Their bodies are not meant to be out here," John-Baptiste said. The infants are meant to be inside the womb, completing their growth, developing immune systems, resting and building strength.
"Think about it. They were floating in water," she said.
Suddenly, the infants are subject to gravity. They have to adjust to light and to sound. They may not be able yet to suck or to swallow. They are cold. The energy they are supposed to be using to develop instead is going to cope with this new environment.
"They start with a lot of strikes against them," she said.
Short and long term effects of premature birth are many and varied. According to the March of Dimes and the Mayo Clinic websites they include:
– A number of respiratory and pulmonary conditions such as fluid on the lungs, scarring and lung damage; apnea (a pause in breathing of 20 seconds or more) and respiratory distress syndrome which can mean small air sacs in the lungs collapse.
– Retinopathy and other vision problems.
– Low blood pressure and various heart problems to include a persistent opening between the aorta and the pulmonary artery known as patent ductus arteriosus.
– Jaundice, a sign of liver malfunction.
– Bleeding in the brain that, in severe cases, can lead to brain damage.
– Hypothermia because there is not enough body fat to stay warm; this can lead to low blood sugar levels.
– Gastrointestinal problems.
– Underdeveloped immune system which makes a person more susceptible to infection.
– Cerebral palsy.
– Impaired learning, cognitive difficulty.
– Hearing loss.
– Dental problems such as improper alignment.
– Behavioral and psychological problems.
– Chronic conditions like asthma.
Health providers take a three-pronged approach in addressing premature births: preventing them in the first place, immediate care for newborns, and following the child for the first few years, monitoring for symptoms and treating problems related to premature birth.
"We're the first part of the relay," Treasure said. Like other obstetrician/gynecologists, she monitors her patients for potential problems.
A number of things can put a woman at greater risk for a premature delivery, Treasure said. There may be a family history of prematurity; she may be infection-prone; she may have abnormalities of her uterus. Untreated high blood pressure can be a factor, as can fibroids, as can an active infection.
"Chlamydia is one of the big culprits," Treasure said.
A patient who is at risk is screened more often during her pregnancy, and monitored for problems, she said.
Still, there are unknown factors at work and a woman may have no warning that she will deliver her baby preterm. And "sometimes we have to deliver the baby (early) for the mom's health," Treasure said.
Whatever the cause, the NICU at each hospital is staffed and equipped to handle premature babies and other babies at risk.
Randall said the Schneider hospital has 10 radiant warmers and six incubators. Luis hospital has three warmers and three incubators, John-Baptiste said. Neither hospital lost any of its NICU equipment in the 2017 hurricanes.
There are also ventilators for preemies, infusion and IV pumps, photo therapy devices to counter jaundice, breast pumps for mothers, and other specialized equipment, John-Baptiste said, adding the unit recently received a grant for equipment from the Community Foundation of the Virgin Islands.
"We could always use more" because eventually equipment wears out, she said, but the Luis NICU is not lacking. It's fully equipped to care for six babies at a time.
Randall said the Schneider hospital can handle five NICU babies and five babies in intermediate care at one time, and "We can handle 18 well babies at one time."
"To be able to provide the care here is enormous," John-Baptiste said. It's very hard on mothers and the rest of the family when a baby has to be sent outside the territory for care. It's also very expensive. Treasure said it typically costs about $30,000 for the medivac transfer.
When a baby is able to stay on-island that means the mother and father can spend time with the newborn and give "skin-to-skin" care.
"We encourage that from the very first minute of life," John-Baptiste said. It's good for the baby and good for the family. "We've seen the difference it makes."
Care doesn't stop at the hospital door.
"All preterm infants discharged from our unit are followed up at our Maternal Child Health High Risk clinic and they are enrolled in the 0-3 early intervention program," Randall said. "They get audiology and ophthalmology screening as recommended by the American Academy of Pediatrics Guidelines."
The Luis hospital also partners with the Zero-to-Three program, which is run by the V.I. Health Department, John-Baptiste said. Health also administers the Health Families program which is federally funded and applies not only to newborns but to other families at risk.
With all the assistance available, John-Baptiste said "for some families there's still a problem with access to care."
They may have no insurance and little other means of paying for health care.
Randall raised a similar concern, in response to a question about how care can be improved.
"Neonatal and infant care could be improved by having automatic enrollment of newborns in the Medical Assistance Program, so all newborns would have health insurance right from birth," she said. "They would then be able to attend well child visits and get immunizations, and would not need to use our emergency rooms as their source of primary health care."