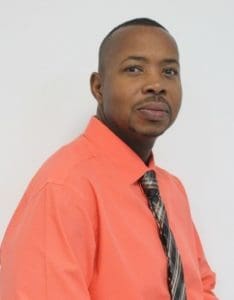 Fred R. Brathwaite Jr. of Estate Strawberry died on April 9. He was 50 years old.
He is survived by his mother, Dolores Keturah Braithwaite; sisters: Murthlyn Aldridge, Stephanie Samuel and Bianca Brathwaite; brothers: Anthony Griffith, Richard Griffith, 1st Sgt. Fraiden Braithwaite, Darious Brathwaite and David Hiedmann Jr.; companion, Tamara Gilbert; stepson: Shyeem Gilbert; sister-in-law, Annette Griffith; brother-in-law, Matthew Aldridge; nieces: Angelique Griffith, Janiece Griffith, Talisa Griffith-Simmonds, Chantik Griffith, Amina Aldridge and Ava Marble; and nephews: Javon Griffith, Keanu Braithwaite, Keaton Braithwaite, Sergeant Keary Braithwaite, Elijah Simon and Glendon Henry Jr.
He is also survived by godchildren: Terrell Francis, Juanisha Saldana, Vanessa Willie and Larry Williams; godparents: Elroy Yarwood and Rita Pemberton; aunts: Kathleen Smith-Maccow, Hyacinth Matson and Hilary Francis; uncles: Melbourne Adams, Camille, Larry, Douglas, Milton and O'neal Clarke; aunts-in-law: Marie Adams, Inez Harrison-Clarke and Louise Arnold-Clarke; uncle-in-law, Stanford E. Maccow Sr.; and cousins: Frederick Mohammed Jr., Melbourne, Adams Jr., Anthony, David, Elroy, Rudolph, Lorelie and Roger Clarke, Aquanette Clarke-Gumbs, Naomi Clarke-Thomas, Juanita, Catalina and Joseph Clarke and Risa Adams.
Other survivors include cousins: Stanford Maccow Jr., Rosemarie Williams, Ramona Menders, Roy Williams Jr., Dureen and Denise Williams, Dion Ferrier, Sharon and Denfield James, Dolores Nibbs, Pamela Clarke-Finley, Al Barry, Michelle Albany-Crispin, Jordon Albany, Tawana Albany-Nicholas, Darious George, Jaime Roebuck, Edmead Gore Jr., Michelle, Anita and Eva Gibbs, Geraldine Samuel, Lyn Jarvis Sanders, Carla, Collin, Edward, McArthur and Clytie Jarvis; as well as other relatives and friends too numerous to mention.
The viewing will take place at 9 a.m. followed by the funeral service at 10 a.m., Friday, April 26, at St. Ann's Catholic Church. Interment will be at Kingshill Cemetery.