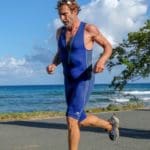 Twenty-four athletes, plus seven relay teams, came out to Cane Bay on Sunday to take on the Sprint or Try-a-Tri distances in the 15th Annual Wall-2-Wall Triathlon. The sea was choppy with noted strong current, so many athletes held a look of wariness at the knee-deep start of the swim. Dolphin swimmers Kaeden Gleason and Mason Lambert handled the rough conditions with ease and finished the 750-meter swim in 11:54 and 11:59, respectively.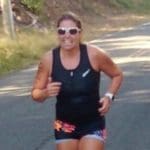 Veteran triathlete Wayne Nichols, who was the winner of the inaugural Wall-2-Wall Triathlon in 2004, pushed past the young boys on the 13-mile bike ride and locked in a 1+ minute lead. Nichols, age 64, ran with vigor and earned his well-deserved gold medal in a time of 1:15:17. Lambert, who posted the fastest individual split for the 3-mile run, was second in 1:16:06. Gleason, age 11, was third overall in 1:16:27.
Although Catherine Seguin was the second female to exit the water, she took away the lead from Esther Ellis on the run. Seguin finished in a time of 1:25:15; Ellis was second in 1:25:38. Megan Lambert, while making up several minutes on both girls on the run, could not catch Ellis and ended up in third in a time of 1:26:11.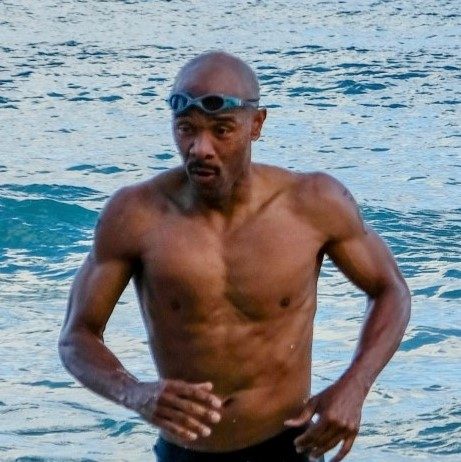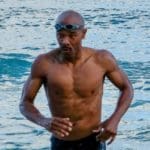 The relay team of Evan Dykstra, Glenn Massiah and Brice Richards dominated the Sprint course early on and wrapped up first place when Richards crossed the line in 1:10:06. The VI National Guard team of Doug Nelson, Elvor Narciss and Joe Noonan took second in 1:14:34. Jeff Dystra, Jerry Remie and Allison Janusziewicz made up the third-place team.
Nine athletes took on the shorter distance Try-a-Tri, consisting of a 375-meter swim, a 6.5-mile bike and a 1.5-mile run. Teague Gleason, age 9, came out of the water first in 11:24. Randy Nielsen, only 1+ minute behind the leader on the swim, overtook Gleason on the bike and banked a few minutes for the run. He increased his lead and finished first in 52:00. Gleason was a solid second in 57:00. Bryan Yeager was third in 1:04:47.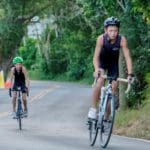 The next Virgin Islands Triathlon Federation event will take place on Sunday, April 14, at Cramer's Park. The morning will begin with the Beast of the East 5K, followed by the Triple Mini, which is a short swim/bike/run x 3.
For more information, call 513-2707 or visit http://vitf.org
March 10, 2019. The Wall-2-Wall Sprint Triathlon
and Try-A-Tri 750-mt swim, 13-mile bike, 3-mile run
Cane Bay Beach, North Shore Rd., St. Croix (rough sea, sunny, breezy)
MEN/ TOTAL TIME/ swim/ T1+bike/ T2+run
1 Wayne Nichols 1:15:17/ 0:14:40/ 0:38:05/ 0:22:32
2 Mason Lambert 1:16:06 0:11:59 0:42:08 0:21:59
3 Kaeden Gleason 1:16:27 0:11:54 0:42:19 0:22:14
4 Troy Holloway 1:22:26 0:18:16 0:39:34 0:24:36
5 Charlie Reynolds 1:25:13 0:14:25 0:43:25 0:27:23
6 Roger Hatfield 1:28:31 0:16:28 0:44:15 0:27:48
7 Kevin Moran 1:29:42 0:16:03 0:44:49 0:28:50
8 John Hourihan 1:26:14 0:15:05 0:42:35 0:28:34
Steve Nelson DNF
WOMEN/ TOTAL TIME swim/ T1+bike/ T2+run
1 Catherine Seguin 1:25:15/ 0:16:49/ 0:43:10/ 0:25:16
2 Esther Ellis 1:25:38 0:15:09 0:44:21 0:26:08
3 Megan Lambert 1:26:11 0:18:35 0:45:15 0:22:21
4 Shari Bashaw 1:35:08 0:21:09 0:48:15 0:25:44
5 Mercedes Siegle-Gaither 1:37:28 0:23:25 0:47:25 0:26:38
6 Renee Sweany 1:54:30 0:23:48 0:55:22 0:35:20
RELAYS/ TOTAL TEAM/ swim/ T1+bike/ T2+run
1 E. Dykstra, Massiah, Richards 1:10:06 0:12:47 0:37:38 0:19:41
2 D. Nelson, Narciss, Noonan 1:14:34 0:14:45 0:41:05 0:18:44
3 J. Dykstra, Remie, Janusziewicz 1:17:12 0:15:53 0:38:57 0:22:22
4 Cooke, Swanson, Brownsdon 1:21:11 0:18:09 0:40:47 0:22:15
5 Sims, Morales, Sims 1:22:04 0:18:16 0:35:59 0:27:49
6 Gay, Fleming, Fleming 1:36:25 0:17:52 0:47:23 0:31:10
Tawakol, Khan, Schmidt DNF 0:15:57
TRY-A-TRI/TOTAL TIME/ swim/ T1+bike/ T2+run
1 Randy Nielsen 0:50:00/ 0:10:47/ 0:25:19/ 0:13:54
2 Teague Gleason 0:55:00 0:09:24 0:30:04 0:15:32
3 Ruth Cresenzo 0:57:17 0:11:05 0:32:45 0:13:27
4 Byan Yeager 1:02:47 0:13:50 0:29:40 0:19:17
5 Ivy Hunter 1:01:36 0:15:27 0:29:44 0:16:25
6 Shel Motes 1:05:35 0:12:41 0:34:51 0:18:03
7 Angela Cherkis 1:09:51 0:15:12 0:26:32 0:28:07
unofficial Kirra Lambert (shortened swim) 0:55:14 0:10:38 0:30:55 0:13:41
unofficial Candace Felix (shortened swim) 1:01:30 0:10:07 0:33:38 0:17:45