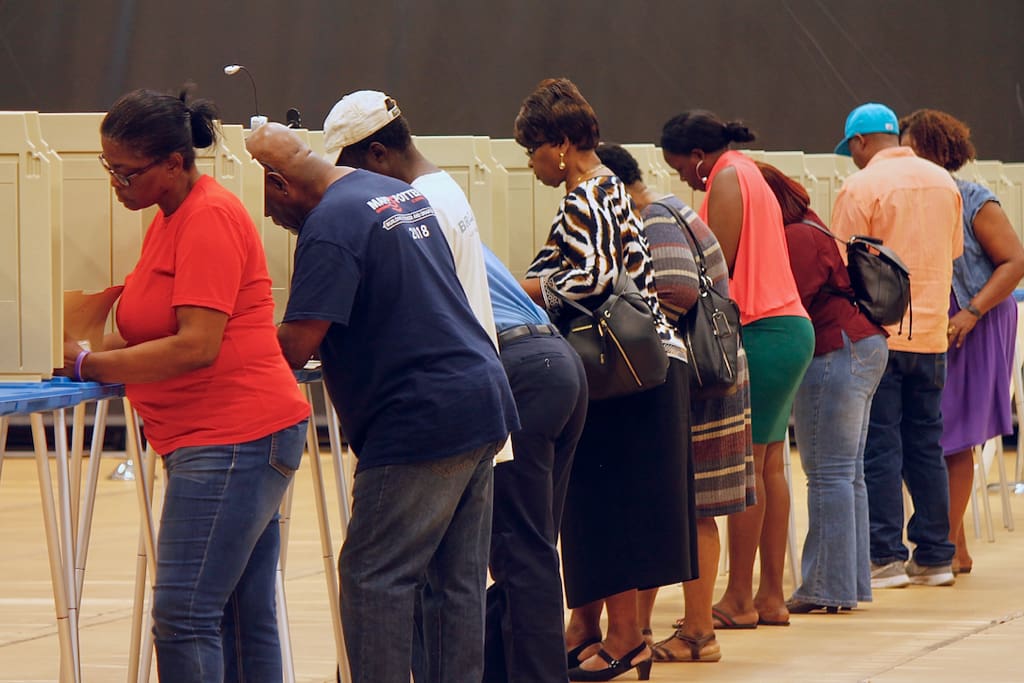 Voters headed out to the polls in droves early Tuesday, packing turnout numbers in an election that appears on track to easily crush the last gubernatorial election turnout.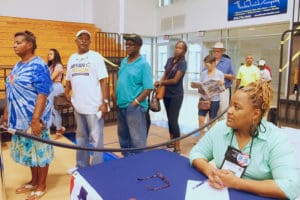 Polling places remain open until 7 p.m.
The University of the Virgin Islands' Sports and Fitness Center serves voters who used to go to Gladys Abraham and Ulla Muller Elementary Schools. The polling site traditionally draws a good number of voters, but more so this year. Within a couple of hours of the polls opening, the polling place recorded 245 voters who completed the process, with a long line still waiting to be admitted.
"I would consider that a great turnout for a 10 a.m. count. It was more than 200 and that's a good flow," said polling judge Donna Phillip, who later reported that the turnout count surged to 375 by noon.
On St. Croix, a polling judge at the Juanita Gardine site said the turnout was initially slow – only 175 people voted as of 10 a.m. – but showed a steady flow that increased the number to 220 by noon. The John F. Kennedy Housing polling site reported 108 voters by noon. The energetic turnout mirrors the spike in early voting numbers: roughly 23 percent of all registered voters – more than 11,800 people – already cast their votes before election day dawned.
On the UVI basketball court, crowds of people navigated across the various sections of the polling site. Voters filled the rows of privacy booths while others waited to be logged in the E-Poll books. More waited just outside the voter entrance, waiting to be admitted.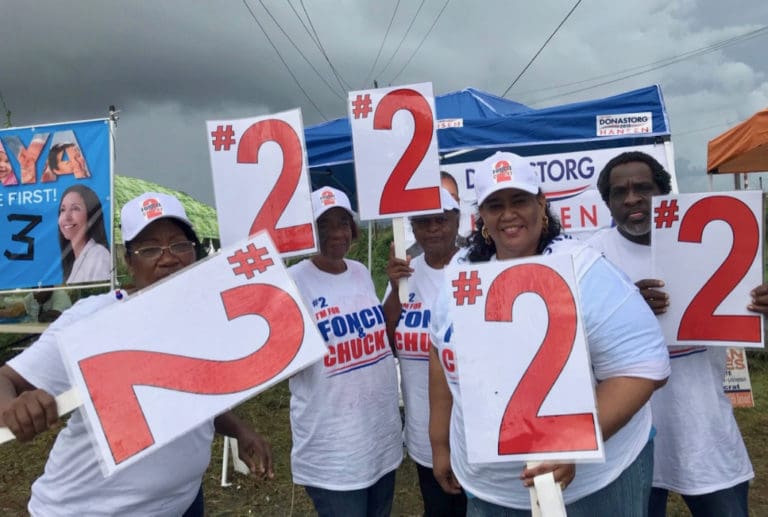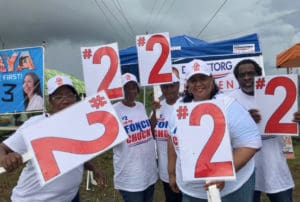 Outside the Sports and Fitness Center, lines of cars headed to the polling site weaved through enthusiastic campaigners waving colorful signs and placards promoting their candidates. The same scene unfolded for every voter driving into the Lockhart Elementary and Charles Turnbull Library polling sites. Campaign tents lined the sides of the roads and lively supporters personally pitched their candidates to motorists who rolled down their windows.
In spite of the surge of voters, Phillip said the UVI polling site has not experienced any problems that caused delay. The DS200 machines were running smoothly, she said, and poll watchers sitting on the sidelines were allowed to observe the process and ask questions.
"Everything is flowing as it should, said Phillip. "We have poll watchers here, so we don't have any problems in this area at all."
Medical Evacuees and Absentee Voters
While thousands cast their ballot in the territory, on the mainland, at least 15 medical evacuees who wanted to vote in the 2018 primaries and in Tuesday's general election did not get to. Laurice Wilson of Caribbean Missions Outreach Inc., a nonprofit focused on health and humanitarian aid for children, the elderly and veterans, said she is in touch with a group of roughly 100 evacuees who were flown to the mainland in the wake of the 2017 hurricanes. A majority of them, she said, told her they were discouraged from voting because they were "disgusted" by how the government treated them after the 2017 hurricanes, but 15 people were still fighting to cast their ballots.
According to Wilson, the medical evacuees first got in touch with their social workers at the V.I. Department of Human Services in July in hopes they could vote in the primaries.
"They were promised by Human Services, which is supposed to be tracking them and dealing with them, about making sure they register to vote," said Wilson. "They were told that they would receive absentee ballots to vote, because they made the request to be able to vote."
Wilson said she was working with Gloria Edwards, daughter of one of the medical evacuees who ended up in Atlanta, on gathering data regarding the medical evacuees.
Election Board Chairman Arturo Watlington said this is the first time he's hearing about this group of medical evacuees' effort to vote in the 2018 election. Watlington said there were no special accommodations in place for medical evacuees, but added that regardless of the circumstances, they or a representative should have applied for absentee ballots early.
"We send them that ballot wherever they are, free of charge," said Watlington, who said he has been mailing out absentee ballots via express mail until Friday out of pocket.
Election Supervisor Caroline Fawkes also said she has not heard of this case before Election Day, but is making inquiries into the incident.
"We just don't send ballots to people. There's a process and they need to apply," Fawkes said.
According to Watlington, voters still interested in casting their ballots Tuesday can do so via email or fax, but they would have to waive their rights to privacy since the process would involve Election System staff handling their ballots for them. Fawkes confirmed that voters can still submit their requests to the Election System on Tuesday, and their ballots will be emailed to them. They will have 10 days after Election Day to send them in by email, fax or mail, according to Fawkes.
Wilson also raised concerns about some stateside absentee voters receiving more than one absentee ballot in the mail. According to Wilson, her parents and her sister living in Georgia each received two absentee ballots.
"I don't know who else will be honest enough to share with you they got two absentee ballots," said Wilson, adding her family members knew better and will each mail in only one ballot.
Invigorated Electorate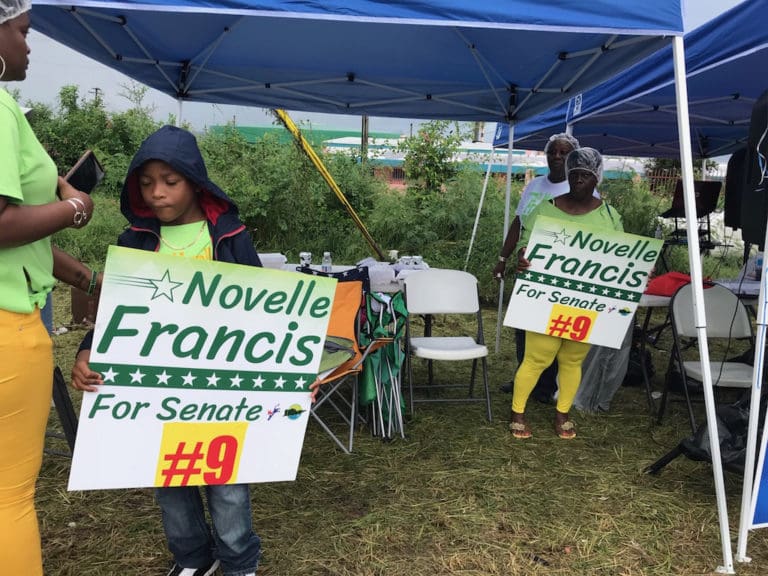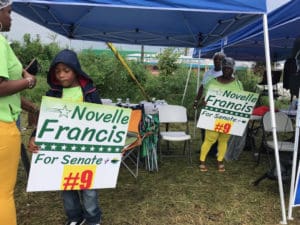 Voters who spoke to The Source shared various reasons for voting but displayed the same enthusiasm for what they saw as an exciting election year. Thelma Louis, a campaign supporter for senatorial candidate Delores Toddman on St. John, manned a table Tuesday morning near the Cruz Bay traffic circle, along with fellow campaign worker Annie Thomas.
"She's a voice for the voiceless," Louis said about Toddman. "I believe she brought a program for the Spanish, when the Spanish was coming in from the Dominican Republic. And she's a woman's rights advocate. She's very passionate about education, health care and our seniors and people with disabilities, and other things like agriculture."
Gubernatorial candidate Adlah Donastorg, on his way to catch the ferry from St. John to St. Thomas Tuesday morning, said he did not believe he was merely a possible spoiler in the gubernatorial race that would force the contest into a runoff later in November.
"Whoever I'm going to face, I'm going into the runoff and I'm going to beat them," Donastorg said.
Retired educator Clemmie Moses, campaign manager for the gubernatorial team of Albert Bryan and Tregenza Roach, was on duty Tuesday morning as an election poll watcher. Moses said the campaign "has been excellent."
"I can't tell you how many attended our regular meetings, but we have regularly, about 25 to 30 people," said Moses. "Over the course of the campaign on St. John, the Bryan-Roach team has held food sales and more. We've been doing canvassing, phone banking and fish fries, fish fries, fish fries."
Meanwhile, on St. Croix, a voter headed to the polling sites said, "I want change because all the things Mapp said he would do, did not happen."
Martha Mills, a ScotiaBank retiree who has lived on St. Croix since 1969, said voting was "the ultimate purpose to make a difference."
"I am very enthusiastic because of the different choices people have," she said. "I feel there will be a runoff. It looks real tight. I just hope the right people get in."
Lakima Ford also said she was excited about the gubernatorial race.
"I want Mapp to get four more years to finish the good work," said Ford. "It was not his best, but he did well for the first four years. I want to give him another shot."
St. Croix local Rex Schuster has voted in many elections and said he hopes to see some improvement.
"This is a wild election climate," said Schuster. "The people are energized. I hope the results will be for the better and a change for the better."
Retired teacher Mary Mingus said she was just looking for the basics.
"My concern is for education and the hospital," said Mingus. "We need union rights and needs. This election process was a smooth procedure. I look forward to a new legislature with a new focus taking this community where we need to go."
As of 3 p.m., exactly 8,739 people voted territory-wide: 4,171 voters cast their ballots on St. Thomas and St. John, while 4,568 voters cast their votes on St. Croix as of 3 p.m. The polling places remain open until 7 p.m.
Judi Shimel and Elisa McKay contributed to this report.