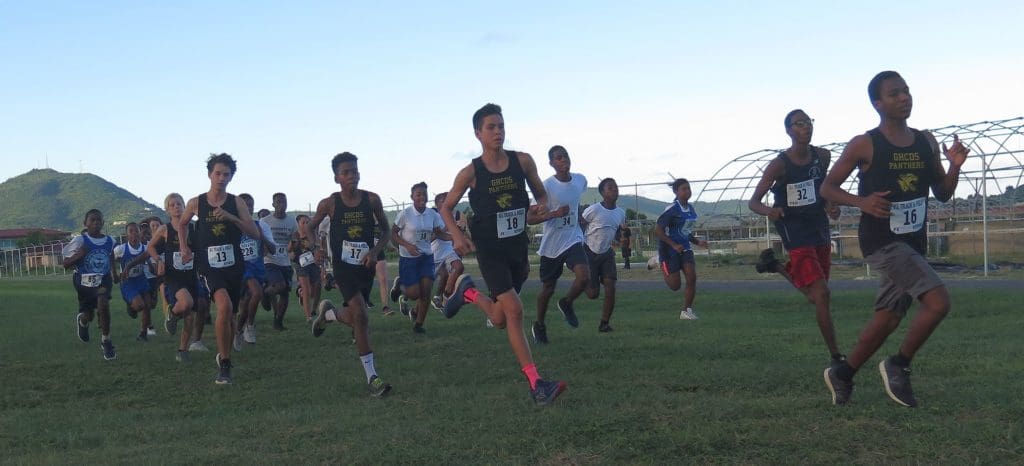 The start of the Junior Varsity Boys 2 on Oct. 31: Mickey Dizon-Bauman (No. 18) finished first in 11:04; Mathari Mathew (No. 16) was second in 11:48; Brice Richards was third in 11:53 for the Good Hope Country Day School sweep.
The drop in the number of participants (perhaps because of Halloween) to around 150 from over 200 for the previous week didn't dampen the competitive spirit of the school teams as they pursued the St. Croix Interscholastic Cross-Country Championships from distances 1 mile for elementary, 2 miles junior varsity to 3.1 miles varsity. The fastest time of the day for the open 5K was recorded by veteran Juan Robles in 16:58.
For full individual and team results logon to: http://www.eteamz.com/stxtc or http://virginislandspace.org
St. Croix Interscholastic Cross-Country/4H/V.I.Pace Runners Cross-Country Series; STX Cross Country Championship – 10/31/2018
Final Team Standings
Note:
– Team scores are based on the addition of the first 5 places of the athletes for each team (lowest score wins).
– The 6th and 7th runner for each team will offset the score for runners finishing after them. For teams with more than 7 runners only
the runners 1 through 7 will have a score.
– Ranking for schools with fewer than 5 athletes is accomplished by giving priority to the number of athletes on the team
(team with higher number of athletes is ranked higher) followed by team score compared to teams with the same number of athletes.
– Scores for teams with fewer than five athletes are not posted.
Elementary Girls
Place/ School Name/ Score
1 Good Hope Country Day 42
2 Lew Muckle 61
3 Alexander Henderson 109
4 Alfredo Andrews 125
5 Claude O. Markoe
6 Juanita Gardine
7 Eulalie Rivera School
8 Pearl B. Larsen
9 Church of God
10 Free Will Baptist
Elementary Boys
Place/ School Name/ Score
1 Good Hope Country Day 19
2 Lew Muckle 66
3 Alexander Henderson 125
4 Church of God 129
5 Alfredo Andrews 130
6 Juanita Gardine 134
7 Claude O. Markoe
8 Pearl B. Larsen
9 Free Will Baptist
JV – Girls
Place School Name Score
1 Good Hope Country Day 14
2 Arthur Richards 33
3 John Woodson
4 St. Croix Complex
JV – Boys
Place School Name Score
1 Good Hope Country Day 11
2 St. Croix Complex
3 Arthur Richards
4 Free Will Baptist
5 Central High School
Page 3 of 4
VARSITY – Girls
Place/ School Name/ Score
1 Good Hope Country Day 18
2 Central High School
3 St. Croix Complex
4 Free Will Baptist
VARSITY – Boys
Place/ School Name/ Score
1 Free Will Baptist 38
2 St. Croix Complex
3 Central High School
4 Good Hope Country Day
M – 3.1 MILE
OPEN
1 Juan Robles (1) 16:56 — Unattached
2 Randall Nielson (2) 21:17 — Unattached
3 Mike Klein (3) 22:59 — Jolly Roger TC
4 Rob Wolfe (4) 26:34 — Unattached
5 Florendo Astropabio (5) 29:42 — Unattached
Results Generated by The St. Croix Track Club
http://www.eteamz.com/stxtc/
http://virginislandspace.org
[email protected]
University of the Virgin Islands, St. Croix Campus, Virgin Islands USA
Organized by: The St. Croix Track Club and The Virgin Islands Pace Runners
Sanctioned by The Virgin Islands Track and Field Federation (ISV) and St. Croix Inter-scholastic Athletic Association (SCIAA)