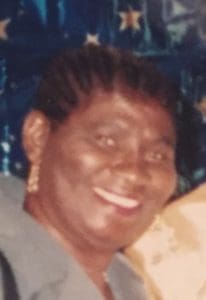 Cicely Mayrietta Douglas was born on Jan. 18, 1946, and died on Oct. 18 at Gov. Juan F. Luis Hospital. She was 72 years old.
She was preceded in death by her mother, Catherine Douglas; and father, Eugene Douglas (Sandy Point, St. Kitts).
She is survived by her daughter, Glenda Harris; grandchildren: Akil Harris and Anika Johnson; granddaughter-in-law, Lisa Harris; great-grandchildren: Akil Jr., Anthony and Ashley Harris; brothers: Eugene, Sydney, Desmond and Hubert Douglas; sisters: Mauricia and Janet Douglas; and nieces: Sonia Douglas-Chesterfield, Kever May and Denise Douglas, Jade, Ashana and Akima Jarvis, Sharifa Davis-Anthony, Aisha Davis, Donica and Denise Douglas, Luciana Roberts, Brianna and Barrika Thomas, D.J., Jamila and Shamika Douglas.
She is also survived by nephews: Hubert Douglas Jr., Walford Douglas, Shakir Davis, Shamoy Jarvis, Shakida Douglas and Keshawn Sarrono; aunt, Glenda Douglas (Bermuda); uncles: Foster and Arthur Douglas; cousins: Julie Morton, Casandra Taylor, Diane Pina, Elsworth Taylor, Cynthia and Gwenneth Douglas, Iris Duncan, Overnette and Arthur Douglas and Leroy Duncan; special friends: Mary Hodge, Perline Prentice, Donna Carridice, Carolyn Kelly, Valerie Johnson, Lisa Thomas and Murthlin Warner; as well as other relatives and friends too numerous to mention.
There will be a viewing at 9 a.m. followed by a funeral service at 10 a.m., Tuesday, Oct. 30, at Ebenezer Methodist Church. Interment will be at Kingshill Cemetery.