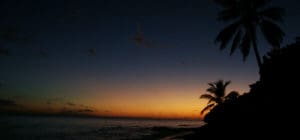 Richard Berry, president of Leeward Islands Management Company, on behalf of the Marion and John E. Anderson Foundation (along with local subsidiaries Bellows International, West Indies Company, Dorchester Insurance Company, TOPA Insurance Services, TOPA Properties, Leeward Islands Management Company and Caribbean Cellars BVI) will award scholarship funds to Good Hope Country Day School at 10 a.m., Monday, Sept. 17.
The generous gift will represent one of the largest single charitable donations in the school's history. Head of School Kari Loya, trustees, administrators and student leaders will be present to accept this contribution, which will be restricted in an endowed fund for financial assistance.
Peter Marcellin, vice president of West Indies Company, said, "We are very pleased to help Good Hope Country Day School to offer scholarships to the children of St. Croix." The school has historically provided close to 50 percent of its student body with financial aid totaling nearly $1 million.
Loya said, "We are incredibly grateful for the Anderson Foundation's transformative gift and Mr. Berry's own commitment to and appreciation for the role that our school plays on St. Croix and the long-term economic impact. Given the economic volatility of the island, these funds are critical to ensuring our ability to continue to fulfill our mission and serve the community."