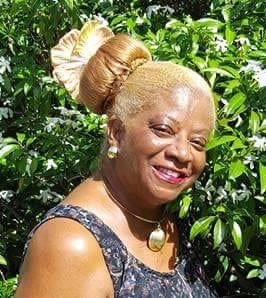 Leola A. Christian, also known as "Lola," of Estate LaGrange died on Saturday, Sept. 1. She was 68 years old.
She was preceded in death by her son, Leodel Iles.
She is survived by her children: Tiant A. Iles and Astia L. Lebron; grandchildren: Idel, Tiala, Atila, Azai Iles and Alani Williams; siblings: Charles "Charlo" Christian, Bradley E. Christian, Clement R. Doward, Vernamae E. Doward, Lloyd Christian and Gustave Petersen; adopted sisters: Donna Marie Flynn-Osborne, Marlene I. Henderson and Chanel Williams-Charles; aunts: Thelma Ransom, Maude Roberts and Beulah Robinson; and nieces: Vanessa Christian, Dr. Kisha Christian Pharm. D., Akeyla Oryce Christian, Erica Rawlins, Kenja Christian, Asta Christian-McGriff, Astria Christian-Bermudez, LaBelle Bryan-Richards, Celeste Christian, Linique George, Trisha Vidale, Ava Shulterbrandt and Natasha Henderson-Petersen.
She is also survived by nephews: Lawrence "Markey" Christian, Malcolm Christian, Albert "Chunks" Harrison Jr., Kareem Christian, Kenneth Christian, Cuthbert Sanders, Lamar Doward, Lloyd Christian Jr., Alvin M. A. Milligan, Randy Petersen, Brian Petersen, Ronnie Petersen and Emile A. Henderson III Esq.; son-in-law, Albert Williams; daughter-in-law, Delicia Williams; sisters-in-law: Brenda Christian, Kathleen Christian and Patricia W. Christian; brother-in-law, Albert Harrison Sr.; and godchildren: Natasha Henderson-Petersen, Emile A. Henderson III Esq., Kahreem Smith, Kiwanda John, Benhardt Simmonds Jr., Hubert Brown Jr., Shania Milligan, Aleeyah Milligan, Amadeo Milligan, Antonia Prospere, Shakeem Trotman, Shakima Gonzales, Shakimo Gonzales and Tajarie McIntosh.
Other relatives include the Christian, Johnson, Flynn, Dawson, Armstrong, Brandon, Hendrickson, Lenhardt, Allick, Rissing, Cornelius, James, Hansen, Roberts (St. Thomas), Wilson, Osborne, Messiah, Encarnacion, Byron, Christian, Williams, Urgent, Bruce and Henderson families, Class of 1970, VI Cardiac Center, Partners for Health and Health In Action (JFL); as well as other relatives and friends too numerous to mention.
The viewing will take place at 9 a.m. followed by the funeral service at 10 a.m., Saturday, Sept. 15, at Friedensberg Moravian Church. Interment will be at Frederiksted Cemetery.
* The family respectfully requests all ladies attending the funeral wear a hat of their choice*