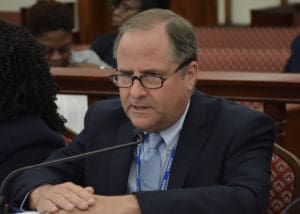 The Virgin Islands Water and Power Authority (WAPA) advises its customers that the next round of bills for electrical and potable water services will be issued within the coming week. While steady progress is being made toward the goal of issuing monthly bills for a 30-day service period, the authority's post-storm billing continues to lag by about 30 days, according to a press release from WAPA's Executive Director Lawrence J. Kupfer.
"In order for the authority to normalize its billing operation, the bills issued in September will cover a 30-day period, and those issued in October will cover a 60-day service period, which will allow the authority to eliminate the final 30-day lag in billing," said Kupfer, adding that for the November billing, WAPA should be issuing bills for a 30-day service period.
The automated metering system is functioning at almost 85 percent capacity, which translates into more meters being read electronically, and only a small percentage requiring manual reads.
In addition, WAPA's director said the increased LEAC rate, which was recently approved by the Public Services Commission, will go into effect with the September bills. The LEAC rate is equivalent to an approximate $15.66 increase in a residential monthly bill, assuming usage of 400 kilowatt hours per month.
"Credits are continuing to be issued to customers for the authority's not including the two-tier rate structure in the initial billing issued after the 2017 hurricanes," Kupfer said.
He also reminded residents of the recently announced resumption of WAPA's disconnect policy for non-payment. "WAPA cannot continue the practice of requiring that some customers pay their bills, while others opt not to do so due to a suspended disconnection policy. There are some customers who have not made any payments on their accounts since prior to last year's hurricanes."
As indicated earlier this week, disconnection notices will be issued to delinquent customers to allow them a final opportunity to cure their outstanding balances, and they are advised to contact the customer service offices to do so.
In addition to the customers who have not made any payments since August 2017, there are approximately 2,700 customers who have not made payments since the end of April 2018.