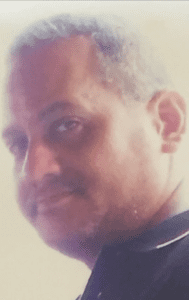 Christobal Gomez Jr., also known as "Junior," from La Grande Princess died on Aug. 23, at the Governor Juan F. Luis Medical Center.
He was preceded in death by his sister, Norma Iris Maduro; and niece, Kimberly Iris Maduro.
He is survived by his beloved parents: Eustaquio (Christobal) Gomez Rivera and Valentina Velasquez Gomez; daughter, Ivellise Gomez; sisters: Carmen L. Gomez, Lydia E. Gomez Cornell and Maria V. Gomez-Christian (Vicky); brother, Luis Daniel Gomez (Danny I); and nephews: Miquel Jr., Angel Luis, Christopher A. and Ricardo Encarnacion, Eduardo Maduro, Gregory and Gabriel Christian.
He is also survived by nieces: Bianca Maduro Jackson, April Rene Maduro, Lashonette and Ronisha Schjang; brother-in-law, Adam G. Christian; as well as many great nieces and great nephews, numerous uncles, aunts and cousins from the Velasquez, Gomez, Rivera, Herndon, Johnson, Robles, Perez, Phangyou, Whitehead and Roper families, and friends too numerous to mention.
A viewing will be held from 9-11 a.m., Monday, Sept, 3, at Divine Funeral Services Chapel, 129 Peter's Rest.
A funeral service will be held at 10 a.m., Tuesday, Sept. 4, at Iglesia de Dios Pentecostal, M.I., Estate Mountain. Interment will follow at Kingshill Cemetery.