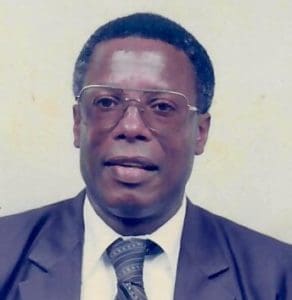 It is with great sadness that we announce the passing of our beloved Bishop Desmond Trim. Bishop Trim was an excellent, kind and loving husband and father to wife and children. He was a mighty man of God first. He was a wonderful brother to his siblings, uncle to his nieces and nephews, cousin to his cousins and a friend to all he met.
Mr. Trim was born on Sept. 4, 1948, to Maria and Nathaniel Trim on St. Lucia in the city of Vieux Fort. He moved to St. Croix, Virgin Islands, in 1969 and resided there up until his passing. Mr. Trim passed away on Monday, July 30, in Atlanta, Ga., from renal cancer.
He was preceded in death by his sisters: Morrill Trim and Harriett Trim; brother, Martin Trim; niece, Barbie Trim; and nephew, Andre Trim.
Left to mourn are his: wife of almost 43 years, Lurine; sons: Clifford Trim and Kirby Trim; daughter, Lorraine Trim; daughter-in-law, Kanece Trim; granddaughter, Laila Cills; sister, Agatha "Winnie" Trim Paul; brothers: Wilbert "Sonnyboy" Trim, Cyril "Clarus" Trim and Justin Trim; sisters-in-law: Rodesia Trim, Patricia Hart, Shirley Malcolm and Lorna Lewis; brothers-in-law: Neville Smith, Paul Smith, Donald Smith, Michael Smith and Albert Smith; and nieces: Christine L'aimable, Cheryl Trim, Kerlyn Trim-Dorival, Justina Trim, Isha Trim, Nadine Trim, Martina Trim, Yolande Donnelly, Merlinda Trim, Melissa Trim and Cariss Trim.
He is also survived by many more nieces and nieces-in-law who are too numerous to mention. nephews: Anthony Paul, Fabian Trim, Alvin Trim, Andy Trim and Alencious Trim; many more nephews and nephews-in-law who are too numerous to mention; cousins: John Trim, Jude Trim, Lena Trim, Judith Trim, Fidelis Trim, Cora Trim-Straker, Lena Trim, Yolande Daniel, the Smith family of Laboris, St. Lucia, and the Simon family of Laboris, St. Lucia; Trim families in St. Lucia, Toronto, Canada, New York, Connecticut, Europe and Aruba; as well as many more cousins who are too numerous to mention.
Bishop Trim's funeral will take place on Saturday, Sept. 1, at Faith Aflame Ministries Apostolic Church. The address is Plot No. 255 Estate Glynn, Route 75 (North Side Road), located between Francis Water and Straker Motors, St. Croix. Viewing will begin at 9 a.m. and home-going service will begin at 11 a.m. Interment will follow at Kingshill Cemetery.