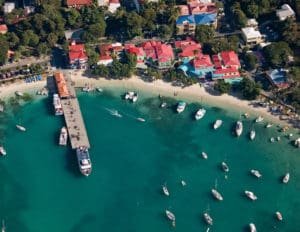 The Senate Committee on Housing, Public Works, Waste Management and Planning gave the OK to four St. John Coastal Zone Management permits Wednesday, among them a plan for a new commercial use floating dock in Cruz Bay harbor.
The permit is for Low Key Watersports to install a 70-foot by 6-foot floating dock between two of its existing dive boats already moored at Cruz Bay.
According to the permit application the dock will not have vessels permanently tied to it and will be used to board passengers who need special assistance. There will be no dredging or filling related to the project, and the removable floating dock will be anchored to the seafloor with sand screws.
Low Key Watersports President Ann Marie Estes said the idea for the dock came about during the company's participation in a scuba training program for disabled veterans.
"It was during our interaction with the disabled veterans that we realized our inadequacy to assist clients with disabilities who wish to partake in watersports," she said.
A temporary aluminum ramp would be used to connect the dock to the shoreline in the event of a person with disabilities using the company's services, she said.
Although some senators expressed concern that Cruz Bay's shorefront and harbor has become increasingly congested, Low Key's planned dock proved uncontroversial with the committee, due to the fact that it would "slip between" already moored boats and "not affect any usable water space."
"I think Cruz Bay is crowded," said Sen. Janelle Sarauw. "We had a matter before us where I voted against allowing a hotel to have 190 feet of swimming area, because I believe if you want to swim in that area there are enough beaches to swim."
Sarauw was likely referring to a permit proposal by shopping center Wharfside Village to create a swim zone off Cruz Bay beach. Wharfside also applied for a separate re-zoning change for its property, which was approved by the Legislature in April. Wharfside's owner Joe DeCourcy wrote in a letter to the Legislature that the re-zoning application was not a part of any plan to further develop the shorefront property beyond existing uses, which include dining, gaming, retail shops, and a few residential rental units.
Because Low Key Watersports already pays fees for its moorings, the annual fee it would pay for its 15-year dock permit is $500, at least for the first five years. Estes said in response to a question by Sen. Neville James that the company expects to spend between $15,000 and $20,000 on the dock project.
Minor CZM permits, which cover developments valued at less than $66,000, do not require public hearings. No resident of St. John relayed any complaint about the planned floating dock to the Department of Planning and Natural Resources, and neighboring property owners were notified according to CZM staff.
The other three CZM permits the committee forwarded on to the full Senate Thursday are for existing docks or floating structures, which likewise have gotten no recent complaints from residents.
One allows continued use and occupancy of an existing 50-foot dock at a private residence in Fish Bay. The dock is for personal use and has been there since 1985.
Another permit allows the continued use and occupancy of an existing 100-foot dock and 6,500-foot of submerged lands surrounding the dock seaward of Lovango Cay. The dock belongs to the Joseph John Markus Trust but is used by other residents of Lovango as well. It has been used as an access point to the cay since the 1950's, and the related permit is classified as a major CZM permit.
The third permit is for the continued use of a 12-foot by 12-foot swim platform operated by Gallows Point Resort, as well as a 60-foot access walkway and three swim buoys. The swim platform has been there since the 1990's and is removed every year for hurricane season.
"There has basically been no controversy involved in any of these requests," said Sen. Sammuel Sanes.
All committee members present voted to forward the permits on to the full senate for further consideration. Those senators includes Sarauw, James, Sanes and Sens. Marvin Blyden, Janette Millin Young and Brian Smith. Sen. Alicia "Chucky" Hansen was excused, and Sen. Myron Jackson attended the hearing as a non-committee member.