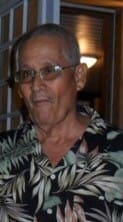 Fernando Ascencio of Estate Campo Rico died on Friday, Aug. 10. He was 78 years old.
He was preceded in death by his parents: Benito Ascencio and Mercedes Rosa; son, Pedro Ayala; and son-in-law, Hugh Huggins.
He is survived by his spouse, Ursula Ascencio; daughters: Norma Nales, Marie Luz Williams, Marisolina Hankins, Johanna Torres, Fulgencia Colon, Maria Ayala and Irma Soto; and sons: Fernando Ascencio Jr., Angel Ascencio, Juan Ascencio and Humberto Ayala.
He is also survived by grandchildren: Jomar Rosa, Tomas Castro Jr., Keishla Torres, Natalia, Haidy, Angela, Angelica Ascencio, Omayra Navarro, Norma Luz Nales, Juan Nales Jr., Damian, Jonathan, Esteban, Carlos Diaz, Jahnisha Diaz, Tamisha Taylor, Carmen, Rosanna Ascencio, Jense Berg, Richard Berg, Jr., Clarimar Bradford, Jess Hankins, Amelia, Jahzinia, Melisa, Juan Ascencio, Lorena Ascencio, Humberto Ayala Jr., Ricardo, Noel Romero, Carmen, Wendy, Pedro, Carlos, Kimberly, Erika, Vanessa Ayala, Rafael Ayala, Hugh Huggins Jr., Dianalee, Mon Velasquez, Denise, Carlos Soto, Norma de Jesus, Frankie, Miguel and Marilyn Rivera.
Other survivors include great-grandchildren: Jan-Daniel Berg and 78 more great grandchildren too numerous to name; sisters: Norma Ascencio Hernandez and Betty Ascencio; brothers: Angel Ascencio, Oscar Ascencio and David Ascencio; nieces: Carmen Diaz, Mercedes White and Lydia Ascencio; nephews: Angel Ascencio Jr., David Ascencio and Jose Ascencio; daughters-in-law: Nancy Ascencio, Yvonne Ayala, Anna Serano and Lucy Ascencio; sons-in-law: Jose Torres, Juan Nales, Daverson Hazel, Carlos Soto and Cesar Serrano; brother-in-law, Lorenzo Hernandez; sisters-in-law: Leonor Ascencio, Norma Ascencio and Ilma Ascencio Romero.
More survivors include special friends: Raymond Petersen, Mr. Leon, Margot Berrios, Tio Chiché, Hermanos y Hermans de la Iglesia Adventista de Septimo dias de Campo Rico y Sunny Acres, Co-Workers at Housing Parks and Recreation Paradise Mills and LBJ Gardens; as well as other relatives and friends too numerous to mention.
There will be a viewing from 3-5 p.m., Thursday, Aug. 23, at James Memorial Funeral Home.
A second viewing will take place at 9 a.m. followed by a funeral service at 10 a.m., Friday, Aug. 24, at Sunny Acres Seventh-day Adventist Church. Interment will be at Kingshill Cemetery.