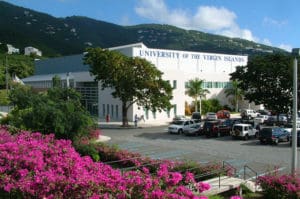 UVI Astronomy at Yacht Haven Grande – A Night with the Stars to be Held on August 11 The University of the Virgin Islands (UVI) Physics program invites the public to a fun-filled astronomy event set for 6-10 p.m., Saturday, Aug. 11, at Yacht Haven Grande.
UVI students, as well as some high school students, will present their research work. Telescopes will be set up next to Gucci on the outside for stargazing and there will also be viewing of the planets Mars, Jupiter and Saturn. The university music department will play jazz music indoors at a nearby location. This event is free and all ages are welcome to attend.
For more information, contact Dr. Antonino Cucchiara in the College of Science and Mathematics at 693-1688 or by e-mail at [email protected].
UVI Plays Vital Role in VI Ocean Glider Pilot Project The University of the Virgin Islands (UVI) through an agreement with Ocean and Coastal Observing – Virgin Islands (OCOVI), has lent its support to housing data-collecting underwater drones that will aid in improved hurricane forecasting.
The project to deploy ocean gliders in USVI waters begun on July 17, 2018. The deployment schedule saw the first glider going into the water 15 miles south of St. Thomas-St. John on July 17, followed the next day, July 18, by two deployments north of St. Croix and one west of St. Croix. On July 19, the fifth Glider was released at a station northwest of St. Thomas.
The Summer long project includes ocean gliders plying the waters of the US Virgin Islands as a means of advancing the understanding of ocean characteristics and contributing to improving hurricane forecast models. Additionally, two of the gliders are carrying passive acoustic recorders to listen for whale sounds.
"UVI's Center for Marine and Environmental Studies and its emerging oceanography program is very excited to be able to participate in this important project," said Dr. Paul Jobsis, acting director of the Center for Marine & Environmental Studies. "We plan to continue this work in the future with OCOVI, NOAA, the US Navy and CariCOOS-UPR," he said. "The logistics and student involvement we were able to facilitate is important. UVI students are some of the best and this shows them that globally important science is happening in the Virgin Islands."
More information is available in a news release on the Media Section of the UVI website – http://www.uvi.edu/
New Students Move-in and Convocation to be Held During the Week of August 14 -17 New students will move into residence halls on the Albert A. Sheen and St. Thomas Campuses on Monday, Aug. 14, respectively. On the St. Thomas Campus, they will move-in from noon to 5 p.m. while on the Albert A. Sheen Campus students will move-in from 4 p.m. – 7 p.m.
Convocation for new students will be held on the Albert A. Sheen Campus from 5:30 p.m. to 7:30 p.m. on Wednesday, Aug. 15, in the Great Hall. On the St. Thomas Campus, it will take place on Aug. 16, 9:30 a.m. to 11:30 a.m. at the Sports and Fitness Center.
Convocation is regarded as the official welcome to the university where faculty members dress in their academic regalia and the president presents the new students with a medallion.
Returning students on the St. Thomas Campus will move-in from 12 o'clock noon to 5 p.m. on Friday, Aug. 17, while students on the Albert A. Sheen Campus on St. Croix will move-in from 4 – 7 p.m. on Saturday, Aug. 18.
The Fall semester begins on Monday, August 20 and ends on December 8.
UVI Employees of the Year Award is Featured on UVI's Today Blog Monifa Potter and Debbie Joseph were selected as employees of the year at the university's annual Service Awards held on April 17 and 19 on the Albert A. Sheen and St. Thomas Campuses, respectively.
Monifa Potter serves as the university's registrar and Debbie Joseph is an administrative assistant in the College of Liberal Arts and Social Sciences.
There was a total of six nominations for the employee of the year award on the Albert A. Sheen Campus and four on the St. Thomas Campus.
The employee of the year program and annual service awards are organized by the UVI's Human Resources Department and aim to recognize employees who have demonstrated and contributed to the improvement of the quality and performance of the university of the Virgin Islands.
To read the entire story visit www.uvi.edu or see this direct link to our www.uvitoday.blogspot.com