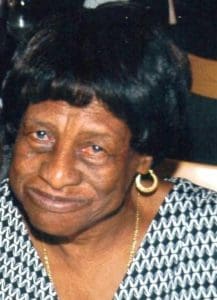 Bernadith Isola Mason, better known as "Bernie," was born on Jan. 22, 1937, to the proud parents Mr. Augustin and Mrs. Edith Mason (died July 11, 1997, at age 81.). She was the first child of nine. Bernie died July 27, 2018 at age 81.
Bernie was a member of Holy Cross Catholic Church. She could be seen every Saturday afternoon with her two sisters in the front pew of the church.
She resided with her sister Bodil for 21 years. Bernie had a most beautiful smile that melted your heart when you saw her.
She is survived by her brothers: Mario Mason Sr., Augustin Mason Jr. and Dale A. Mason; sisters: Bodil Mason Simmonds and Denise Mason; aunt, Escelina Durant; sisters-in-law: Ariadna, Rose and Claudette Mason; nieces: Sherry Simmonds-Heywood, Denise Simmonds-Barnes, Bodil Vanterpool, Dulcinea Mason, Daphne Mason, Patricia Mason, Debra Mason, Angelina Mason, Pamela Murray, Pauline Hansen, Diane Kelley and Arlene Miller; nephews: Steve Simmonds Sr., Leroy Simmonds Jr., Darwin Simmonds, Kevin Henley, Asim Henley, Daud Henley, Mario Mason Jr. Augustin Mason III, Eugene Mason, Henrique Mason Jr., Ryan Mason Sr., Mark Mason, Henry Mason, Dean Mason, Roy Mason Sr. and Gary Mason.
She is also survived by great nieces: Tamika Santos, Sherise Barnes, Jeaneve Simmonds, Denisia Vanterpool, Damara Vanterpool, Dalisha Vanterpool, Deshay Phillip, Maliya, Isabel, Ava, Anna, Yenique, Chaday, Janine, Elisa, Jeanine, Maria, Sharonira, Alaira, Tonetta, Shequanie, Toshania, Kimberly, Shequanda, and Victoria Mason, Shalaya Wilson, Cynea Isles, Vitanja Murray, Kyshira Simmonds, Asasha Henley and Khalya Amaris; and great nephews: Victor Santos Jr., Antonio Santos, Steve Simmonds Jr., Shamar Simmonds, Jaylen Mason, Anthony Barnes Jr., Leroy Simmonds III, Roy Mason Jr., Garrett Rich, Aliko Vanterpool, Akido Vanterpool, Jeremiah Henley, Nehemiah Henley, Mosadi Henley, Mario Jr., Adam, Ralph, Mario III, Gary Jr., Enrique, Lambert and Victor Mason.
Other survivors include special friends: Mr. and Mrs. Anthony Murray, Mrs. Edna Abramson, Doris Brown, Joy T. Lewis, Carmen Russell, Marla Matthews, Helena Hurley, Lisa M. Lenhart, Lisa Thomas, Gloria and Tracey Rhymer, Mr. and Mrs. Roy Thomas, Mr. and Mrs. Joseph Graham, Majorie Moorehead, Laurel Jacobs, Delita Civil, Bernice Reynolds, Gwendolyn Myers, Arita George, Lorrolly Hall, Eleanor Edney, Wendy and Mona Thomas, Henrique Santos, Mr. and Mrs. Elroy Bates, Mr. and Mrs. Kelly Reid, David Benjamin, Eleanor Mason, Ching Ching Bermudez, Bethlehem Family and Friends Rejuvenated Club, Alda Francis, Daryl Roebuck, Janet Rivera, Karen Blake, Friends on the Move, Anderson and Lucina Williams, and Angela Burt.
And more survivors are cousins and other relatives: Eugenia Simmonds, Anthony Barnes Sr., Dean Heywood, Vivian Mason, Tracey Kiner, Doreen Rissing and family, Ulric Benjamin and family, Dolores McBean and Mozzel Henley; as well as many more nieces, nephews and friends too numerous to mention.
The viewing will begin at 9 a.m. followed by a funeral service at 10 a.m., Thursday, Aug. 9, at the St. Joseph Catholic Church. Interment will follow at the Frederiksted Cemetery.