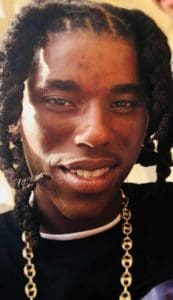 La'Quan Ayinde O'zanie Hill died on July 6.
He is survived by his mother, Julie Samuel; father, Larry Hill; grandmothers: Etla Allick Sargeant and Marjorie Hill; grandfather, Melbourne Petersen Sr.; brother, Larry La'Coy Hill; nephews: Kenoy Wathey Jr. and Kenye Wathey; aunts: Denise Sargeant-James, Monique Sargeant and Donica Hill-David; and uncles: Stephen Phillips Jr., Kai John Hope, Tony James, Melbourne Petersen Jr., Winston Gomez and Shamal Edjay.
He is also survived by cousins: Camaiya King, Monet James, Ra'Naa James, Shamar Simmonds, Kimoy Hodge, Felicia David, Terry Morton Jr., Stephen Phillips III, Shanice Phillips, Shyanne Phillips, Isaiah Petersen, Jacob Petersen and others too numerous to mention; special friends: Kenoy Wathey, Jah-Marley Alfred, Angel Parilla, La'Quan Roebuck, Channoy Milligan, Edward Peter Jr., Khrysta Peter and Menelik Petersen; as well as other relatives and friends too numerous to mention.
A viewing will be held from 4-6 p.m., Monday, July 30, at Divine Funeral Services Chapel, 129 Peter's Rest.
A second viewing will take place at 9 a.m. followed by a funeral service at 10 a.m., Tuesday July 31, at St. Paul's Episcopal (Anglican) Church, Frederiksted. Interment will be at Kingshill Cemetery.