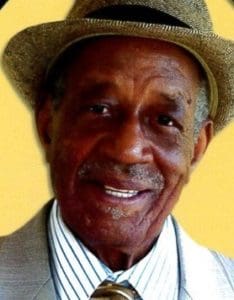 John Juels Bledman, also known as "JB," "Uncle Juels," or "Brother B," of Herman Hill died on May 20. He was 100 years old. The funeral was held on June 2.
He was preceded in death by his wife, Paulina Bledman; parents: Mary McBarrow and John Baptiste Bledman; sisters: Florence Samuel, Agnes John and Hettie Richardson.
He is survived by his daughters: Janet Kirton, Marilyn Abraham and Marva Williams; sons: Selwyn Smart and Schurn Bledman; stepson, Clyde Alexis; grandchildren: Jennifer Alexander, Joanne Smart-Hilhorst, Kennedy Ewing, Charles Ewing, Nigel Smart, Learina James, Learina James, Kelvin Abraham, Rashida Abraham and Michella Williams; and great-grandchildren: Steven, Jamila, Sherrie and Johnny Alexander, Danielle Smart, Annarose Hilhorst, Hanza Ewing, Sarrah Ewing and Indyah Bulter.
He is also survived by great-grandchild, Leilani Alexander; sister, Veronica Bledman; nieces: Peral Aqui, Lorna Jacobs, Elsa Richards, Desylma Walcot, Utilda Plowden, Beverly Johnson, Imela Byam and Lima Bledman; nephews: Peter Bledman, Carl Acker and Christopher Acker; great nieces and great nephews too numerous to mention; daughter-in-law, Gloria Smart; and godchild, Devon Valmont.
Other survivors include special friends: Michael Combie, Cynthia Liburd and family, Henrietta Sandy and family, Leonard Mitchell, Rupert James, Ms. Jones, Roy and Ann Springer, Carol Denis, Ms. Mitchell, Charlene Springer, Clemence S. Katie Javois, Audrie Cox, Valerie Coit, Pastor Spencer Walwyn, Gloria Smith, Dr. Michelle Dizon and the staff of Continuum Care, Vitran drivers and staff, Pastor Rojah and family, friends and family of Herman Hill, Pastors and members of Church of God Holiness Peter's Rest, and West End Mission; as well as cousins and other relatives too numerous to mention.
Funeral services took place on Saturday, June 2, at Church of God Holiness (Peter's Rest). Interment followed at Kingshill Cemetery.