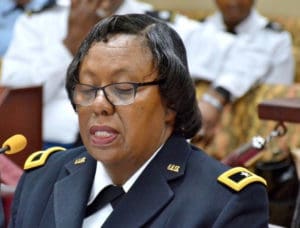 Brig. Gen. Deborah Howell, the adjutant general of the V. I. National Guard, said VING is ready for the next tropical weather event, whether it's Monday's near-miss by Tropical Storm Beryl or another event down the line.
At its hearing Friday, the Senate Finance Committee, people's minds were on hurricanes. Just the day before, Beryl had gone from a tropical depression to hurricane status.
"Hurricane Beryl is doing a little dance this way," Howell said. Beryl has since been downgraded to a tropical storm, and is facing wind shear as it makes its nearest approach to the territory Monday. But whether the storm impacts the islands or is followed by something more dangerous, Howell said VING is ready.
"As the expectation is for more natural disasters with increased intensity in the coming hurricane seasons, there will be greater reliance on the National Guard," she said.
Howell outlined what the presence of the National Guard was during Hurricanes Irma and Maria last year.
"The V.I. National Guard provided 570 soldiers and airmen in support of the territory's response during the period," she said.
According to the adjutant general, 46 states assisted with the effort and brought the support personnel total to 1,900.
"Yes, we are in another hurricane season and poised for wherever duty calls us."
Howell received a much warmer welcome from senators Friday than she did the last time she appeared before lawmakers – in a February hearing of the Committee on Homeland Security, Justice and Public Safety. There she was grilled about the many local National Guard members who had not received back pay or pay from work done during hurricane recovery. (See Related Link, below.)
On Friday, she told the Committee on Finance that presently only four National Guard members had any pay delays and those were of a specific nature and were being dealt with.
Senators may have felt favorably disposed to Howell because in her budget request for $1.3 million in local funds, she mentioned that her budget would include $29.2 million in federal funds, of which $23 million is designated to repair National Guard facilities damaged by last year's hurricanes.
The other $6.2 million in federal money coming to VING goes to the regular budget for personnel and program implementation. These funds require a territorial match of $647,790.
"The V.I. National Guard has been good stewards of the government's money," Howell said. "As a general rule the National Guard return on investment for the territory and the nation is beyond compare."
Howell said VING has been struggling in its recruitment efforts and asked senators to help spread the word about what "a great organization" VING is.
Included in her request from the general fund is $60,800 for the National Guard pension fund. This allows a stipend of $100 a month for guardsmen who have retired early.
The V.I. National guard is comprised of 668 soldiers and 52 airmen.