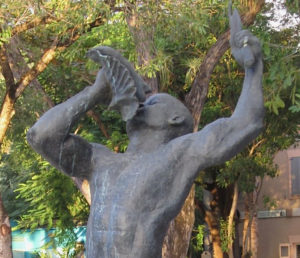 Virgin Islanders will commemorate the 170th anniversary of the July 3, 1848, emancipation of enslaved people in the territory Tuesday.
In 1848, Moses "Buddhoe" Gottlieb led a rebellion that ultimately forced Danish Gov. General Peter Von Scholten to make the proclamation, "from this day onward all unfree in the Danish West Indies are free."
In 2017, the Legislature made the week of June 26 to July 3 "Virgin Islands Freedom Week" in memory of the historic event.
The kickoff to the Emancipation Day Celebration is the 18th Annual Emancipation Day Fort to Fort Walk to Freedom on Tuesday, July 3. The walk begins at 5 a.m. at Fort Christian and will continue traveling west on Queen Mary Highway to Fort Frederik, It will end with a short prayer and ceremony.
Sen. Positive Nelson, who sponsored the legislation establishing Freedom Week, organizes the annual walk, which has had as many as 500 participants over the years.
Nelson is encouraging interested groups or organizations to sponsor a refreshment stand along the way. He can be contacted at his office at 340-712-2210.
There will be a Freedom Art Fair from 10 a.m. to 5 p.m. at the Fort Frederik Vendors Plaza and artists, artisans and vendors are invited to set up and sell your work.
The Emancipation Day Celebration is an ongoing event continuing throughout the day and into the late hours of the evening. Many of the activities and events will be overlapping, and there is something for everyone. The community is invited to attend any and all of the activities.
UCA's Committee will open its doors to the community in celebration of the day. As a prelude to the evening program, Rita's Art and Craft Corner will be offered to youths of all ages to come together – to draw, color and paint from 3 to 5 p.m. in the afternoon.
An interlude between 5 and 7 p.m. will provide a cultural video and local music, with time for socializing and networking.
Then at 7 p.m. the conch shell will be blown to announce UCA's evening program with a musical Libation. Speakers, poets, dancers and musicians will entertain and educate throughout the evening.
Youth speaker Crystal Fahie will open the program. Poets Camara Knight and Arif Anwar will share their spoken word. Speakers Wilfred "Juni Bomba" Allick, Coach Fahie and Brother Richard Muhammad will speak throughout the evening. Ras Featha will offer a musical tribute.
Sister Marie from St. Thomas will lead the Bamboula dance in homage to their ancestors.
The Mon Bijou band, "Young, Gifted and Talented," will provide musical entertainment at the close of the UCA Emancipation Celebration.
A Quelbe Tramp and Quadrille Block Party will convene at the Frederiksted Post Office at 7 p.m. and continue through town to Customs Square. Stanley and the Ten Sleepless Knights will entertain at Fort Frederik at 9 p.m. with a grand quadrille dance. The dancing will continue to 2 a.m. and it costs $10 to participate.
Chant, Ten Sleepless Knights, Yesterday, Today and Tomorrow, UCA and USVI Tourism support the St. Croix Emancipation Day celebration.
On St. John, Festival is ongoing and there will be an Emancipation program in the festival village at Cruz Bay parking lot from 1 p.m. to 3 p.m.
Each year the Emancipation Day Coalition and other St. Thomas community organizations hold a celebration of the event in Emancipation Gardens in Charlotte Amalie. Details could not be confirmed.