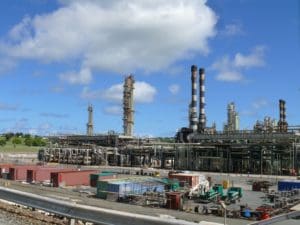 Gov. Kenneth E. Mapp announced Monday an agreement with ArcLight Capital Partners, parent company of Limetree Terminal, to reopen the Hovensa refinery, shuttered since 2012, bringing back 750 permanent jobs.
Mapp noted in his news conference that refinery operations were not as labor intensive as they once were. At the time of Hovensa's closing it was estimated 2,000 jobs were lost. The terminal operated by Limetree is already employing 700 workers and the 750 new jobs will be in addition to those.
Mapp painted a sunny picture of what could happen if the V.I. Senate ratified the agreement. He said, not only would it enhance the territory's economy, it would "accelerate recovery" from last year's hurricanes and, add five years of life to the imperiled Government Employees Retirement System.
The agreement calls for an upfront payment from ArcLight of $70 million to the V. I. government; $30 million of that is for land that the government had acquired from Hovensa in a settlement and $40 million will be in prepaid taxes.
After the prepayment is covered, Mapp estimated that ArcLight will pay the government about $22 million a year in lieu of taxes. However, that figure will be based on market conditions and other factors. Mapp said it could be as high as $70 million a year or as low as $14 million.
He said Hovensa paid $330 million in corporate taxes in the 30 years it operated on St. Croix.
The residents probably made happiest by Mapp's announcement from Government House were government retirees and government employees soon to retire. GERS has been predicted to go bankrupt by 2025. Mapp says more than $300 million from the agreement will be channeled directly to GERS, with another $100 million coming into the system from a bill he recently sent to the Senate. He said this would give the system another five years of solvency and time for policy makers to come up with a "rational, permanent solution" to the system's problems.
Mapp said the agreement would also promote the development of a high quality hotel in Yacht Haven on St. Thomas – the first major hotel development in the territory in 38 years.
Before the agreement can go forward it has to be ratified by the V.I. Senate. Mapp emphasized for the agreement to work everything should be done "expeditiously." This could be a problem in the Senate. Its members have complained about having to make decisions too fast. Mapp said his team had been working two years on the agreement.
In May Sen. Positive T.A. Nelson said when a Coastal Zone Permit for Limetree was up for debate, he had not had enough time to consider the bill's effects "which could be detrimental to our environment, our way of life and our economy."
Mapp said the federal EPA and the local Department of Natural Resources had gone over the agreement and found nothing in the allowed operations that would cause damage to the environment or be detrimental to residents' health.
The agreement also contains measures that might not meet with senators' approval, such as the selling of some GERS property to the government, changing the makeup of the GERS board, and restricting what actions the GERS board can make.
The retrofitting of the refinery is expected to create 1,200 temporary construction jobs. Mapp said priority for all jobs will be given to territory residents, but "realistically," off-island hires will be needed. He said ArcLight hopes to be in the market by January 2020 and hopes to produce 220,000 barrels of oil a day.
He said the hotel project is "shovel ready" and developers hope to open it in fall of 2019. The hotel in Yacht Haven is to have 110-rooms and constructed in partnership with Island Global Yachting, the developer of Yacht Haven.
When Hovensa closed in 2012, then Sen. Louis P. Hill said, "The news is clearly devastating to many Hovensa employees who worked there most of their lives, but it will impact the entire government and people of the Virgin Islands."
Mapp opened the press conference saying, "Lt. Gov. (Osbert) Potter and I are standing here busting with joy and excitement."
He said ArcLight will invest $1.4 billion in refurbishing the refinery in the next 18 months.
Although the government is selling some of the land it obtained from Hovensa, it will retain the land and building it has been using for a vocational center on Melvin Evans Highway across from the solar farm.