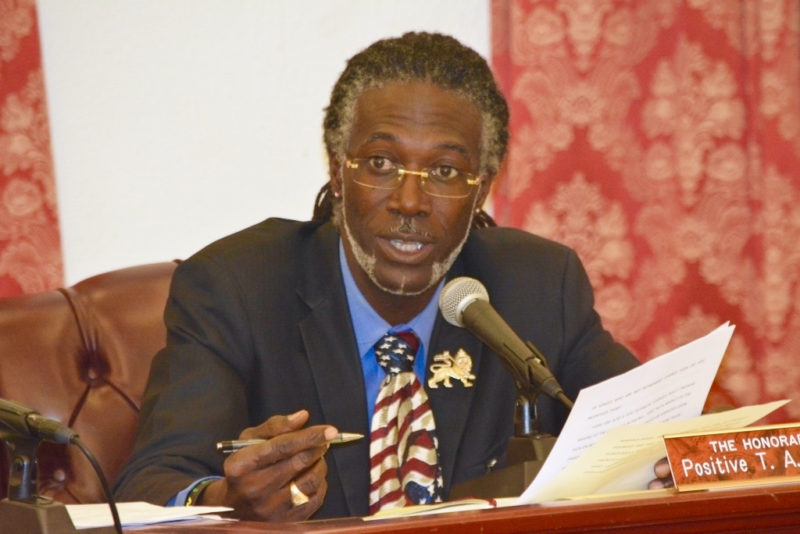 U.S. District Court will abstain from deciding whether Sen. Positive Nelson and running mate Gary Udhwani were properly disqualified as gubernatorial candidates, leaving the question to local courts or the V.I. Board of Elections.
A June 25 ruling by Judge Wilma Lewis rejects Sen. Positive Nelson's request for a temporary restraining order and injunction over his disqualification. Lewis determined District Court had jurisdiction because of constitutional questions raised by Nelson. But she found the case hinged on local matters so much that long-standing precedent requires the court to abstain.
On June 5, Supervisor of Elections Caroline Fawkes disqualified Nelson and running mate Gary Udhwani from the gubernatorial race, citing petition signatures made before Udhwani was a registered voter. She said Udhwani submitted an affidavit which said, in part, that he was a registered voter at the time the candidates' official paperwork was turned in. Udhwani was removed from the voter rolls due to not voting in two consecutive elections and re-registered to vote May 8. But the first signature on the nominating petition was dated April 11 and many signatures were before May 8. Discounting those reduces the number of signatures below the minimum requirements for candidacy.
Nelson has contended that other candidate teams in the governor's race were given notices of defect, along with opportunities to correct erroneous filings, and his campaign should have as well.
Fawkes said a notice of defect would not resolve the situation.
"His running mate is not eligible to be a candidate," Fawkes said. "He cannot circulate petitions on April 11. Based on documents received in my office he was circulating petitions on April 11. You can issue a notice of defect which can be cured, but we cannot cure a registration."
Earlier in June the Board of Elections met and discussed Nelson's candidacy but made no decision due to squabbling and a lack of a quorum.
Nelson told the board no formal invitation was given to his team, and his attorney, Trudy Fenster, said that a complaint against the Elections System and a motion for a temporary restraining order had already been filed with the courts.
Since Nelson's complaint has been outlined in the court documents, Fenster said she didn't have any new information to present to the board, which has until June 14 to file a response. Asked if he wanted to proceed in light of the lawsuit, board member Arturo Watlington said the meeting was "moot" and that the board would work on responding.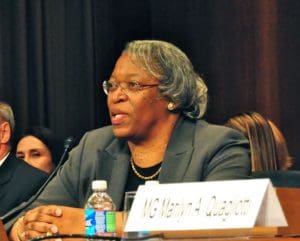 Lewis cited the "Pullman doctrine," first expressed in the 1941 Supreme Court ruling in Railroad Commission of Texas v. Pullman Company, and modified and expanded by several more recent decisions by several federal courts.
"Abstention is a "judicially created doctrine under which a federal court will decline to exercise its jurisdiction so that a state court or state agency will have the opportunity to decide the matters at issue," Lewis wrote, quoting part of a 3rd Circuit case from 1986 called Kentucky West Virginia Gas Co. v. Pennsylvania Public Utility Commission.
The Third Circuit has held there are "three exceptional circumstances" that must all be met to abstain under Pullman:
— First, there must be uncertain issues of state law underlying the federal constitutional claims.
— Second, it must be possible that a state court's interpretation of those state law issues could either take away the need for the federal court to decide anything or substantially narrow the issues it has to decide.
— Third, a mistaken interpretation of state law by the federal court would disrupt important state policies.
On the first prong, Lewis points to several uncertain issues. She said there is a lack of case law on how V.I. statutes governing eligibility are to be interpreted. Also Udhwani was not notified of the impending cancellation of his registration, yet notification is required under local law. And she pointed out there is a question whether those who signed the petitions could have done so in full knowledge of the contents of the nomination papers, as required by law, when they signed before the campaign announced Udhwani was on the ticket.
"Second, if the Superior or Supreme Court of the Virgin Islands interprets the local election laws in such a manner as to find that some or all of Defendants' acts complained of by Plaintiffs run afoul of the law, such a finding could substantially narrow, if not obviate the need to address, Plaintiffs' federal constitutional claims," Lewis continued.
"Given the elections context, together with the uncertain issues of local law presented, interpretations of the local law by the federal court that are subsequently deemed erroneous by the local court would disrupt important state policies," she concluded.
Lewis' memorandum opinion said that as of June 25, Nelson had not yet filed a complaint in V.I. Superior Court.