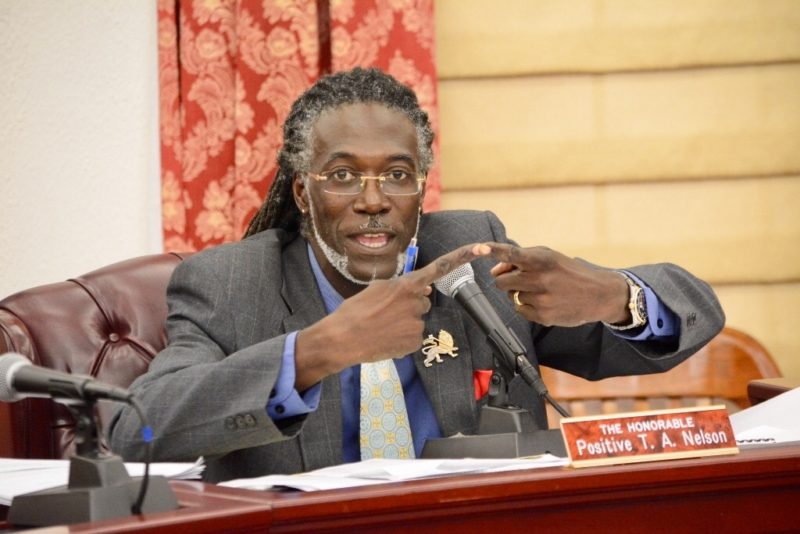 A St. Croix lawmaker says he has turned to legal counsel now that his bid in the race for governor has been scuttled by the supervisor of Elections.
Elections Supervisor Caroline Fawkes cited discrepancies in statements made by the running mate of Senator Positive T.A. Nelson. When the Election Systems published its certified list of candidates for the November general election, the gubernatorial team of Nelson and running mate Gary Udhwani were missing.
Nelson said he was dissatisfied after speaking with Fawkes about the matter.
"Fawkes has not been clear with me on the issue," he said. "What's next is some sort of filing with the court."
When the candidate and the supervisor of Elections met, Nelson said he was handed a disqualification letter. The letter listed the reasons why Udhwani could not run for the second highest office in the territory.
In brief, Fawkes said Udhwani submitted an affidavit which said, in part, that he was a registered voter at the time the papers were turned in. Election Systems records would later document the candidate registered as a voter several days later, on May 8.
That brought into question the signatures on the team's nominating petition. The first signature on that petition was dated April 11. Other signatures bore dates prior to May 8 when Udhwani registered to vote himself.
It was also noted that the petition was picked up from the Elections office on May 8.
"His running mate is not eligible to be a candidate," Fawkes said. "He cannot circulate petitions on April 11. Based on documents received in my office he was circulating petitions on April 11. You can issue a notice of defect, which can be cured but we cannot cure a registration."
That was a point Nelson said he could not understand. Other candidate teams in the governor's race were given notices of defect, along with opportunities to correct erroneous filings.
"I feel there should have been some kind of hearing process," Nelson said.
St. Croix attorney Trudy Fenster has been contacted to help the Nelson-Udhwani team challenge the disqualification in court. Attempts to reach Fenster for comment at the time of this writing were unsuccessful.